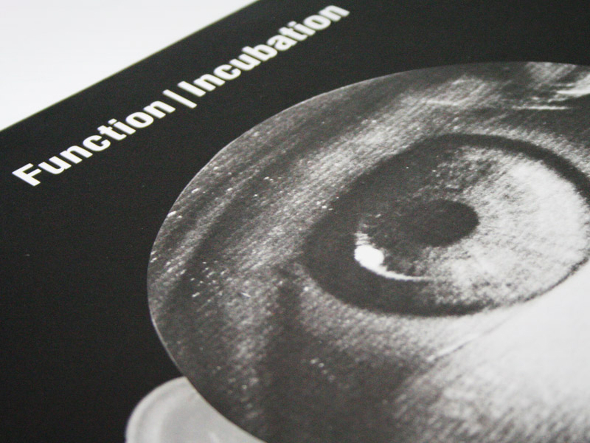 When this writer spoke to Dave 'Function' Sumner last year, it was clear that he wanted Incubation to be more than a standard techno album. Sumner's aspiration and hope was that it enjoyed a permanence that has become increasingly rare as attention spans diminish.
In this regard, his thinking is redolent of a pre-internet time, when techno creators enjoyed word of mouth fame, their records gleaned from DJ charts in print magazines experienced in the eye of a sonic maelstrom during a trip to New York or London, or marvelled at when boxes of virgin, unplayed vinyl landed in long since defunct record stores.
That sense of anticipation, the voyage into the unknown was almost as unforgettable as the actual experience of hearing records like The Final Frontier or Altered States or Gravitational Arch of 10 for the first time. Maybe Sumner's desire to capture, document and give a sense of permanence to his work is a generational issue; like this writer, he grew up during the heady days of techno and remembers the 90s as a time when anything could happen, when electronic music still had a sense of danger, unpredictability and adventure.
Call both of us sentimental, misty eyed old farts if you will or criticise us for being people who are too long in the tooth and who are merely reminiscing about a time that is long gone. Disagree with Sumner's desire for permanence and for not commissioning a gazillion Berghain or DC-10-primed remixes to get his music 'into the right hands'. Call into question the painstaking process Function used to record Incubation when it would have been far easier and yield the same returns had he recorded the album in his bedroom. Deride his refusal to pimp his 'product' relentlessly on social media.
While all of these criticisms may have some validity, it is also hard not to admire the bloody mindedness of Function's approach; first seeking to work with Francois K on the album's post-production before settling on former Frank Farian/Boney M engineer Tobias Freund due to time constraints. In so doing, Sumner's intention was to follow the classic album-making approach and to work with an engineer who would give his arrangements a final polish. Bearing this in mind, it is hard to avoid the conclusion that his debut album will have greater value than a factory line spewing out millions of faceless tech-house tracks.
The fact that Incubation is Sumner's debut solo album and is a culmination of nearly two decades spent making electronic music shows that his desire to create something lasting and permanent is genuine. It would have been a far easier album to sell had he recorded and released it during the height of Sandwell District's popularity, but as Sumner made the point that 'selling out is the new underground', this was never likely to happen. Sandwell itself experienced a slow rise to popularity, emerging in 2002 and only 'exploding' after the release of Function's Isolation 12" at the end of 2007.
Instead, he has bided his time, let two years to pass – a long time in techno – and allowed the dust settle on that part of his life before returning with a work that encompasses all of his experiences. Incubation starts with "Voiceprint", an eerie affair that starts with breathy vocals and Function's trademark claps and which progresses to reveal pinprick bleeps, a menacing bassline and trancey synths. It sounds like the darker side of 90s ambience, but escalates thanks to its reverberating percussion, segueing into "Against The Wall". There, Sumner rolls out insidious acid lines and spits rattling percussion, like a mixture between "Isolation", "Anticipation" and the 303-soaked growl of Sheet One period Plastikman. This pattern runs through Incubation, with Sumner fusing existing narratives, creating his own, streamlined version of techno, in much the same way that Sandwell did.
On "Modifier", it's the heavy, dub-informed beats of Berghain in focus, mixed with the whiplash snares of Chicago; on "Voiceprint (Reprise)"  the pre-junglist boom of Reese are combined with the outer space blips and whirrs of "Flash Flood"-era Juan Atkins married to one of Sumner's linear, metallic rhythms, while "Counterpoint" relives the trancey ambience of Ginger period Speedy J, but then does the unexpected by adding in contemporary static crackling percussion, which paves the way for a hypnotic, tunnelling groove – the by-product of Sandwell District.
Speaking of the former collective, the album's purest dance floor track is "Incubation (Ritual)" a fusion of Sandwell's synth led gloom and the raw looped fury of Downwards, albeit channelled through Sumner's precise, controlled arranging. Just when you thought it was disappearing down the rabbit hole marked 'Black Country madness', it diverts to a more studied, detached place.
Sumner has also spoke of the need for Incubation to contain a number of 'songs'. While it's hard to discern anything that will challenge Rihanna (or even Soul Clap), many of his tracks are memorable to the point of being hummable. This is partly down to Function's skilful, magpie-like ability to collect and reimagine familiar nuances, but is also due to him having an ear for a good tune. This manifests itself on the tripped out ambient opener, "Voiceprint" and also on the closer, "Gradient", where hushed synths and rolling snares create an eerie but memorable arrangement.
Function's strongest shot at song craft comes on "Inter (Album Version)". Originally released on his last EP for Sandwell, in album form it sees Sumner swathe the hypnotic synths in muffled vocals, melodic keys and expansive percussion, before ending to the sound of layers of indecipherable conversation, possibly in French. Sumner has set himself an ambitious goal here; while Regis and Silent Servant unite to bring Downwards to the States, the other Sandwell member has sought to achieve the near impossible, namely to create a techno album with permanence, one that will sound as good as it does now in 10 or 20 years time. As its title suggests, it's been a long gestation period, but on Incubation, Sumner succeeds.
Richard Brophy
1. Voiceprint
2. Against The Wall
3. Counterpoint
4. Modifier
5. Incubation (Ritual)
6. Inter (Album Version)
7. Voiceprint (Reprise)
8. Psychic Warfare
9. Gradient I