Steffi to mix Panorama Bar 05
Fred P, Juju & Jordash, Dexter and DJ Skull are just some of the names to appear on Steffi's Panorama Bar 05 mix.
Arguably the most recognisable of Panorama Bar's illustrious cast of resident DJs, Steffi follows Cassy, Tama Sumo, Prosumer and Nick Höppner in curating the fifth installment of Ostgut Ton's upstairs mix series. Some sixteen tracks deep, Steffi's selection features a mixture of newer material and unreleased tracks; six of which are exclusive to Panorama Bar 05. 
In a brief interview with Resident Advisor, the Dolly boss revealed she was given the option by former label manager Nick Höppner to work on a new album for Ostgut Ton or contribute to the Berghain / Panorama Bar mix series, saying she "really liked the idea of contributing to the series" and that the mix's emphasis will be on artists currently inspiring her, not just a collection of "old school" tracks. Exclusive material comes from Big Strick, Fred P, Dexter, Juju & Jordash and Steffi herself, with three finding their way on to an Ostgut Ton 12″, while the others will appear on a forthcoming EP for Steffi's own label Dolly.
Steffi's Panorama Bar 05 mix will be released by Ostgut Ton on May 13, with a launch party to celebrate held at Panorama Bar April 17. On the night Steffi will be joined by mix contributors Fred P and Big Strick as well as XDB, Octave One and Tama Sumo.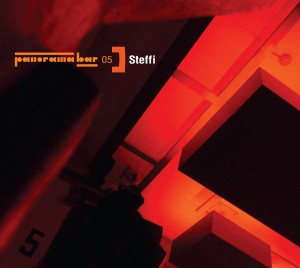 Tracklist:
01. Palisade – 18:30
02. Endian – Doze
03. Big Strick – Hayday
04. Chris Mitchell – Lonely Nights
05. BLM – The Nest
06. Fred P – Project 05
07. Naoki Shinohara – Timeless
08. Juju & Jordash – A Stab In The Dark
09. John Barera & Will Martin – Reality
10. DJ Fett Burger – Disco Tre
11. Juergen Junker – Post Reunion
12. Steffi – DB011
13. Dexter – Jawada
14. DJ Skull – Don't Stop The Beat
15. Obsolete Music Technology – Latency
16. Trevino – Juan Two Five
Header image by Lisa Swarna Khanna