Basic House tape due on Digitalis Recordings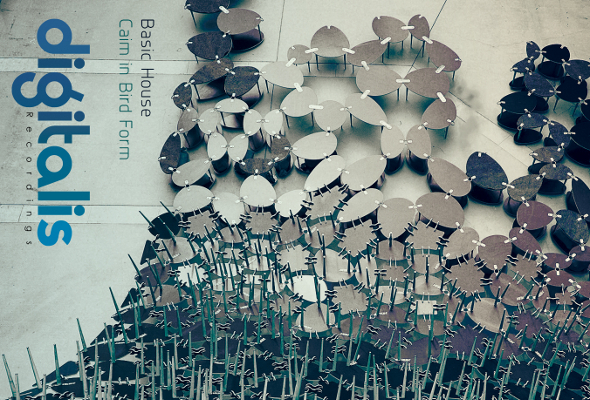 The long running Digitalis label will release Cairn in Bird Form, a cassette tape of material from Basic House in March.
The production alias of Opal Tapes label boss Stephen Bishop, Basic House's output has been an important factor in establishing the label's aesthetic approach, focusing on combining his increasing interest in electronic music with his own interests in electro-acoustics and the noise scene, or as he memorably phrased it in an interview with Sonic Router: "Basic House is just me trying to come to terms with the fact that I'll never be Theo Parrish". Along with the Opal Tapes released cassette I'm Not A Heaven Man, Bishop has dropped further Basic House releases on the Oslo based Koppklys imprint and the Washy Tapes operation out of Newcastle over the past twelve months.
The forthcoming eight track Cairn In Bird Form tape for Digitalis is undoubtedly Bishop's most high profile release to date, and label boss Brad Rose told us it's a continuation of previous Basic House material: "The tape follows in the path of previous Basic House stuff – bleak electronics laced with skeletal rhythms. It's my favourite release he's done so far". B Side track "Field 0.08" is streaming below which should give you a perfect idea of what's in store.
Set to arrive in March, it's one of a number of releases planned by Digitalis that include material from Svamps, a new duo formed of Discover's Brandon Knocke Kianna Alarid-Cameron of Tilly & the Wall fame, a new project from Pierrot Lunaire called Imitation of Life and a garage psych band from Kansas City called The Conquerors. Rose informs us these tapes will be released as a batch in order to help overseas customers overcome the recent hike in international postage costs, a subject LIES boss Ron Morelli tackled for NPR recently.
Tracklisting:
Side A
1. Aspirin Telepath
2. I Found U
3. I Don't Remember Acid
4. 64 Bummer
Side B
1. Field 0.08
2. Ultra Misted
3. Cairn in Bird Form
4. TV Illness