Vae Victis announce the triple-pronged Durant project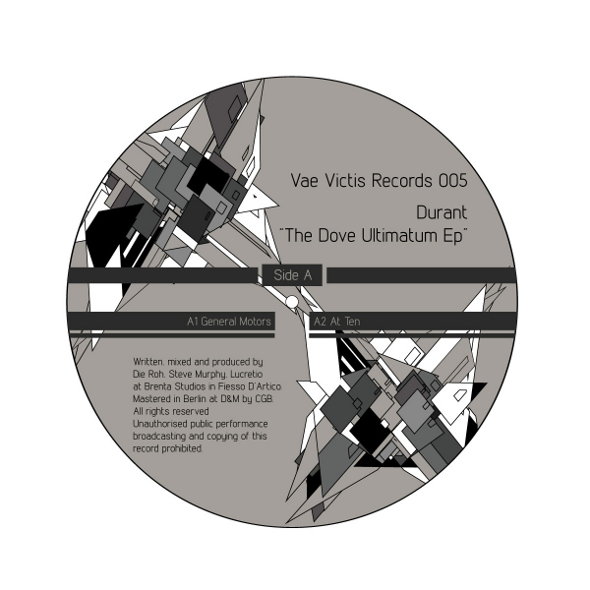 Analogue Cop Lucretio, Die Roh and Steve Murphy will collaborate on the fifth EP for the roughly hewn Vae Victis imprint.
Since emerging in 2011, Vae Victis have been pushing the same kind of raw, hardware-based house and techno sounds as the Restoration, Relative and Appointment crews. Noted for the release from Blawan and The Analogue Cops that launched the label and the trio's more recent 12″ as Parassela, Vae Victis has also provided a platform for the lesser known Die Roh and Nightjars to flourish.
The label's fifth release comes from Durant, a collaborative project comprised of The Analogue Cops member Lucretio, Die Roh, and Steven Murphy, whose productions under the Steve Murphy & Co moniker have graced the Chiwax imprint in recent times. The Dove Ultimatum, Durant's four track debut EP, is described by Vae Victis as "most loyal to the label's soul" of all their output to date, and plunges deep into dirty electronics, canvassing a range of booty-centric genres, with rough and ready drum tracks taking precedence over booming low end.
The record's A-side consists of two more "experimental" tracks, with "General Motors" and "At Ten" recalling an even rougher version of Drexciya's broken beat electro, while the B-side of "Vigo's Jones" and "Buffalos" sees the trio drop the tempo into bumping ghetto house territory.
Expect The Dove Ultimatum EP to be released on 12″ and digital formats towards the end of the month.
Tracklist:
A1. General Motors
A2. At Ten
B1. Vigo's Jones
B2. Buffalos