Kompakt 20 Jahre Kollektion marks label's 20th birthday
Long-running Cologne-based institution Kompakt have announced the first in a series of label compilations to celebrate its 20th anniversary.
Entitled Kompakt 20 Jahre Kollektion 1, the 2CD compilation will comes almost exactly 20 years after the original Kompakt record store opened in Cologne. Expanding operations to include its own record label which has amassed a catalogue of almost 500 releases, Kompakt came to define much of the minimal techno sound so prevalent in the 2000s, with artists such as The Field, Superpitcher, Rex The Dog, Justus Köhncke and Michael Mayer among its most notable contributors.
The release is supposedly the first of several compilations planned; rather than a simple "best of" collection, Kompakt have compiled what they describe as their "proudest moments" and "classic records that defined our sound today". Well known tracks on the compilation include Rex The Dog's 2004 banger "Prototype", Matias Aguayo's "Walter Neff" and The Field's classic "Over The Ice"; these are joined by a host of more underappreciated cuts such as Mayer & Voigt's "Transparenza" and Partial Arts' "Trauermusik".
As well as the compilation, the label have promised a host of other events to mark the anniversary; as well as a European tour featuring sets from the label roster complete with pop-up version of their record store, and the production of an exclusive documentary and extensive fanzine, new albums are also promised from key artists Köhncke, Voigt & Voigt, Coma, The Field and Gui Boratto.
Kompakt Records will release Kompakt 20 Jahre Kollektion on 2CD and digital formats on March 18.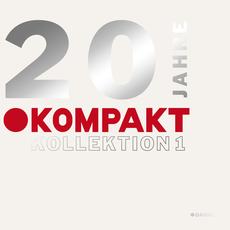 Tracklist:
CD 1
1. Heiko Voss – I Think About You
2. Matias Aguayo – Minimal (DJ Koze Mix)
3. Dorau/Köhncke – Durch Die Nacht (Geiger Mix)
4. Matias Aguayo – Walter Neff
5. Justus Köhncke – 2 After 909
6. Voigt & Voigt – Vision 03
7. Leandro Fresco – Cera Uno
8. Michael Mayer – Lovefood
9. Pluxus – Transient
10. The Field – Over The Ice
11. Wighnomy Bros. – Wurz + Blosse
12. Mayer/Voigt – Transparenza
13. Dettinger – Totentanz
CD 2
1. Jonas Bering – Melanie
2. Kaito – Everlasting
3. Superpitcher – Happiness (Lawrence Mix)
4. Gus Gus – Within You
5. Scsi 9 – Morskaya
6. Thomas Fehlmann – Making It Whistle
7. DJ Koze – Mariposa
8. Gui Boratto – Arquipélago
9. John Tejada -Unstable Condition
10. Rex The Dog – Prototype
11. Partial Arts – Trauermusik
12. The Rice Twins – For Penny And Alexis