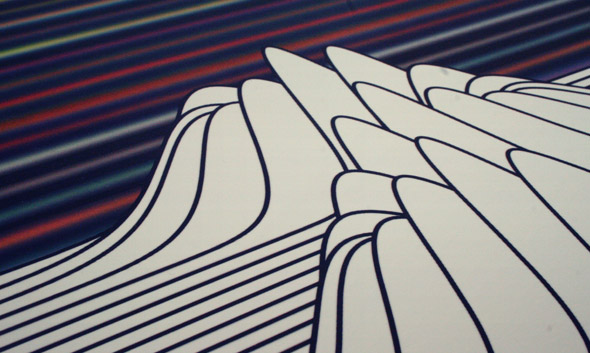 Much like last week, these 7 days saw a host of surprise announcements, not least an album of unreleased Four Tet material that the producer gave away for free via Soundcloud.
Despite the news of forthcoming long players from Cosmin TRG, Surgeon and Maurice Fulton's Syclops, this week was also another great week for releases in the here and now, and top of this week's list was the richly deserved vinyl release for one of our top EPs of 2012, MCMXCI's Skogen, Flickan och Flaskan. Swedish producer Axel Backman first stole our attention under the 1991 name, surfacing on the Astro:Dynamics Soundcloud at the turn of the year with the stunningly degraded treatment of The Cure that was "Open To The Dark". However, this didn't really prepare us for his Opal Tapes opus under the techno-focused MCMXCI moniker, Skogen, Flickan och Flaskan – which finds itself the deserved subject of the label's first vinyl release. Comprised of five originals of unrelenting, melting techno brutality, at times it sounds like Regis having a seizure ("Untitled 1"), Jamal Moss suffering from demonic possession ("Untitled 3") and a caustic take on Surgeon's breakbeat techno ("Untitled 4").
Coming a close second was the first Skudge Records release of the year, from Jared Wilson, the Detroit-based producer whose deep acid tracks on labels such as Dolly, Dixon Avenue Basement Jams and his own 7777 imprint have turned him into a cult figure amongst enthusiasts of acid techno. Skudge spare no expense in spreading four tracks filled with a heady cocktail of searching pads, thick, sub-aquatic 303 lines, swelling chords and abstracted diva vocals. Whether you're familiar with Wilson's acid mastery or not, this double pack is essential, and bodes well for Skudge's 2013 release schedule. Some similarly deep techno could be found in the third TANSTAAFL release, with both October and John Osborn out in full force to stomp out a continuation of their savage and focused re-appropriation of techno and house principles. "Transcending Biology" lurches into life on a thudding kick and bass combo but swiftly progresses to focus on a pristine acid line that forms the central thread, while "Programmable Blood" sees the pair move towards a more Drexciyan kind of electro, putting a kink into the 4/4 structure and embracing a wider tapestry of sounds. Speaking of Drexciya, Journey of the Deep Sea Dweller III – released last week on CD – came in on the vinyl version everyone will be craving.
Meanwhile those with less severe tastes will be all over the brand new album from FaltyDL which arrived this week on LP and CD. Hardcourage, his first full-length for independent behemoths Ninja Tune, takes a more 'softly-softly' approach than his last full-length, 2011's You Stand Uncertain. Where that was a kaleidoscopic invitation to start the dance, Hardcourage gently beckons you towards a loving embrace. While there are still plenty of skittish rhythms present, they're wrapped up in a warm orange glow – all serotonin-soaked chords, cascading melodies, bluesy vocal samples and near-Balearic compositions. In many ways it's a startling about-turn, but one that comes heartily recommended. Joining Hardcourage in this category was the new release from Dan Snaith's Jiaolong imprint, which saw Junior Boys producer Jeremy Greenspan rework the classic Laurie Spiegel track "Drums". Released with Spiegel's permission, the newly rechristened "Drums&Drums&Drums" opens with the unadulterated minimalism of Spiegel's original, slowly evolving with a steady 4/4 kick and pulsating analogue arpeggio which have the label's expected mixture of colourful psychedelics and no-nonsense rhythms.
Similarly excellent were a pair of remixes of Mock & Toof's "Walking The Streets", with Den Haag's number one Star Trek fan Danny Wolfers delivering a typically excellent analogue techno reworking held together with vintage breakbeats and smothered in hazy organs, and DMX Krew  weaving subtle acid tendrils around its pleasantly unfussy rhythm. Also of interest to fans of high end deep house will be Basic Soul Unit's long overdue debut album Motional Response on Still Music. Anyone with a firm grasp of the Basic Soul Unit style will know not to expect straight up 4/4 and this truth manifests itself in the opening track "Across The Room" which pairs delicate fluttering melodies with bass heavy broken rhythms and remains pleasantly surprising on the ear throughout. As if that wasn't enough to be getting on with, last minute treats in the form of a new Theo Parrish record on Sound Signature and the post-disco and proto-house grooves of Manhooker on Ostgut Ton sub-label Unterton completed the picture.
Bassier fare was not abundant this week with only two releases release of note, but what releases they were. On their latest slab of wax, Swamp81 gave Boddika's "Soul What" the remix treatment, with Mickey Pearce and Boddika himself stepping up. Pearce's rub was our pick, seeing the producer flipping between fluffy 2-step and bass-heavy weirdo grime with ease. Meanwhile, Ben UFO's superb Fabriclive 67 landed on CD. The young DJ has been hard to ignore for the past few years, breaking down genres and genre prejudices alike with his adventurous sets that take in bass, house and techno, and not only is Fabriclive 67 an apt summation of his considerable talent and the state of underground music today, it doesn't seem a stretch to say that this could be one of the all-time classic Fabriclive mixes.
At Juno Download this week a veritable trove of riches were unleashed, chief amongst them the new Todd Terje and Lindstrom collaboration, "Lanzarote". Taking the best of both producers' work – Terje's bouncing, dub-influenced drums and cascading melodies, Lindstrom's angular appregiated basslines and grandiose chords – "Lanzarote" incessantly builds towards an exhausted climax. Throw in some fantastically tongue-in-cheek vocals name-checking holiday destinations, and you've got a hedonistic anthem. On a similar disco-not-disco tip was the latest Optimo Music release from Golden Teacher. An unlikely collaboration between two disparate Glasgow bands; noise punks Ultimate Thrush and analogue house combo Silk Cut, Bells From The Deep End sounds like neither, instead coming on like an unholy alliance between Cabaret Voltaire, Koto and Sly & Robbie. There's much to admire amongst the five quirky tracks, particularly the sweet Balearic electrofunk of "Golden Chalice".
Meanwhile Bill Kouligas' eclectic PAN imprint released the debut from Jar Moff, an elusive Athenian who has put together a vast landscape of melodies, bridging the gap between harsh noise and gentle, desolate harmonics. These were complemented by the welcome return of synth noiseniks Factory Floor to DFA, some tasty Theo Parrish reissue action on Robsoul, and the eagerly awaited new album from Pantha Du Prince.