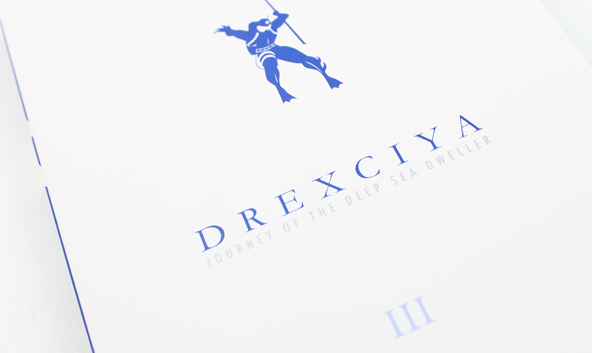 While the volume of vinyl releases this week may not have been huge, this week's modest haul was more than made up for in terms of variety.
Heading up the list was the latest in Pépé Bradock's Imbroglios series. The third of four mooted 12"s consisting of soundtrack music to the imaginary film Operation Veaux Carnivores, the suite of tracks here prove to be every bit as singularly impressive as the previous two Imbroglios releases. Bradock's always taken house as a foundation and twisted your preconceptions on their head, and the six tracks here prove that the French producer's time spent away from the spotlight is well spent. Much like the cat purring "Inconsequent Pussy" from the debut Imbroglios 12", the standout track here – "A Bunch of Cephalophores" – takes a strange sample as its starting point and builds something wholly infectious from it.
A similarly interesting record came from Tabernacle in the form of Paul Mitchell's An Expedition. Exploring various approaches to ambient and beatless compositions through decaying synthesisers, this EP runs the gamut of engrossing classical electronica, all the while keeping you hooked on where the instrumental tale will head next. Nipping at their heels was the eagerly awaited final instalment of Clone's Drexciya reissue project which arrived on CD this week. Few electronic acts could easily sustain three expansive 'best of' compilations, but then Detroit techno-electro fusionists Drexciya weren't your average electronic artists, and Journey Of The Deep Sea Dweller III swims between atmospheric IDM, balls-deep techno workouts and shimmering future electro. It may not got down well with the guys at the Dope Jams store in New York which sadly announced its closure this week, but fans and interested beginners will find much to love.
Recent Juno Plus Podcaster Inkswel also stepped out this week with the first release on the fledgling Hot Shot Records which the Australian producer has started with fellow producer Freekwency. Both artists contribute a side each to this debut release, a dinky seven that is practically bursting with unrestricted soulful drum machine music. Inkswel calls shotgun, teaming up with vocalist Reggie B for the glorious MPC fonk of "So Over It" whilst Voyeurhythm artist Freekwency also collaborates with a singer Molly D on the resplendent drum machine glisten of "Just For Two".
Enthusiasts of house also had plenty to choose from; Clone and Turbo producer Murphy Jax delivered the John Carpenter-referencing Lost Soundtracks, Main Themes on Swiss imprint Lux Rec, a record whose clear cinematic references was nonetheless grounded with some raw and jacking rhythms. Those who like it deep should check the vinyl taster for the forthcoming Basic Soul Unit album. Featuring album cut "Breathe" and accompanying Jerome Derradji remix, its "Clouds" that we were taken by, a typically deep BSU cut which demonstrates his ability to journey through satisfying analogue squelch and ethereal chords whilst keeping things jacking. Detroit house titan Rick Wade meanwhile came through with the dulcet tones of Night Addiction, as well as an essential repress of Late Night Basix Vol 1, his first ever Harmonie Park release from 1994.
Techno pickings were slim this week, but DJ Qu's seductively deep Undescribed EP on Syncrophone Records delivered his hypnotic combination of swirling dub chords, abstract vocals and cut-up stabs with typical aplomb, while promising young British producer Alex Coulton jumped from Idle Hands to Hypercolour for some Adventures In 4×4, his most high profile release to date. Although the club-ready styles of "Dance Max" may not be to the taste of those used to his darker fare, the weighty dub techno of "Submerged" and the broken bass-heavy stepping of "Fade Realization" show him to be capable still of mature, cerebral techno.
The pick of this week's download releases came from the tireless 50 Weapons stable, who this week added another single from Berghain resident Marcel Dettmann to their catalogue. "Linux" sounds like an amalgamation of early Synewave and Robert Hood's 90s work, its squeaky, linear groove supported by doubled-up claps and subtle percussive slivers, while on "Ellipse" the insistent rave horn, coupled with a succession of doubled up claps, makes it sound more insistent, avoiding the bare-knuckle extremism of the 90s minimalism that it takes inspiration from. Meanwhile, the equally prolific Unknown To The Unknown dropped their first release of the year, featuring the bass-laden swagger of Palace's "Trust", complete with remixes from Mista Men and Matrixxman. Morphosis' excellent remixes of TM404 on Kontra Musik also arrived in the digital domain, allowing everyone to enjoy its abrasive analogue delights, while a reissue of Parris Mitchell's X-rated classic "All Night Long" (also remixed by Bok Bok) and a digital release for Theo Parrish's Sketches rounded out this week's highlights.