Novation announce Launchkey range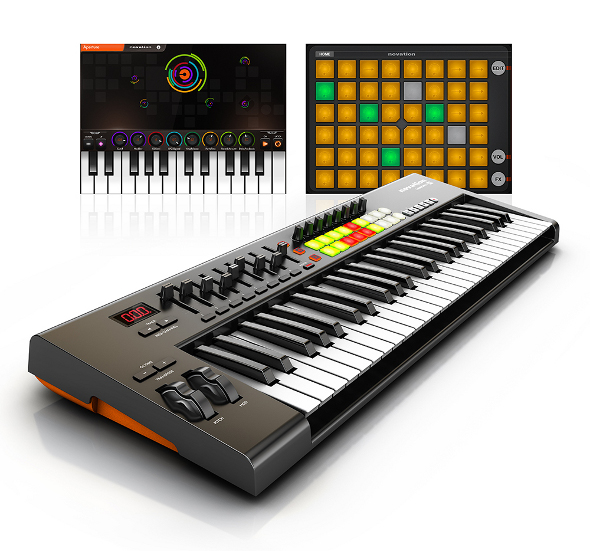 Novation have announced details of their new range of iPad compatible MIDI keyboards, the Launchkey.
Looking to be a range that sits at the lower end of their considerable MIDI keyboard offerings, with the 25 key version costing £99.99, the Launchkey nevertheless combines a MIDI keyboard with the company's successful Launchpad, featuring 16 pads from which clips or scenes can be triggered in Ableton Live. However, the range's key feature looks to be the Launchkey app, an iPad performance synth that works seamlessly with the physical keyboard, and a Launchpad app, a virtual iPad version of the physical unit which provides drag-and-drop loop playback from the pads and real-time effects including stutter and filter. The keyboard itself comes in 25, 49 or 61 note flavours with up to 50 hardware controls (or 34 on the 25 key version) including faders and rotary knobs; each has a 3-digit LED display, transport controls, pitch and modulation wheels, sustain pedal input and transpose buttons.
Although the keyboard offers an affordable MIDI controller for those without an iPad, with Novation's InControl software mapping track volumes, panning, sends and other settings to most major DAWs, those with one of Apple's increasingly ubiquitous tablets will be able to make the best use of the Launchkey. Novation have put their years of experience making softsynths (the Bass Station in particular) into the Launchkey app; running on iPad 2 or later, and connecting using the standard camera connection kit, it allows multiple synth parameters to be controlled at once with the hardware keyboard knobs tying directly into the app's controls. Full details can be found at the Novation website.
It's the latest in an increasing number of MIDI devices designed to work with the iPad; recently Focusrite announced an iPad compatible USB interface, while last year Akai revealed a tablet-friendly version of the classic APC hardware. Those still resistant to the increasing prevalence of the touchscreen better get used to them, because it looks like things are just getting started.
Novation will release the Launchkey 49 in March priced at £139.99; the 25 and 61 key version will follow in April priced at £99.99 and £159.99 respectively.