Werk Discs introduce Moiré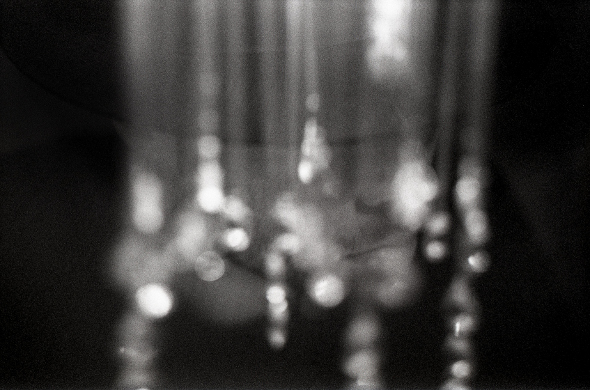 The Actress helmed Werkdiscs imprint has just announced details of its next release, from hitherto unknown producer Moiré.
Although the accompanying press release reveals precious little detail about the London-based producer, his debut EP – entitled Never Sleep – is a foggy collection of tracks somewhere between techno and experimental electronics that sits comfortably alongside the output of past & present Werk artists Lukid, Actress and Lone.
Supposedly "the result of a lack of sleep" and "the obsessive expressions of a mind inspired by the city and the scene that has surrounded him for a long time", the 12″ contains two original tracks and an accompanying remix from Actress himself, with the digital version containing one more bonus track. Opener "Lose It" is a collaboration between Moiré, fellow producer Lessons and vocalist Heidi Vogel, and features an overdriven kick drum and atonal synth arrangements in the Jamal Moss vein, while "Drugs" combines grime-inspired subs with a stuttering 4/4 beat and unpredictable strings.
Actress's remix of "Lose It" is an altogether softer affair than the original which recalls his Hazyville-era material, while digital exclusive "INTO" combines a stuttering hip-hop style beat with blissful yet gritty chords, layered into what the label describes as a "cacophonous, shimmering wall that taps into that raw sound of the city that inspires this EP". Those wishing to preview the release can download a track in exchange for their email address here.
The release marks the continuing renaissance of Werkdiscs, which ended its 2 year hiatus last year with a working partnership with Ninja Tune and the subsequent release of Lukid's Lonely At The Top album; Actress of course has his own EP coming soon on the imprint.
Werkdiscs will release Never Sleep by Moiré on 12″ and digital formats on February 4.
Tracklisting:
1. Lose It (Moiré/Lessons feat. Heidi Vogel)
2. Drugs
3. Lose It (Actress Remix)
4. INTO
Header image – Barbora Mråzkovå