Sensate Focus – Deviation Heat Treated (Heatsick reworked)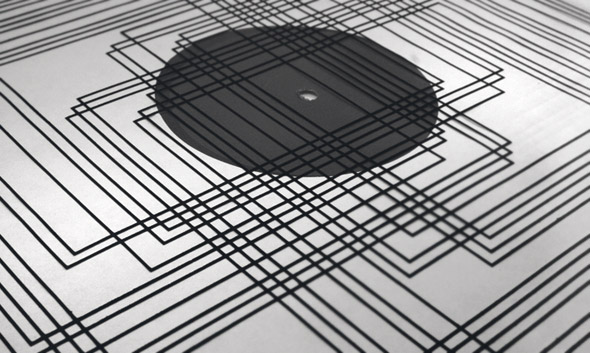 With his role as one half of Snd, Mark Fell has been party to a hushed kind of reverence for well over a decade now, existing in the fringe micro-electronic realm of labels such as Mille Plateaux and Raster-Noton. The allure of the formative Snd releases is palpable, as the sheer elegance and grace of composition hits you instantly, devoid of any sonic detritus as winsome chords duck and parry around sugar snap slices of beat. Subtle and deep it may be, but its lack of complexity makes it quite immediate, so that the tricks of canny rhythmic programming can shine even brighter.
With his Sensate Focus project, Fell has boldly embraced a more fully formed platform on which to express his futurist ideas about dance music. Snd was always funky, but rarely weighty enough for a properly fuelled dancefloor. That's not to say that Fell has pandered to convention or formula, far from it. In the jerky time signatures that define the sequencing of beats and synths throughout the Sensate Focus tracks, there should in theory be little to hold onto as an instinctive dancer, and yet still this music implores a physical reaction.
Through the decimation of four-four structures, whether in rigid or broken form, Fell arguably throws down the finest example of where techno should be heading next, ensnaring the head and confusing the body with the shock of the new, confounding and delighting in equal measure. But this is not just about clever programming and mathematical drum machines, as the melodic and textural content serves its own potent purpose within the marvellous melee. Sensate Focus succeeds as dance music because it is still pleasant to listen to, as those warming chords that tickled the synapses in Snd's output become fully realised and embraced in this context.
Bringing the Sensate Focus moniker to PAN seems a logical next step for the project after the Editions Mego-affiliated initial run and the PAN-released Snd/NHK'Koyxen split early last year, as Bill Kouligas' label further establishes itself as the new vanguard of formula-shattering dance music. What marks this record out as a particularly curious juncture is that Fell is in fact working from source material crafted by Heatsick. The Casio warrior Steven Warwick's own Deviation EP makes for a curious juxtaposition to Sensate Focus, seeming at once both diametrically apposed and uncannily like-minded in mission and execution.
Warwick's tracks embrace the power of simplicity, embracing the limitations of his equipment and magnifying the charm he manages to coax from such humble and instinctive means. At the other end of the spectrum Fell is busy creating refinement in his studio output, driven by a need for intricacy and perfection, and to be able to express his lofty ideas without excess noise. Ultimately though, both are reaching for the same goal of direct music that may be bold and daring, but never obtuse.
On Deviation Heat-Treated, Warwick's music becomes consumed by Fell's methods, and while raw sounds may be somewhat attributable to the Heatsick release, this record really belongs to Sensate Focus, and the elongated suites that inhabit each side follow the previous pattern of Sensate 12"s. The music evolves and morphs like a live set, keeping key motifs in the blender for protracted amounts of time as subtle elements drift in and out around them. It encourages a hypnagogic listening experience that makes a healthy stride away from the quick fix of single tunes, without falling into the trap of bloated self-satisfaction.
That all these achievements are made within music that is actually just a joy to listen is remarkable, when so much new ground must be broken through discomfort and challenge. Then again, it harks back to the accessible nature of Snd, who were creating equally soothing music for the wild frontier. Sensate Focus sounds like it was always destined to evolve from that framework, and it has done so magnificently.
Oli Warwick
A1. X
B1. Y