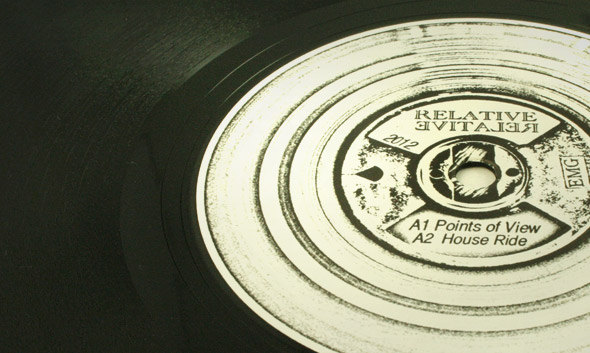 Both the artistic freedom and hedonism inherent in electronic music continue to nurture the growth of independent labels, allowing artists to pave their own stylistic ways without the interference of guidelines regimented by mass media frenzy. This is precisely what generates a certain mysticism throughout the genre as a whole, but, above all, it's what enables us to retain a distinctly subjective vision of the art form; one that's celibate, unblemished and open to autonomous scrutiny.
Through this dense terrain of self-made artists and freewheeling labels, there's a strictly finite division who abide wholeheartedly by the above; but most importantly, there's only a few artists who truly cleave to what they believe in, regardless of fleeting hype or popular opinion. The Relative camp is of this disposition, and its first two years of life have been characterised by a conscientious and bona fide viewpoint of what house and techno represents for its two curators: John Swing and EMG. The somewhat elusive duo have chosen to do things their own way, starting from their personal LiveJam distribution to their rigid releasing schedule – both in terms of a strictly vinyl only stance and a seemingly conscious decision to keep their names tied to the Relative emblem.
Whilst the best part of the catalogue has been marked by a predominantly stable exchange between both producers, this time we have a solo mission from EMG in the form of four ludicrously jagged house experimentations, all of them commandeered by an unmistakable sampling format.  However, EMG's previous fascination with lo-fi, slow-swaying arrangements is given an ante up here; particularly on the title track "Points Of View", where its sharp vocal bursts mesh so unrestrainedly with the rugged, thumping blasts of kicks. The piece rapidly evolves into a furious hybrid made up of soulful vocals and gnarly percussive arrangements, bridging the gap between deep house and Chicago – flavoured ghetto, all together retaining Relative's integrity and individuality – a true liability on the dance floor and one bound to turn more than a few heads.
"House Ride" is similarly awkward and brilliant simultaneously, except this time the beat layout which opens the track is murkier and more convoluted. It almost sounds like galloping horse trots moulded and re-arranged on an MPC, then filtered through a swelling pot of effects and glitches. Moreover, it climaxes into an unexpected house anthem, spawning a wild parade of gliding synth chords which run loose amid the emergent sub layer of burly kick drums and hissing hi-hats.
The tribal tip on "Euryhmic" manifests yet another frame of mind from EMG, yet its most remarkable quality lies in its illusory characteristic; that is, although we're verging on a probable 118 BPM, its surrounding elements give the track a lazy, chugging, almost slow-motion effect. It's desolate kick is accompanied solely by distant rattles of hollow steel drums that drive the beat off-course and into meditative excursion mode for the early hours.
"Transit", on the other hand, breaks the beat up entirely; leaving us with is a serrated medley of rumbling bass thuds and slicing high-ends. It's EMG at his most daring and what is likely to be the EP's stand-out moment; and although its arrangements verge on complete irregularity, he nevertheless succeeds in finding an irresistibly enticing groove. Those familiar shreds of vocals sit comfortably next to the short dabs of melody that pop in and out of its rattling percussion chops, and it's fair to say that the track leaves this writer desperate for the next Relative meeting – a guaranteed association of house music oozing with quality and distinction.
Pietro Barbieri-h
1.Points Of View
2. House Ride
3. Eurhymic
4. Transit