Jorge Velez – MMT Tape Series: Home Recordings 1996 – 1999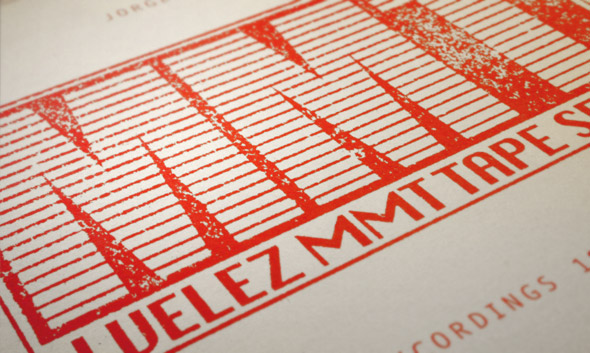 The fact that this collection of previously neglected tape oddities from the mid nineties still manages to evoke visions of the future is something remarkable in itself. From a purely logistical perspective, it isn't all too surprising that these recordings have only seen the light of day nearly twenty years on, given the recent resurgence of reissues and the general upheaval of attention to vintage house and techno. However, there exists a fine line between the common resuscitation of old music and the discovery of something that might've just been ahead of the game at its time of conception.
The same goes for its creator Jorge Velez, a producer who has been floating between different aliases since the late nineties and who is probably most widely known for his work under the Professor Genius moniker – the recent synth explorations Hassan on L.I.E.S. being a perfect example of his more contemplative personality; and it's with this phantasmal package of rough-edged, techno-coated works from his hardware-exploring days in late 90s Jersey City, that he's begun to form a concrete portrait of his work canvas, one that's soothingly erratic and brimming with mystique.
But apart from their undeniable creativity and innovative characteristics, what's most effective about these tracks is how well they relate to one another and instead of being separated by altering moods or shifting influences, they stand together as one organism – a single mutating and evolving concept, running adrift and unperturbed by its contours.
The opener, "Luminous View" quickly sets the tone for what unravels into a distant sphere of crackling drums and foggy melodies, thanks to its delicate harmonics which chirp joyfully above the solemn pads working their wonders beneath it. "Assembly Line" sees Velez expand his familiar landscapes into a wide-screen view – extending its chords to the point of near detachment and allowing them to glide side by side to the beat of those harsh puddles of drums.
It seems as if all the pieces were woven from the same piece of string, and although the comparatively jagged layout of "Untitled 2.1" or the orca-emitting chants of "Number Two" are somewhat opposing structures, they share an unmistakable fraternity without forsaking their singularity as individual compounds. "Some Of Your Friends" is similarly marvellous in its melodic complexity and drum arrangement, yet this time Velez delves deeper into electro roots, giving the piece a vivid Drexciyan lamination but only in so much as its superficial layer, the core of which is bound tightly by his own personal machine wizardry.
And it's tracks like "Seqqex", boasting a ridiculously irregular beat shape and a whirling drone of melodies; or "As It Is Today", with its monstrous array of mutant basslines and ominous chimes that provide these tape recordings with the required dexterity to provoke feelings of near ecstasy.  Two of the four previously unreleased tracks, "Dewy Garden" and "Big Gray Bldg", depict Velez at his most abstract, where the only components holding the tracks in place are a sparse rattle of hi-hats and some ingenious synth patches on the former and a navigating cascade of pads on the latter; evoking a wide range of emotions in this writer.
It's towards the end, however, that Velez leaves his most beguiling works for, and "Under The Sea" manifests a moment of true brilliance, where we're literally submerged by a drenching layer of woozing bass tones desperately trying to contain their embedded modular-like timbres escaping from side to side. "Untitled 4" couldn't possibly be tied down to any genre due its stop-start motion being simply too wild for categorization, and the same applies to "Untitled 1.4", a further layout of bric-a-brac percussion, tweeting analogue sonics and Velez's inimitable winding pads; and whilst all the tracks share a largely maladroit arrangement, they somehow work in perfect unison to produce an anthology of dense and forward-thinking clusters of sound.
Were this collection of tracks to be discovered some ten years into the future it wouldn't be surprising to find that they would still be considered both bizarre and cutting-edge. Whether or not Rush Hour had anything to do with the original four-part series of 12″s being unearthed and released remains a mystery; but what we do know is that this compilation edition is nothing short of sublime and a much needed prolongation of these mesmerising and timeless snippets of house music.
Pietro Barbieri-h
1. Luminous View
2. Assembly Line
3. Untitled 2.1
4. Number Two
5. Some Of Your Friends
6. Seqqex
7. Untitled 2.3
8. As It Is Today
9. Floo
10. Dewy Garden
11. Big Gray Bldg
12. Under The Sea
13. Untitled 4
14. Untitled 1.4
15. Hi Jinks
16. He Makes Us Smile