R&S announce debut Space Dimension Controller album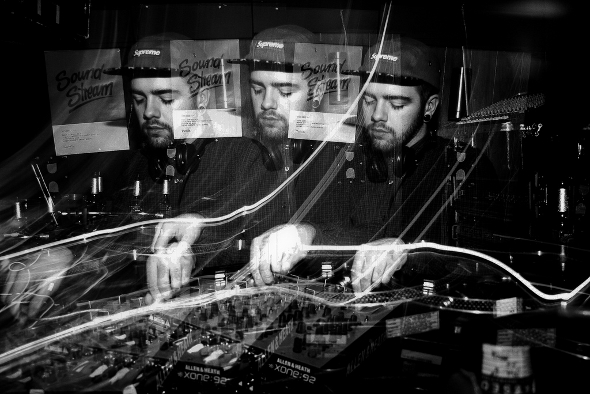 R&S Records will release Welcome To Mikrosector-50, the long awaited debut album from Space Dimension Controller in March.
The producer, who hails from Belfast, is clearly a vividly imaginative and endlessly amusing individual (the stuffed fox affair that unfolded late last year is worth reading up on) who first surfaced in ambitious style with the digital-only Unidentified Flying Oscillator release on Acroplane Recordings. That fourteen track set established the distinctly sci-fi indebted style of Mr. 8040 (as he prefers to be known) and subsequent releases have seen him expand on an approach that has increasingly been as much about the story as the music.
Debuting on R&S Records with the Temporary Thrillz EP in 2010, a narrative framework was established regarding Tiraquon Security Council founder Max Tiraquon and his deputy Mr. 8040, most specifically Mr 8040's endeavours to build a time travelling device to escape current day earth and return to the future and his home of Mikrosector-50. This was explored further on the 2011 mini-album The Pathway To Tiraquon6 with that memorable release billed as the prequel to the main event that is Welcome To Mikrosector-50, whose accompanying press release came with a suitably epic 750 word plot summary.
Speaking to Resident Advisor in a brief interview published earlier today, the producer name-checked everything from Boards of Canada and John Carpenter to cult TV show Garth Marenghi's Darkplace when discussing the influences that went into making the 13 track set which upon first listen expertly weaves through 80s electro funk, disco and house terrain with usage of vocoder prominent throughout.
R&S Records will release Welcome To Mikrosector-50 by Space Dimension Controller on March 5.

Tracklisting:
1. Feature Presentation
2. 2357 A.D.
3. Mr. 8040's Introduction (Mikrosector-50, Mankind's New Home)
4. Welcome to Mikrosector-50 (Home to Emptiness)
5. Confusion on the Armament Moon (Answers From Max)
6. When Your Love Feels Like It's Fading
7. A Lonely FlightTo EroDru-10 (Arrival on EroDru-10)
8. You Can't Have My Love (Chance Diversion)
9. Rising (An Unwelcome Temptation)
10. Quadraskank Interlude (Return to the Love Quadrant)
11. The Love Quadrant (The Future Is Not For Me)
12. Back Through Time With A Mission Of Groove
13. Closing Titles — (Who's Closing In On Gaia?)
Header image by Luke Joyce