More archival material from Dream 2 Science's Ben Cenac on the way
Thug Records will follow in the path of Rush Hour with a forthcoming 12″ comprised of unreleased music from Ben Cenac of Dream 2 Science and Newcleus fame.
The New Yorker's contribution to the nascent strains of New York house music in the late 80's and early 90's was highlighted superbly by Rush Hour last year, first reissuing his overlooked, self-titled Dream 2 Science album and later giving Cenac's more widely embraced Sha-lor hit "I'm In Love" a 12″ reissue. Evidently there are further gems in Cenac's arsenal that never saw the light of day, four of which now feature on the forthcoming release from the Sydney based Thug Records.
All four tracks date back to the same prolific period in which Cenac produced the Dream 2 Science album, and highlight the producer's gift for working with vocalists, with Cenac's wife Yvette Cenac aka Vai Cee and Gregg Fore aka Buster Fhott from Dream 2 Science featuring along with Newcleus' Lady E, Shareen Evans and The Cellar Boyz aka the original Jam-On DJs. Anyone who indulged in the Dream 2 Science reissue will feel instantly at home with the intricately programmed rhythms and drifting chords evidently on display across the four tracks here – samples of each are available to stream below.
Thug Records will release the Cozmic House EP by Ben 'Cozmo D' Cenac in late January.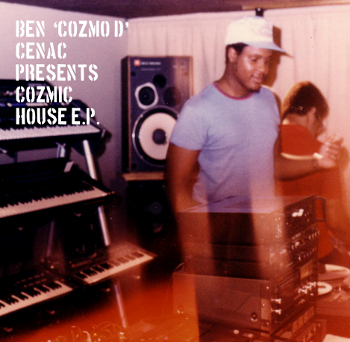 Tracklisting:
A1. Bodywork – Deeper And Deeper
A2. Lady E – Seems To Me
B1. G4 – Who Loves You
B2. The Cellar Boyz – Pay Me