DJ Kaos – Kosmische Ruckenwind (Remixes)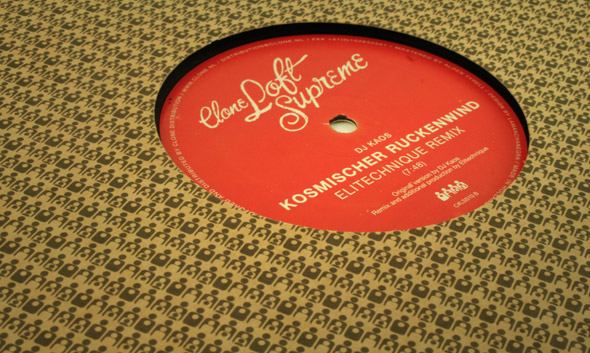 You have to feel for Elitechnique here. Regardless of however good their newly commissioned remix  of the 2009 Clone Loft Supreme gem "Kosmicher Ruckenwind" from DJ Kaos could possibly be, it's almost guaranteed that the vast majority of column inches will be devoted to the fact that it's preceded by a 24 minute remix from the Quiet Village duo of Joel Martin & Matt Edwards.
However, while Quiet Village already possess a reputation for bucking convention they can be permitted the benefit of the doubt on this occasion as there's a degree of precedent for such a marathon exercise. The sleeve notes for the original release of "Kosmischer Ruckenwind" actually site its inspiration as coming from electronic pioneers like Brian Eno and, more relevantly, Manuel Gottsching whose seminal "E2 E4" (which clocks in around the one hour mark) is so clearly referenced in the Quiet Village remix.
Martin & Edwards have essentially done an abridged reimagining of Göttsching's work, but built with the components from Kaos's original piece. Thankfully the remix is more than just a cerebral workout and Quiet Village have still managed to craft an emotive and submersive arrangement that would sit perfectly alongside some of the more recent sonic explorations on labels such as Japan's Ene Records or ESP Institute, particularly Johnny Nash's recent Land of Light album with Kyle Martin.
While the Elitetechnique mix may run the risk of being treated like the second prize by many listeners, one would be very wise not overlook this track. What begins with an already driving bass and kick over a subtly pulsing arp, manages to build via layer upon layer of instrumental melody… and then build… and then build some more. The mix of ballsy guitars, shakers, random percussion, synths, melody, counter melody and everything else they throw at the remix still manages to cohere without overpowering the track at any time.
The cumulative effect of so much rising tension over such a tough backbone makes for testosterone heavy slice of disco that is all the more impressive when you consider that the vast majority of the remix has been recorded additionally by Elitetechnique themselves. Essentially, both remixes on offer have all of the hallmarks of being as much a labour of love as the original version, albeit for fairly different reasons.
Geoff Kirkwood
A1. Kosmische Ruckenwind (Quiet Village remix)
B1. Kosmische Ruckenwind (Elitechnique remix)