TM404 – The Morphosis Korg Response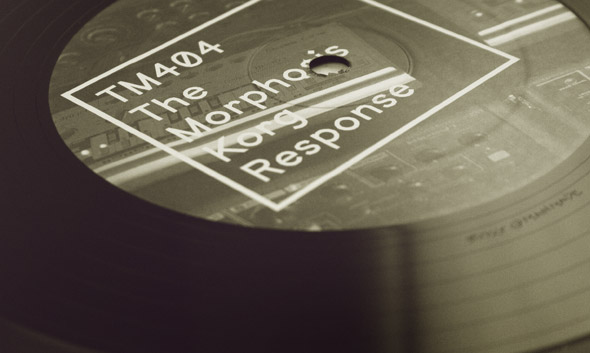 Morphosis and Andreas Tilliander electing to name their first collaborative release after a battle of analogue synthesis is certainly a bold declaration of what the relationship will entail. With that, The Morphosis Korg Response further highlights Kontra Musik's philosophy both in terms of visual aesthetic and musical selection.
The Swedish label has made a tremendous impact on the underground circuit in the last twelve months, having established themselves as a reliable source of edgy, rough-textured electronic dementia – built for both the dance floor and the mind. The culmination of all this was surely paraded by their compatriots, Frak, who have been curating their deranged brand of sci-fi inclined techno experimentations for over twenty years now; reducing it to a three pronged series of furious White Label 12"s for the imprint – a red, green and blue stamped artillery of analogue-powered excursions, ranging from mid-tempo drum machine workouts to abrasive acid-rinsed anthems.
But Kontra's twisted psyche grows stronger with each new step, placing them on a merited podium as one of the most consistent manufactures of noisy, techno-infused psychedelia. The Morphosis Korg Response presents us as witnesses to a war of vintage machines, a combat response in the form of two remixes by Rabih Beaini cultivated from material by Andreas Tilliander under his newly anointed TM404 alias. Tilliander's music under this name being formed from a host of Roland machinery that has been the subject of much commotion thanks to their free-flowing drone displays across various Youtube demonstrations.
With "202/202/303/303/606" representing Tilliander's original choice of machines, Morphosis' "Korg Response" comes courtesy of a monophonic, semi-modular MS20 and the infamous SQ10 sequencer – worthy adversaries to an already absurd range of hardware tools.  The piece is a near fifteen minutes of squealing, sub-acid trickles and prophetic synth bleeps yearning for a way out of the nomadic tunnel built by its shimmering hi-hats and weighty kick drums. We're confronted by something that's both harsh and gentle, with that metallic percussion travailing awkwardly through morphing rotations of MS20 shots. It's a work of unmistakable beauty and one which truly expands the boundaries of dance floor music.
"202/303/303/303/606/606" indulges in more experimental ideas, exploring the possibilities of the connections between the machines, rather than trying to form something immediately concrete. It begins with a flurry of scattered synth improvisations, 303 growls and takes its time to emit the distant bass drum spawning from the depths of its core, which then fuses dextrously with its other compounds. It seems to be a live re-interpretation of Tilliander's original work, where the balance between the melodies and the drums is unpredictable, rendering it arcane and sublimely organic – leaving us yearning for the possibility of further analogue exchanges between these two artists and Tilliander's full-length release under the TM404 name surfacing in February.
Pietro Barbieri-h
A1. "202202303303606"
B1. "202303303303606606"