Various – Into The Light: A Journey Into Greek Electronic Music, Classics & Rarities (1978-91)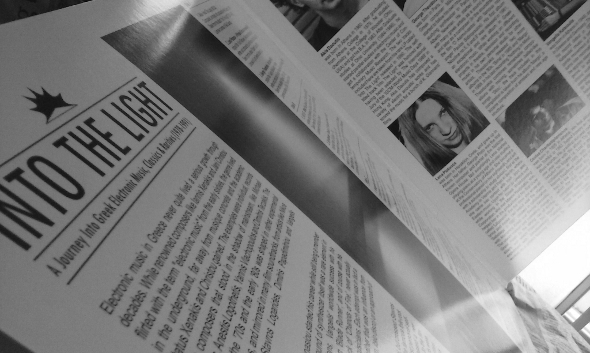 It's fair to say that Greece has never enjoyed a particularly good reputation as a hotbed of quality electronic music. Ask your average crate-digger to name five high-grade Greek electronic artists, and he or she would be struggling after Vangelis – and he was more of a synth-obsessed composer than an electronic producer. That doesn't mean that Greece hasn't had its share of interesting producers releasing good quality music over the years, it's just that most of us don't know about them.
Thankfully, some enlightenment on the heritage of Greek electronic music has been shed courtesy of Echovolt Records boss Ilias Pitsios and Red Light Records boss Tako Reyenga who put their collective digging skills to great usage, sifting through some 14 years of Greek electronic oddities. The results are gathered together on Into The Light, the first compilation we can think of dedicated to the more experimental end of Greece's musical output. As you'd expect from two such knowledgeable curators, it's a curious but highly enjoyable exploration which successfully paints Greece as an unlikely hotbed of electronic fusion. Well known genres such as  prog rock, ambient, electronica, disco or synth-pop were twisted into intriguing new shapes by a group of musicians and producers whose careers invariably stuttered to even get started.
Some of the most compilation's most beguiling moments come from George Theodorakis, son of the legendary composer Mikis Theodorakis. While his old man scored a multitude of movies – including Zorba the Greek – Theodorakis junior largely failed to reach those heights. His two contributions here are particularly revelatory. There's "Stou", an epic, nine-minute exploration of cinematic moods from 1988 that somehow manages to blend relentless synth work with dark, progressive moods, new age melodies and spooky, experimental percussion. The mood there contrasts with the clattering, upbeat "No Name" a sparse, melodic synth jam that sounds like a cross between Vangelis and the Radiophonic Workshop.
Soundtrack-friendly music is a constant theme throughout Into The Light. There's some Mike Oldfield-goes-electronic exploration in the shape of Stavros Logarides' prog-era piano-and-synth piece "Snif Snif", here presented in superior instrumental form. Dimitris Petsetakis gets all new age on the flowing ambience of "Clearance Parts 1 & II", while Dimitris Papadimitriou blends cinematic moods with unlikely (and frankly rather silly) guitar solos on "John & George & Eve". Look out, too, for the two typically blissful contributions from forgotten composer/arranger Akis Daoutis, whose tracks always tiptoed the fine line between hypnotic ambience and new age lift music. "Into The Light", which opens the compilation, is nothing less than stunning; a bubbling exploration of the melodic possibilities of electronic music that's blessed with a particularly odd spoken word vocal.
Amongst all this, there are two contrasting, dancefloor-friendly cuts that stand out. The first is the 12" Dub of "What You Gonna Do" by 141G, a long-forgotten Italo-disco act fronted by arranger/producer Costas Charitodiplomenos. Built around tough, dubbed-out drum machine rhythms and a formidably rubbery bassline, it's as good as anything you'll hear from that period of European disco. Similarly impressive is Syndrome's "Roots", a 10-minute journey into freakish post-punk disco that blends rubbery bottom end and droning guitar textures with traditional Greek instrumentation, delay-laden fiddle solos and more than a touch of acid-washed prog rock charm. It's bold and intense, but more than a little endearing.
Matt Anniss
1. Akis – Into The Light
2. Lena Platonos – A Physical Exercise Unresolved
3. George Theodorakis – No Name
4. 141 G – What You Gonna Do (12" Dub Version)
5. Syndromo – Roots (12" Extended Version)
6. Vangelis Katsoulis – Improvisation
7. George Theodorakis – Stou
8. Dimitris Petsetakis – Clearance Part I II (Unreleased Version)
9. Stavros Logarides – Snif Snif (Instrumental)
10. Dimitris Papadimitriou – John And George And Eve
11. Mihalis Rakintzis – Arrest
12. Akis – Space, Time And Beyond