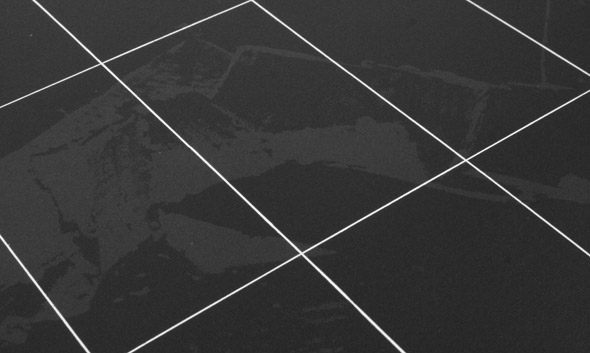 Countless evenings of deliberation, vociferous arguing and eating some truly unhealthy pizza all came good this week with several of our planned end of year lists rolling out – but still the records kept arriving.
A new Levon Vincent 12″ would be the highlight of any week, and the seventh Novel Sound release arrived after the surprise announcement and promptly sold out; this writer managed to get a listen of Stereo Systems before the last copy was jettisoned from the Juno warehouse and it's nice to hear the twinkling title track removed from the context of Vincent's Fabric mix, while the playful loop driven house of "Specks Jam" is a real highlight. If we had to divide up the weeks to decided which genre had it strongest in 2012, techno would probably be sat at the precipice, with this week a towering example of how healthy the scene is. Avian demonstrated why they were a necessary entrant into our labels list with the unpronouncable SHXCXCHCXSH debuting on the imprint with four equally unpronouncable tracks that slipped effortlessly into the Avian canon, while the mysterious Bleaching Agent returned for a second dose of bubbling chemical techno on the fledgling Mira offshoot.
Rrose served up our favourite edition of Eaux thus far with the expertly titled Wedge Of Chastity, while Truss donned the MPIA3 alias for a superb double plated debut on ArrrAnnEessss as well as surfacing on Sigha's Our Circular Sound with a hand stamped 12″ that pitched both sides of his musical personality against each other; imagine Rob Hood's grinding Detroitisms rubbing up against the more industrial slant of current UK techno and you're in the right frame of mind for Splot. Steve Tang continued his impressive recent form under the Obsolete Music Technology banner returning to Emphasis with the booming Since The Accident 12″ after a tipped flirtation with Dolly – do check the mellifluous blur of strangeness that is the Specter remix – while Roman Lindau dropped the most Fachwerkian sounding Fachwerk release in a hot minute on the monolithic Source D Inspiration. Blurry faced techno youngster Gerry Read presented perhaps the most conclusive evidence of his precocity with a debut album on 4th Wave called Jummy while Madteo's bewildering Noi No ends the techno transmission simply because of the Sahko connection – truly it sounds like little else we've heard this week.
In the wide world of house music, MGUN's trilogy of killer twelves in 2012 reached stage two with The Upstairs Apt EP on Don't be Afraid finally arriving on wax – check our in-depth review for a reminder of why we rate this Detroit producer so highly! Vakula was up to his tricks again, collaborating with two producers over the span of two different releases; returning to Japanese label Sound of Speed for a twelve inch workout alongside Mule Musiq favourite Kuniyuki as well as dropping the most impressive looking Leleka transmission since the label was founded, a six track release alongside Dusty Baron spread across 12″ and 7″ plates. Former DFA backroom lynchpin Justin Miller broke free with the debut edition of Have A Killer Time which saw the excellent Walter Jones at the controls backed with a remix from 2012 ever-present Lauer, while there was yet more Heckle tackle to relish in the shape of two Bantam Lions remixes on the newly launched Scenery label.
Elsewhere, Mr Eno returned to Warp Records with Lux, the new album that should rubber stamp his end of year honours award as the Grandaddy of Electronica, a delicate assortment of subtle harmonics and chimerical programming all of which seem to share an inseparable union. So a Brian Eno album then. Five Easy Pieces demonstrated why you can't put them in a hole with pigeons, slipping out a rather fine four track label debut from Flako, and Old Apparatus served notice on a wonderful year with the fourth release on their own Sullen Tone label with collective member Harem the focus of attention.
Over at Juno Download, Benjamin Brunn returned to British imprint Third Ear with A Sun Life, an album that progressed past lively and colourful techno and into beatless, dubby space. If there was any proof needed that Brunn's employment of old-skool hardware is rooted in something deeper than hype, it would be in the quality of production on the whole album – there is never a moment of distortion or fashionable scuffing, with the producer instead aiming for a pristine end result, a rarity in this day and age.
Meanwhile Charlatan stepped up to the increasingly dominant Type Records roster  with six eclectic pieces of techno-injected drones on Isolatarium, a post-apocalyptic dream which saw spine-chilling chords find their own momentum amid cleverly disguised drum patterns.  Those with a more esoteric musical palette should also be sure to check Scott Douglas Gordon aka Loops Haunt's return to Black Acre Records; Zenith was a heady mix of quasi hip-hop beats grinding away at thick walls of mutating effects, meticulous jungle percussion and contemplative half-steps. More digital niceness came from Nathan Fake, who was remixed by Lone, Lukid and Coda on Border Comminity, and Auf Togo (aka Clement Cachot-Coulom and Sasa Crnobrnja), who turned in some deep, rolling leftfield disco for Claremont 56 offshoot Leng.