Native Instruments – Maschine Mk2 Groove Production Studio review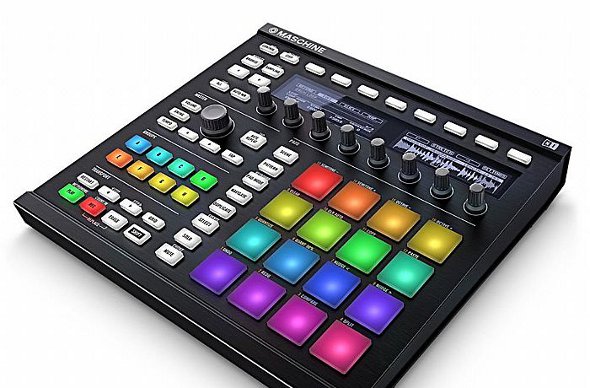 When Native Instruments unveiled their Maschine hardware and software combination it was received with resounding approval across the board. Now, with the Maschine Mk2, how exactly have they improved upon the original? 
For those unfamiliar with the Maschine production studio, it's essentially a traditional drum machine backed by powerful sequencing and production software with an extensive sound library filled with top of the line samples. But it isn't just a tool for the studio – it has been designed to help the user get away from the computer and into a more organic and creative head space. Its tough build quality and fast workflow lends itself to live performances – although it still needs to be hooked up to a laptop. It features high quality performance pads for triggering your sounds or launching scenes, loops and patterns without fuss and in a manner that lends itself to those "on the fly" performance choices that can add so much magic in a live environment. The last time the Maschine had such a major overhaul was with the development and release of the Maschine Mikro at the end of 2011, which was a smaller and more compact version of the original (reviewed here at Juno Plus here earlier this year).
"Perhaps the most welcome new features are the time stretch and pitch shift capabilities, which allow you to change your loops and samples from one BPM to another"
Anyone who has used DJ controllers in the past will know that the hardware is only as good as the software it controls, and Native Instruments have been gradually improving their software via a series of updates – they've now reached version 1.8. Delving into the new software will be a breeze for those already familiar with the original Maschine as it resembles its predecessor closely. Perhaps the most welcome new features are the time stretch and pitch shift capabilities, which allow you to change your loops and samples from one BPM to another. This operation is facilitated by auto BPM detection, and workks very well; on testing, stretching a loop from 110 BPM to 120 BPM didn't bring up any unpleasant glitches. The pitch shift feature allows you to tune your samples and loops – this is very handy for manipulating difficult samples that incorporate pitched instruments, or for those with a preference for tuning individual drums so they all play more or less in key. This can all be done without looking at your computer screen, as now there is an improved raised double screen on the hardware, organised in a logical and simple fashion. The latest software also includes Transient Master, a dynamic effect that gives you control over the attack of your sounds, allowing you to soften harsh noises or make others sound more crisp and tight. It's a useful tool for placing sounds once you get to the mix stage.
In addition to the software upgrades, there have been some marked improvements in the hardware itself. The 16 performance pads and the group pads have coloured backlighting which help you know which elements of your music you are working with. It's a simple operation to change the colour of scenes and patterns in the software, which is then reflected on the controller itself – an big improvement for those who want to use the Maschine Mk2 on dimly lit live stages. The pads themselves were a feature on the original Maschine but they have been improved upon with tight velocity sensitivity, making them a bit more human and expressive. The screen now shows all messages as white on black instead of black on white, and is therefore much easier on the eye, and the design of the panel controls has also changed. For example, in the master section there is now a single push encoder instead of separate volume, swing and tempo control knobs; this is implemented by enabling the required function buttons, all of which now have a satisfying click when depressed, which further adds to the reassuring feel of the unit. The hardware itself has an improved sunken USB port at the back that helps guard against accidental unplugging, and there are improved rubber feet that stop the unit sliding around during heavy use. There is also improved sample auditioning and automation control with auto-write pinning, allowing you to use two hands to manipulate your sounds. Along with the Komplete Elements set of plug-ins, Native Instruments have also given all Maschine Mk2 owners access to a free download of their Massive soft synth that has a sizeable library of sounds, all of which can be controlled using eight knobs on the front of the control hardware. It's an odd choice in some ways, because of all the Native Instruments soft synths, Massive is perhaps the most complex to use, lending itself to use with a keyboard – the 16 pads featured on the Maschine Mk2 simply don't feel up to the task. Of course, you could always hook up a USB keyboard to your computer if you wanted to, or use the MIDI I/O ports on the back of the controller.
"This is a tool for the creation of music rather than the mixing of it"
Once you have mastered the basics of this unit it's great for making patterns and putting different sounds together, but at first it does feel like the learning curve is quite steep as some operations, such as editing, are more quickly done on the computer screen than on the hardware. However, this combination of hardware and software feels like it's aimed at production newcomers, as its simple performance pads and extensive and professional quality sound library indicate. The launching of scenes and patterns is reminiscent of the kind of workflow you might find in Ableton Live, but neither of these have the sequence and mix integration found in more complex DAWs such as Logic or Cubase. This is a tool for the creation of music rather than the mixing of it, which isn't a necessarily a bad thing. The quality of sound is assured as the Maschine Mk2 does not support compressed formats such as Mp3, instead sticking to Wav, Aiff and Rex files. Ultimately, the elegance of the Maschine Mk2 as a music making tool comes in the tight integration between hardware and software. It is suited to producers who want to make groove based music, with the added option of taking their creations out into the live arena.
Buy from Juno
Robin Lee
Specifications:
| | |
| --- | --- |
| Controls | 16 x multi coloured, high quality, velocity sensitive performance pads with after touch, 8 x multi coloured group select buttons, 1 x push encoder, 8 x knobs, 39 x backlit buttons. |
| Dimensions | 32cms x 29.5cms x 6.5cms |
| Weight | 1.8kgs |
| Features | Fully integrated software and hardware, Sequencer, Pattern editor, Sample editor, Browser, Studio quality effects, USB controller. |
| Display | 2 x high contrast, high angle displays |
| Connections | USB 2.0,MIDII/O |
| System Preferences Windows | Windows 7 (latest Service Pack, 32/64 Bit), Intel Core Duo or AMD Athlon 64 X2, 2 GB RAM |
| System Preferences Mac | Mac OS X 10.6 or 10.7 (latest update), Intel Core Duo, 2 GB RAM |