Electrix – Tweaker review
Electrix enter the competitive arena of DJ/production controllers with the Tweaker. But with tough competition all around, will this newcomer to the controller market get a fair hearing? Here's our verdict.
Electrix launched a series of FX units in 1999, known as the legacy series, and included some well-loved, time synchronized modules. Perhaps the best loved of these units was the Filter Factory, which allowed producers and DJs to get a more hands on experience in the studio and in the DJ booth. But perhaps the biggest success Electrix have had to date was the Repeater; Released in 2001 and featuring time stretching, this looping machine allowed you to layer up to four tracks and found favour with high profile bands and musicians such as Muse, U2, Chemical Brothers and Massive Attack. Now Electrix find themselves back in the world of the DJ and producer with two new products – namely the Ebox-44 audio interface and the Tweaker MIDI controller. As with most USB MIDI controllers, you only have to take a look at them to understand the kind of use they are going to get, and the Tweaker is clearly geared towards digital DJing and controlling production software, namely Ableton Live.
The brushed aluminium faceplate houses an array of knobs, buttons, encoders and faders in a layout similar to what you would find on a two channel mixer. The left and right side of the unit mirror each other almost exactly, further hinting at its DJing potential. Each side is home to a vertical line of three push encoders screaming out to be used as a three band EQ, with a pair of buttons at the end for any number of DJ mixer type operations such as headphone cue, key lock, pitch fader width or even a toggle for FX. Below is a 70mm fader that has a comfortable amount of resistance notched at the half way point (pitch fader anybody?), and is underlined by a single button that could be used for anything from transport control to enabling sync capabilities. There is a large push encoder situated at the very top of the faceplate, ideal for browsing, with a navigation cursor right next to it. The cursor features up/down, left/right arrows as well as a central select type button that could also double as a shift function for accessing secondary functions. These two features share space with single knobs on either side that look like the kind of gain controls you would find on a traditional DJ mixer. There are no jog wheels present; instead there is a bank of eight performance pads that are both touch sensitive and have after-touch pressure sensitivity, with a grid of 32 buttons below. You could view it as two sets of 16 button grids – this configuration is hinted at in the graphics outlining the faceplate in this area of the unit. To top it off, the entire face of the Tweaker is underlined with a single 60mm cross fader control.
Along with its own editing software for creating personalised mappings, the Tweaker also ships with Traktor LE (Light Edition) along with mapping files to ease use with Traktor Pro and Ableton Live. On loading up Traktor Pro and configuring the software with the provided mapping, the level of control you can achieve becomes tantalisingly clear. All the default layout controls make perfect sense with the three push encoders down each side operating Traktor's three band EQ, while the push part of the encoders operates as a kill switch. The browsing wheel and cursors do exactly what you would expect them to, with the left and right arrows enabling you to load both decks, with the central button acting as a shift control to help you navigate your folders. The Tweaker offers multiple layers of operation for DJs, a feature that can also be found in other controllers such as Allen & Heath's Xone:K2. Multi-layered control allows you to really get control over looping and assigning hot cues as well as FX and sample decks.
"The Tweaker is a comprehensive controller for both Traktor and Ableton that, crucially, features the cross fader lacking on comparable models"
The dual 16 button grid is perfect for use with Traktor's extended sample deck functions, a control feature that can also be found on Native Instruments' F1 controller as well as the Xone:K2. However the Tweaker makes your job easier by having two 16 button grids (instead of the one found in the F1 and Xone:K2), thus easing the amount of layered control you have to access. Layered control allows a lot of control over a small unit – however the down side is that you need to know your mappings inside out to get full command of your software, and it is easy to mistake your looping layer of control with your FX layer. Electrix have eased this burden by providing overlays of their Ableton Live and Traktor mappings as well as making sure that all buttons and pads make use of multi coloured bi-directional communication, a feature that both looks good and helps you find your way in dark environments such as DJ booths or live stages. This, coupled with the fact that the Tweaker is designed to emulate two channels in a single unit, makes this solution a much less fussy affair than its rivals. The cross fader control is another extra feature that doesn't appear on the F1 and Xone:K2.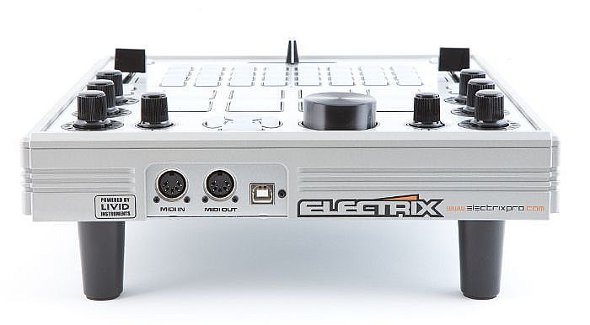 In Ableton Live the mappings are designed to allow you two layers of control for mixing and for controlling clips. The button grid in the centre is ideally suited for launching and stopping multiple clips, and the eight performance pads can be used with the drum rack for added creativity. In terms of Ableton control, its biggest rival is perhaps the Akai APC 40, which features a grid of 40 pads with eight channel faders, 17 knobs and the obligatory function buttons finished off with a cross fader. But in comparison, the Tweaker has a much less cluttered appearance, and the other obvious advantage it has is the addition of MIDI I/O ports on the rear. (The Akai unit sacrificed the MIDI ports for a pair of foot switch triggers.)
Perhaps the only other controller that comes close to the Tweaker, in terms of flexibility, is the Control R from Livid Instruments. As it turns out, Livid had a hand in designing and developing the Tweaker, and their involvement is acknowledged on the casing of the unit itself. All of the buttons and pads on the unit have the familiar feel of Livid , although there is a little too much wobble and travel in them. The reason for this isn't exactly clear but it is possible that this built-in wobble might ease problems such as button mishits or guard against buttons becoming stuck. The only other addition that could really improve the Tweaker would be the inclusion of soundcard technology, similar to the Xone:K2. The Tweaker comes with screw in legs that sit at the same height as the majority of DJ mixers and the unit is small enough to fit into carry-on luggage next to a laptop. It is a comprehensive controller for both Traktor and Ableton that, crucially, features the cross fader lacking on comparable models. If you want a flexible controller that's easy to use but has the depth to map it to your exact preferences then the Tweaker might just be for you.
Robin Lee
Buy from Juno
Specifications:
| | |
| --- | --- |
| Dimensions | 28cms x 27cms x 45cms |
| Weight | 1kg |
| Controls | 32 grid style buttons with colour bi directional communication, 8 touch sensitive performance pads with after touch, 2 pitch style faders, 1 cross fader, 7 rotary push encoders, 2 knobs, 5 segment cursor control, 6 function buttons with bi directional communication. |
| Connections | MIDII/O, USB. |
| Power | USB |
| Software | Tweaker Mapping Editor |
| Included mappings | Ableton Live, Serato Scratch Live, Traktor LE, Traktor Pro |
| System Requirements (PC) | Windows |
| System Requirements (Mac) | OSX |