Listen: John Heckle – Voices and Visions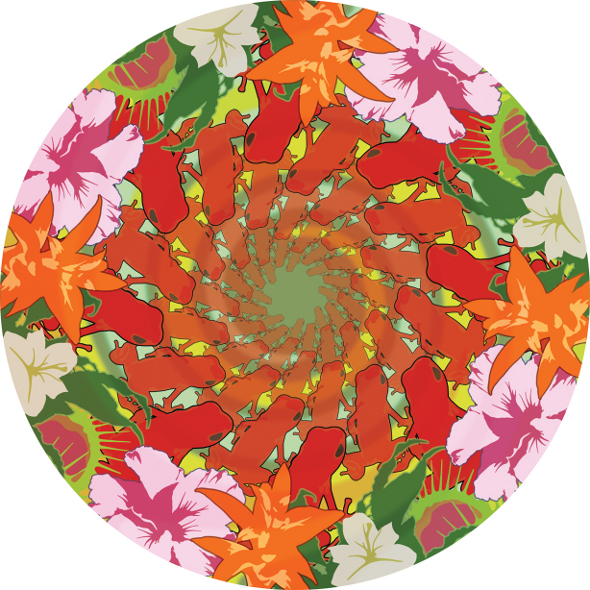 This month sees the return of John Heckle to the consistently intriguing Tabernacle imprint, and to whet appetites the label are offering a preview of the four track Voices & Visions EP.
The 12″ marks the producer's fifth appearance on Tabernacle; a track on the 2010 various artist release The Bad Mask was followed by 2011's solo outing Extrovert/Introvert and a rattling remix of Scan 7 legend Trackmasta Lou, as well as Muscle Patrol, a collaborative 12″ alongside fellow Liverpudlians Binny and Mark Forshaw under the Phantom Planet Outlaws banner. The label suggest that this latest 12″ sees Heckle "delve into psychedelic territory with tracks that effortlessly sway from the fruity to the outlandish", and the artwork from Andrew Ingram (see above) clearly maintains the LSD-soaked veneer of the EP. It'll be the third Heckle-shaped release to get excited about this month – last week we broke news of the producer's forthcoming debut on TLR's long running Crème Organization as well as a remix of Call Super which will appear on the next Throne Of Blood release.
You can listen to snippets of all four tracks below – do check the delightfully unhinged rhythms of "Doctor Catz" in particular. Tabernacle will release Voices & Visions on November 26 in a limited vinyl-only run of 300 copies.
Tracklisting:
A1 – Doctor Catz 4:25
A2 – 1-7 Main, 8-9 Recurring 6:10
B1 – Nine Gulps 6:35
B2 – Ode to SAW 3:40