Tiga announces Non Stop mix CD
Turbo Recordings boss Tiga will release a 28 track mix CD entitled Non Stop next month.
It marks Tiga's first official mix CD release since contributing to the Australian Inthemix series back in 2005, though the producer, DJ and label owner has been no slouch in the interim period, cultivating and expanding the Turbo Recordings catalogue, releasing two solo albums and numerous singles and more recently establishing himself as one of FC Barcelona's biggest fans on Twitter. A brief glance at the tracklisting for Non Stop makes for curious reading, with the Canadian seemingly looking to strike a fine balance between the kind of techno normally associated with Turbo and more diverse fare.
Thus you have acts such as Audion, Duke Dumont, Locked Groove, Marco Carola and Clouds rubbing shoulders with Actress, Blawan, Factory Floor, Auntie Flo and Bok Bok's collaboration with Tom Trago, while there are also some classic selections from Aphex Twin and Terrence Fixmer, and perhaps most intriguingly Crash Course In Science appear towards the close. Ever the self promoter, Tiga also includes his recent Crosstown Rebels effort as well as two all new productions; "Plush" which was recorded with compatriot Matthew Dear – and set to be released as a single two weeks after the mix – and "Track City Bitch", purportedly a primer for what forthcoming Tiga material will sound like.
The news arrives accompanied by a typically grandiose press release which amusingly exclaims Tiga to be "one of the most inexhaustibly creative and revered musicians in electronic music" while the Canadian is quoted as claiming the forthcoming mix "embodies the ethic of "Tempos Without Borders" starting out around 108 BPM before ultimately arriving at 126, the mythical "Golden Rectangle" of tempos."
PIAS/Different Recordings will release Non Stop: mixed by Tiga on November 12.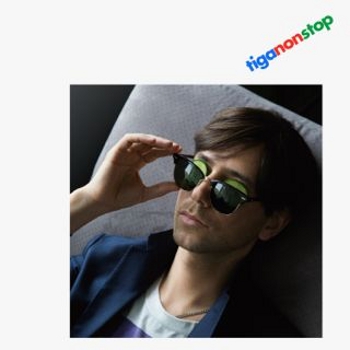 Tracklisting:
1. Kindness – Swingin' Party
2. Temple Traxx – 4E
3. AFX – AFX Acid 04
4. MKRNI – Humedad (DJs Pareja Remix)
5. Tiga – Plush
6. Audion – Cloth (Just A Couch)
7. Duke Dumont – Street Walker
8. Adam Marshall – Bass Tracking
9. Marco Carola – 90's
10. Bok Bok & Tom Trago – Lil Ma Bonus Beat
11. Tiga – Track City Bitch
12. Terence Fixmer – Inner Playground
13. Romare – The Blues (It Began In Africa)
14. Auntie Flo – Oh My Days
15. Lula Circus – Once Upon A Time
16. Tiga – The Picture
17. Locked Groove – Keep Thorough
18. The Giver – Duke Dumont
19. Clouds – Cracks In My Face
20. Blawan – 6 To 6 Lick
21. Panda Bear – Surfer's Hymn (Actress Primitive Pattern Mix)
22. Jacques Greene – Prism
23. Gladio – Calligula
24. K Alexi – Vertigo
25. Aubrey – Spank Spank 2008
26. Factory Floor – Two Different Ways
27. Crash Course In Science – Flying Turns
28. A Homeboy, A Hippie & A Funki Dredd – Total Confusion (Heavenly Mix)