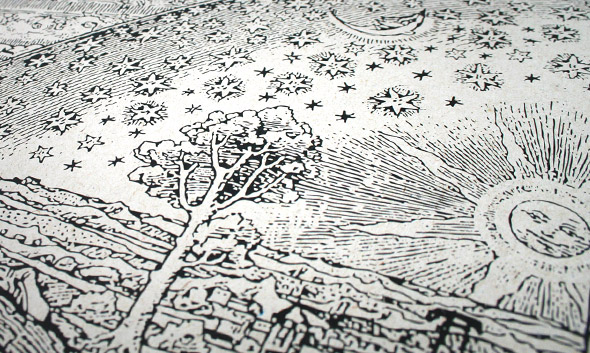 We could probably spend the duration of this column espousing on the excellence of the compilation of material from the Wunderwerke label that's just been reissued, but that doesn't really cover fairly what's been another strong week for plates of wax.
As you might gather from the above image, Selected Werks Vol 1 is undoubtedly the finest looking record to arrive this week which in truth is surpassed by the music itself, the product of three Germans evidently ahead of their time and still sounding immense today. Overseen by Steve Kotey and Dutch edit fiend Loud-E, this 12 track retrospective includes detailed sleeve notes from the former laying down the Wunderwerke story (they invented the bespoke Robotwerke drum machine) and also features some exclusive edits from the pair. If you are a fan of Minimal Wave output or 70s synth music in general you'll love this double LP issue.
Much like our hugely enjoyable party last Friday came and went (though the hangover remained long after) the latest L.I.E.S. 12″ didn't even get the chance to consider outstaying its welcome, something that's becoming an all too familiar occurrence. Fear not as you'll get the chance to own the tracks from Messers Torn Hawk, Del Boy Edwards and Marcos Cabral when the label makes their debut turn in the Compact Disc market next year with the Double CD American Noise compilation.
If you can't wait till then and want some original blow-your-socks-off music then we have to recommend you spend some time in the company of the new Amir Alexander 12″ on his own Vanguard Sound label. This Chicago resident has been developing his own distinct slant on house and techno under the radar of wider recognition for several years now (though that's changing with recent releases on Hype LTD and Deep Vibes) and that style is executed with mental aplomb on the Idiot Savant Masterpieces EP.
XDB meets Kassem Mosse on Diamonds & Pearls, Pete Swanson merging noise with rhythm like he's never done before for Type (check the gloriously tasteless artwork too), Milton Bradley continuing his precision 90s Acid Rave detonations as Alien Rain, Tyler Friedman dragging the accepted margins of techno even further for Kontra and Sascha Rydell doing similar things on the latest Fachwerk release: all of these releases make for pretty interesting Techno times.
There was loads of house goodness this week too, Morning Factory returning to Clone via their Jack For Daze label with some genuine Chicago House business, Rush Hour covering the New York base with the killer Elbee Badd reissue on double wax and also dropping the silly good vocal house 12″ reissue by Sha-Lor. Patrice Scott gathered up his Sistrum brethren for a second round of Aphotic Segments, Italojohnson number 6 surfaced while Four Tet dropped his 458th* remix of the year with some trademark recuts of Hot Chip (bizarrely it's his first remix of the band in like six years). On the repress front some rare Don Papa goodness from the Sex Tags empire turned up and Mr Saturday Night finally took the hint about our "stop being mad disrespectful" emails and delivered some more copies of the killer Anthony Naples record.
Falling into the realm of contemporary disco releases, we tip our hats to Disco Bloodbath who managed to coax some all new G & S material out of Nadia Ksaiba and Matt Waites, only three years after they surfaced together on Dissident and Codek. A weighty yet eminently danceable manipulation of analogue gear is present in both original G & S tracks and further hat tippage is done for enlisting Capracara on remix duties. Elsewhere Crème Eclipse returned just in time for Halloween with the first Sumerian Fleet material from Alden Tyrell and Mr Pauli in a freaking age, touching on everything from Adult to Fad Gadget to Minimal Wave ish, PPU teamed up with Omega Supreme to release some modern electro funk from the excellently monikered Turquoise Summers and Internasjonal scored a killler debut release from Leipzig's Phillip Matalla.
Meanwhile over at Juno Download, Young Echo collective member Vessel released his debut album, Order Of Noise, on Tri Angle Records. The young producer has been pushing genre boundaries for some years now, taking house, techno and garage templates and combining them with a grubby, hazy palette of sound. Here he largely eschews dancefloor concerns and constructs an album of ambient sound, echo-chamber dub and textured percussion, creating something which is a combination of the microscopic dissection of sound demonstrated in Actress' R.I.P. and the dense, claustrophobic techno of Andy Stott's Passed Me By.
Elsewhere, Hospital Productions continued to digitise previous cassette-only releases, with one EP from the label boss under his Vatican Shadow guise and two from Rainforest Spiritual Enslavement (here and here), with the latter release containing some of the most evocative track titles in recent memory ("In Port Moresby They Tried To Bulldoze A Mountain Where A Very Strong Spirit Dwells" being just one example).
Trevor Jackson's production career was strangely short-lived, but during that time he did produce some gems. The highlight was undoubtedly Playgroup, his 2001 debut full-length for Parisian hipsters Source. Listening back to this digital reissue (which features a number of essential extended mixes and reworks.), it still sounds great 11 years on. It offers a neat summary of Jackson's influences and inspirations, from low-slung electrofunk and hip-house-goes-punk-funk to electro clash-era post-punk and all manner of dub-influenced outings.
There was something refreshingly different from Portuguese producer/DJ Marfox who delivered five tracks of his unique Kuduro and Batida styles; two genres which although well outside-the-box, do have many elements to make them work in progressive and techno sets. After making a sizeable splash with a debut release on Uno, Kuhrye-oo got the remix treatment for the anthemic vocal cut that markedly stood out on that first EP, while Editions Mego's latest amalgamation of organised chaos came from none other than veteran noisenik Russell Haswell, and Funkineven and Fatima's sultry summer anthem "Phone Line" got a digital release.
Finally, Chicago producer Steve Tang joined the Dolly stable, and title track from his Inflection Point EP was based on cavernous, almost outsized claps and more subtle build up drums, but it was the dramatic strings and synth lines, tweaked in such a way that they almost sound pyschedelic, that impressed most.
*joke