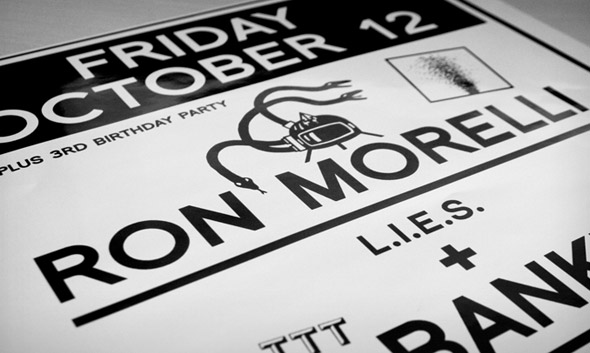 Anticipation for tonight's basement party in the company of Messrs Bankhead and Morelli is approaching the rampant stage now, and there's been plenty of fine records this week that we're tempted to bring along.
If you're quick you might be able to get a grip on the warfare electronics of the latest L.I.E.S. release, from Morelli himself in cahoots with Jason "I got more aliases than socks" Letkiewicz under their Two Dogs In A House moniker. Bask in the fourteen minutes of  decaying synths, spectral arpeggios and drum patterns that is "Eliminator" while trying to work out exactly what's happening in the sort of NSFW video here if you're inquisitive.
Meanwhile, Idle Hands dipped their toes in the lucrative and popular "mysterious techno artist" market with a debut release from the elusive outfit Rachel that was typically as good as anything the label has previously released, and thus coaxed us into shedding any cynical thoughts about "mysterious techno artist" in favour of purely enjoying the music. Of particular favour was "Kung Funk" which lies in the crawl space between Theo Parrish and Space Dimension Controller with a sprung bassline and live, wonky keys that hint at classic house without being overly referential. Just as worthy of your attention in the anonymous techno stakes was the debut release from the Rivieira collective on Muscle Records which will appeal to fans of Restoration and Relative output. Words such as cruddy, relentless, unpredictable and dark were all thrown around when the SR11 EP was slipped on the office 1210.
A good day or so was spent trying to figure out the latest +++ release from Hieroglyphic Being, possibly the most abrasive edition to date on a offshoot of Mathematics that the producer really likes to get twisted and messy on. The A Side to The Human Experience EP contains two tracks on mangled audio that are quite the challenge to sit through, let alone unleash on an unsuspecting crowd. There was however something to savour on the flip in the shape of "Long Live The Flesh", a quite brilliant looping barrage of jack hammering disco replete with barely audible screams of joy that seems like it could go on for infinity. If you like Hieroglyphic Being, the chances are the prospect of Regis and Monoton remixes of Ike Yard will also prove tempting, and the 12″ Blackest Ever Black just released in cahoots with the Desire label was a masterful display of the two artists respecting the source while adding their own sense of foreboding.
In need of something a bit less paranoia inducing? Dan Snaith's full length Daphni outing Jiaolong is a perfect fit! You probably know all about it as everyone with an opinion and a platform to express it has rightly been bleeding plaudits about the album – "Lights" and "Yes I Know" are current favourites. "Most Deep House" record of the week went to Hybrid Minds,  the sublime 3 track debut on Electric Minds from Move D – we defy you not to get all warm inside at the fizzing charms of "Got 2 B". A few months back, Creme Organisation were stuck with the quandry "How do you improve on a track like "Our House", the instant classic from Orgue Electronics and Robert Owens?" Colour me bad if they didn't achieve that in tasking Anglo-Bulgarian powerhouse act  KiNK & Nevile Watson and Brooklyn Budgie Smuggler Willie Burns to remix the track, with the latter dropping two equally superlative revisions using his trusty SP12.
Golf Channel engaged in more London Bus tactics, coming on with a double pronged Dr Dunks & The Rhythm Odyssey attack which demonstrated both their midtempo prowess on Circles and also their craft for uptempo fare with Instrumental Fantasy – the immense slab of psychedelically infused industrial disco that was "La Chiave" on the latter 12″ is particularly worthy of attention. Speaking of psychedelic leaning disco, we urge to invest some time in introducing your ears to Tropical Psychedelics, a collection of material from the cassette only archives of Secret Circuit, the Los Angeles based producer who is rapidly attaining hero status at Juno Plus HQ.
Over at Juno Download, there was an excellent Elbee Bad career retrospective from Rush Hour, who joined the dots between Lamont Booker's well known cuts ("The True Story of House Music", "New Age Track" etc), unreleased gems and little-known jams, portraying his work in all its eccentric glory. Elsewhere, long before his Traversable Wormhole project won him acclaim, New Yorker Adam X Mitchell was making intense, industrial techno for his own Sonic Groove label. Shorcut provided a timely reminder of just how dark and menacing the X man can get, with the title track based on a slamming rhythm and pounding beats with doubled up claps supporting dark, tunelling chords and waves of interference.
Having already marked himself out as a producer to keep an eye on with his EP for Deadplate early this year, Artifact moved to Local Action for another EP of swung UKG influenced techno, while Vatican Shadow's heavily sought after "Ghosts Of Chechnya" cassette finally got a digital release, and Bee Mask aka Chris Madak turned in more breathtaking leftfield music for Australia's Room 40. The third Sullen Tone release in as many months from the anonymous Old Apparatus collective was the second to come from an individual member of the group – this time attributed to A. Levitas. Showing an even starker change in tone than the previous EP, Alfur saw the Old Apparatus sound shed the caked on grit to reveal something significantly lighter in tone. Meanwhile, Terrence Dixon has been under the radar for a few years, but nowadays it seems that there isn't a week goes by without him releasing a new record. Following his expansive recent album and the hard-edged release on Frustrated Funk came a more accessible record for Subspec, and it was "Untitled 2" that emerged as the clear highlight; deeper and more subtle than the previous tracks, its doubled up beats, trickling streams of percussion and hypnotic chords make for some of Dixon's most engaging music.
There were two CDs that caught our eye this week; firstly, Detroit producer Luke Hess veered effortlessly from hypnotic deep house to robust techno via beatless interludes on Keep On, while Ben Klock turned in the 66th Fabric mix with an undulating journey through late night techno, casually slipping between obtuse, heads-down fare, blunt machine rhythms and shuffling, hypnotic grooves.