Juno Plus Podcast 45: Bill Kouligas

PAN Records chief Bill Kouligas has presented a dizzying 26 track selection for Juno Plus Podcast 45; Keith Fullerton Whitman, Theo Parrish, Objekt, Severed Heads and more all feature.
Launched in 2008, the Pan label has been used by Berlin based Kouligas to cultivate a thriving creative outlet for both music and design. Since then the label's output has been prolific, with a growing roster of experimental musicians that includes the electro-acoustic mindfuckery of Keith Fullerton Whitman, the industrial leanings of Helm and noise artists Aaron Dilloway and Jason Lescalleet alongside the more experimental end of dance music from the likes of Mat Steel & Mark Fell's SND project, and the Casiotone house of Heatsick aka Steven Warwick, and the ultra-processed breakbeats of NHK'Koyxen. The physical presentation of each release is routinely excellent, with bespoke designed sleeves from Kouligas and Kathryn Politis generally housing heavyweight vinyl pressed up in limited runs.
This meeting of experimental beats and modern avant-garde composition is something that comes through in his Juno Plus podcast, a sprawling mix which takes in a number of PAN releases from Rene Hell, Helm, Keith Fullerton Whitman, Lee Gamble, Jar Moff and Mohammad, alongside some classic 1980s industrial exotica from Aussie outfit Severed Heads, new heat on L.I.E.S and The Trilogy Tapes and one of Theo Parrish's most confronting productions in recent memory. Kouligas was also kind enough to answer some questions we threw at him.
Hi Bill, tell us a bit about your Juno Plus podcast. How and where did you put it together?
The mix is a collage of different things I have been listening to recently; some of which are also long time favorites (like the -Δt* lp, Mnemonists, second Pita album, etc), and some more beat driven tracks I like DJing (including new tracks by Rrose, L.I.E.S. crew, Kyle Hall, Metasplice, killer Willie Burns 12″ on Trilogy Tapes etc) and of course a bunch of new and forthcoming tracks from PAN. The overall mix is not intended as a DJ set per se. There is a lot of experimental music as well as dance, but I have tried to focus more on narrative rather than any genre distinctions. I'm interested in seeing the kind of dialogue that can be formed by putting different influences together.
You recently played in London at the first Local Authority showcase. How was the event for you and how did you identify with the night's concept?
It's interesting to see young promoters hosting big lineups that vary both soundwise and aesthetically. I really liked the live set by Ekoplekz that night – by far the best time I have seen him to date. Powell also played a really great and challenging dj set incorporating some live elements – electronics/echo etc.
With your background in design the PAN record sleeves are routinely excellent. Can you name us your three favourite (non-PAN) record sleeves in your collection?
It is hard to say, there are millions of different cover art and books that have influenced me throughout the years. I have a soft spot for early dub reggae records like Wackies, early 80s post-punk / synth records or the minimal design of Sähkö. From recent years I love the art of Ultra Eczema, Hundebiss, Sex Tags Mania, Workshop and Night Slugs to name but a few. 'No Pussyfooting' is still my favorite photo that appeared on a record sleeve.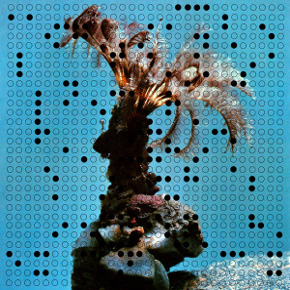 PAN has been releasing for around four years, and it seems that from an early focus on drone, noise and experimental electroacoustic music, you have opened things up to slightly more experimental dance music from the likes of SND, NHK'Koyxen and Heatsick. How did you come to include such music into the PAN fold, and how do you think it relates to the label's earlier, noisier releases?
The label emerged from the underground noise scene I was involved in as a musician from the mid '00s, but as time passes you get exposed to more things. The releases also add up, so the overall picture is clearer and easier to see as a whole. There is a definite link to all these releases in my mind, and I have no interest in capturing a specific scene or sound. There are records on the label from musicians who use large modular synthesizers and others just one Casio keyboard, as well as artists who work with reel to reel tapes and others with advanced computer software. Each artist has their own voice but they may relate to one another with the context of the label.
A forthcoming Lee Gamble release on PAN is an abstracted rework of old Jungle cassette mixtapes. Are you noticing more of a desire in artists to deconstruct recognizable dance music forms at the moment, or has this been bubbling under the surface for some time?
I think that the use of found material or revisiting history has always been happening in one way or another. Artists like Negativland & John Oswald's early plunderphonics experiments, the LAFMS scene or Bernard Parmegiani's Pop'eclectic album are a few good examples of deconstructed pop, jazz, early electronic and mainly rock history. It was bound to happen in dance culture too, it seems like a natural progression. as a refreshing way of development.
What have you got coming up on PAN – any more releases to look forward to before the year is out?
There is a second volume of Kouhei Matsunaga's NHK'Koyxen project on the way, a continuation of the ongoing development of his more dance oriented material. Jar Moff's first album of an abstract and futuristic hip-hop collage, Lee Gamble's 12″ and a full length electronic LP later in November, new 12″s by Helm and Bass Clef and a heavy album by drone/chamber music trio Mohammad. There are also three big showcases coming up next week, taking place in Brussels, Berlin's Berghain, and also within Unsound festival in Poland.
Tracklisting:
1. Das Projekt -Δt* ‎Bugo – Schligo ‎(Ata Tak)
2. Rene Hell – Untitled (PAN)
3. X-103 – Thera (Axis)
4. Mnemonists – Gyromancy (Dys)
5. Helm – New Untitled (PAN)
6. Keith Fullerton Whitman – Disingenuousness Ii (Alt Mix) (PAN)
7. Rrose – Wedge (Eaux)
8. Claude Young – Changing Factors (Frictional)
9. Delroy Edwards – When The Glue Won't Burn (L.I.E.S.)
10. Kyle Hall / Funkineven – Night (Wild Oats)
11. Madteo Feat. Sensational – Very Sweaty Palms (Kassem Mosse Remix) (Meakusma)
12. Metasplice – Decant (Morphine)
13. David Prescott – Walking In Slow Circles I (Generations Unlimited)
14. Willie Burns – The Overlord (The Trilogy Tapes)
15. 69 – Ladies & Gentlemen (Planet E)
16. Lee Gamble – Nowhen Hooks (PAN)
17. Jar Moff – Commercial Mouth (PAN)
18. Theo Parrish – Any Other Styles (Sound Signature)
19. Severed Heads – Gashing The Old Mae West (Ink Records)
20. Objekt – Porcupine (Hessle Audio)
21. DJ Stingray – Imping Is Easy (Unknown To The Unknown)
22. Él-G – Four Acts Amazon (Alter / Hundebiss)
23. Silent Servant – Utopian Disaster (End) (Hospital Productions)
24. Mohammad – Liberig Min (PAN)
25. Pita – Get Out (Mego)
26. A.C. Marias – Drop (Dome Records)
Pic credit: Traianos Pakioufakis