Full details of Russell Haswell's Downwards album emerge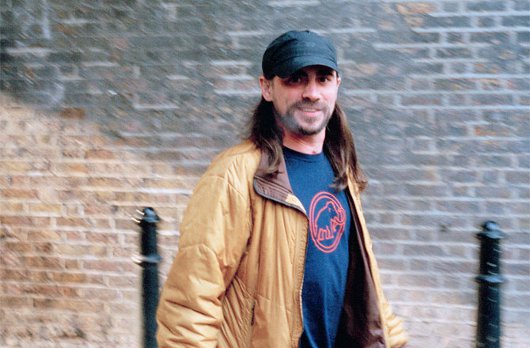 Following the sonically challenging Remixed EP that surfaced last month, full details of Russell Haswell's previously disclosed album for Downwards have arrived.
"Ridiculous bureaucracy and manufacturing restrictions" are the compelling influences behind an album which had originally been conceived to be released in an altogether more ambitious format. The Coventry based multi-disciplinarian apparently recorded ten tracks of "punishing noise" in late 2011 with the intention of releasing them across a series of 5″ records on the enduringly esoteric techno and industrially inclined label.
Due to the aforementioned reasons, this series was shelved in favour of collecting all ten tracks onto a single vinyl LP aptly titled 5″ Vinyl Series LP, and the music within is typically provocative. Abused, utilised and sculpted are the verbose methods Haswell implemented to fashion improvised intense modular synth sessions from "chaos oscillators, rave hoovers, and other dynamic, complex waveforms and noise generation".
Intriguingly, Haswell seems to have something of a doomed penchant for the 5″ vinyl format, having previously intended to releaseValue & Bonus, his 2010 album for New York"s No Fun productions as a double 5″ set, but this was canned after the label's preferred pressing plant lost their licence to manufacture this obscure format in favour of an expanded double CD release.
We expect Downwards to release the 5″ Vinyl Series LP by Russell Haswell in the near future.
Tracklisting:
A1. Chua Rave
A2. T.I.A.T.W.A.S.W.S
A3. Tribute To Sacher-Pelz
A4. Chua Acid
A5. Doom Metal Rave Drone
B1. Harshing
B2. No!se Resource
B3. Mercury (Crop)
B4. Chua No!se
B5. Bonus (Bonus) Beats