New Prins Thomas LP on the way
Scandolearic icon Prins Thomas will release a second eponymously titled album on his own Full Pupp imprint next month.
His Norse partner in crime Lindstrøm has been hogging the limelight of late, having already released one album in Six Cups Of Rebels this year and preparing to unleash another Todd Terje mixed album in Smalhans, as well as dropping numerous remixes and twelve inches. Prins Thomas meanwhile has seemingly preferred to spend his time since the release of his debut self titled album in 2010 working on establishing the Internasjonal and Internasjonal Spesial offshoots of Full Pupp.
Indeed, this clutch of Internasjonal brands have become a reliable source for those seeking contemporary disco of a certain pedigree, with recent excellent Cage & Aviary and Lovelock albums complemented by some stellar twelve inches from the likes of Secret Circuit and Phreek Plus One – the latter includes a stupendously good Justin Vandervolgen remix.
Among this stellar A&R work, Thomas has clearly been chipping away in his studio and as anyone who owns his debut album will attest, the producer seems to prefer to focus on the music as opposed to placing any great emphasis on the title or artwork. This is replicated on the forthcoming cunningly titled Prins Thomas 2, a seven track album that sports a divisive crayon scribbled sleeve. Musically, the album apparently owes "as much to the traditional methods of house or techno and extraterrestrial disco as they disregard it".
Full Pupp will release Prins Thomas 2 by Prins Thomas on October 29.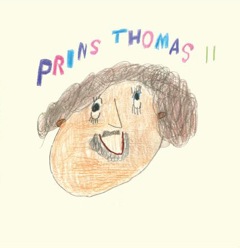 Tracklisting:
1. Symfonisk Utviklingshemming
2. Flau Pappadans 1
3. Bobletekno
4. Bom Bom
5. Bobletekno (Perkmiks)
6. Tjukkas Pa Karussel
7. Flau Pappadans 2