Novation reveal MiniNova synthesiser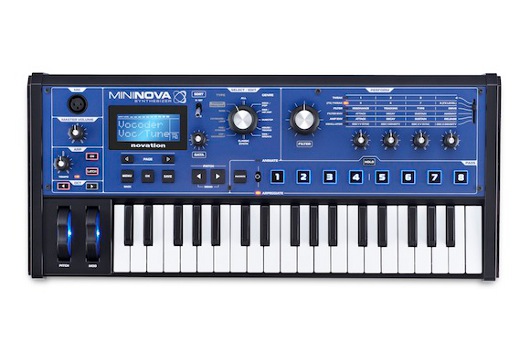 Novation have just revealed details of the latest addition to their Nova synthesiser family, the ultra-compact MiniNova.
Swapping the full size keyboard of its older sibling, the UltraNova, for a compact mini-key design, the MiniNova bears more than a striking resemblance to Korg's popular microKORG unit, itself featuring vocoder capabilities. However, utilising the same digital modelling algorithms as the UltraNova synthesiser, an update of Novation's classic Supernova II sound engine, the MiniNova packs a massive amount of sound shaping options in a similar package, and may just be able to knock the microKORG off the perch it has occupied for the past 10 years.
Under the hood there's a wealth of features available; with the same capacity for up to 18 voices and five layered effects as the UltraNova, it also includes "animate" buttons which allow the user to add subtle oscillation and trigger other effects to add some dynamism to their sound. As well as the now standard software editor, users have access to 14 different waveforms, 14 filter types (which can be directly controlled by a large knob on the unit), six envelope generators, three LFOs and 20 modulation slots – in other words, more sound shaping capability than in any other unit of this size, and a lot of larger keyboards, all of which is demonstrated in the video below.
The MiniNova's advantage over the UltraNova (besides its portability) is a brand new voice effect which Novation are calling "VocalTune", meaning that those wishing to recreate those much loved (or derided) moments of contemporary R&B's recent past will no doubt be putting the MiniNova straight to the top of their want list.
Novation will release the MiniNova in October 2012 with a recommended SSP of £299.99.