Analogue Solutions Leipzig-SK Analogue Monosynth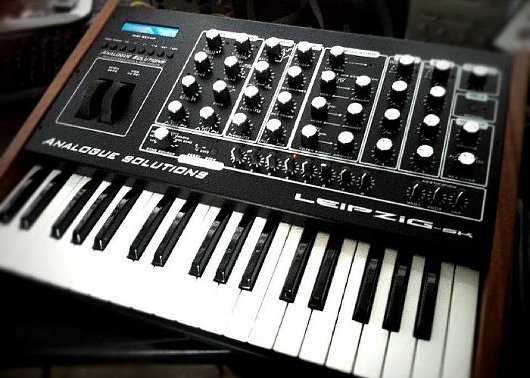 Fuelled by a desire to recreate the sound of vintage analogue synthesizers, Analogue Solutions' Tom Carpenter has delivered the Leipzig-SK analogue synthesizer with built-in sequencer.
There are plenty of well-known analogue synths on the market, as anyone even vaguely curious about music production will know. Moog are still producing their ever-popular Voyager model and Dave Smith, of Sequential Circuits fame, has also joined the battle for supremacy in the analogue synth world, along with smaller producers such as MFB, Doepfer, Vermona, Mode Machines and JoMoX. Indeed it could be said that the original synthesizers these giants created have been improved upon by the implementation of modern technological developments, such as computer software integration and digital control, or even USB and MIDI connectivity. Now we can create our favorite sounds in an analogue environment and save our new patch with the touch of a button or click of a mouse, ready to be recalled, at a moment's notice, to slot directly into our perfectly created track. An efficient use of at times unwieldy analogue technology, we can recycle our best sounds for use in multiple creations.
But do such technological advances actually help the creative process, or do they simply make us lazy? Don't they facilitate the mindless churning out of versions of the same music that we created last month? Has the living moment been taken out of the creative process, and have we lost sight of the value of originality? Well, the Leipzig-SK offers a solution by creating a synth with no memory. Put simply, it's not possible to recall that amazing bass patch you created last month at a moment's notice; the only things you can store are the MIDI settings via the LCD menu on the front panel, which is where you can also change octave settings and the pitch bend range.
Ostensibly the Leipzig-SK looks like an analogue synth from the era when MIDI was a new and exciting concept. The SK tag refers to the fact this is a version of the Leipzig-S synth that has 37 semi weighted and velocity sensitive keys. There are two VCOs (voltage controlled oscillators) with separate tuning knobs, glide rate and pulse width controls. VCO one and VCO two are more or less identical, except VCO one has a manual pulse width control and VCO two has a sync feature. The pulse width of the square wave can be modulated by the triangle, by turning the knob left or by envelope one, by turning to the right. These functions are clearly marked and this configuration is used again in the mixer section. Modulation is further enhanced by the possibility of unhooking the second VCO from any pitch control, essentially stopping it from responding to MIDI note commands.
The mixer section is fairly straight forward, with a single knob for controlling the amount of sub from VCO one, which is one octave below VCO one, or sub from VCO two, which is two octaves below VCO two. The same left/right functionality featured in the VCO section also controls the saw tooth/square nature of the waveform. The Leipzig-SK's Voltage Controlled Low Pass Filter is similar to a Moog ladder filter and is controlled by the cut off, resonance with keyboard tracking that is all fairly cut and dry for a machine like this. It should be noted that this keyboard's Sequential Circuits-styled looks belies its full and fat Moog-like sound; it doesn't take long to tease some typically huge bass from this machine or, alternatively, you can work up some really snappy percussive sounds. Indeed as you explore all the routing and modulation possibilities of this synth, you find yourself getting sucked further and further into its sonic landscape. Put simply, you are unlikely to get bored with this machine quickly.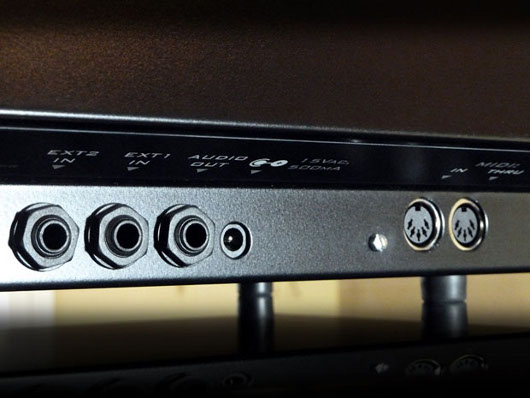 The Leipzig-SK is a great sounding analogue synth with plenty of flexibility, even without the facility for recalling patches, and thanks to the large amount of modulation routing options present in this synth, you can create classic vibrato effects and control the filter using the built-in modulation wheel. There are some great sounding analogue synths on the market already – most notably the ones previously mentioned in this review – but what really gives this synth an edge over its competitors is the built-in eight step sequencer. With the ability to send any of the steps to either or both of the VCOs and the filter as well, some very organic creations can be made.
Clocking comes from the LFO rate; if you're using this machine as a standalone unit, you can achieve synchronization from a variety of other sources, including MIDI from your DAW of choice using the MIDI Sync source, which is actually ACC (Accent). The reason for this is Tom Carpenter (the creator of this synth, alas no relation to John) only decided to drop MIDI Sync and use ACC after the front panels had already been printed because there weren't enough ports on the CPU left to incorporate it. This is not a major sticking point as it allows you to use your mute button from your DAW to stop and start the sequencer. The track commanding this synth in your computer sequencer doesn't need to be a pattern of consecutive 16th notes; it can be any pattern you desire, which permits a considerable amount of artistic freedom. You can even unhook this unit from your computer entirely and allow it to be slaved to another unit using the external inputs or CV connection options.
The 37 note keyboard is semi weighted, meaning there is little resistance when the keyboard action is implemented. It doesn't have the piano touch feel, and it's all the better for it. There's a comfortable feel that isn't spongy, with velocity sensitive keys and pitch and modulation wheels, which, along with all the knobs, makes this unit a formidable one in a live environment. The lack of quick and easy recall of patches and sequences on this synth doesn't immediately feel like an advantage, but if you dig a little deeper, you soon come to realize that Tom Carpenter merely wants us to pay attention, sit down and really take our time over our sound design. He doesn't want us to fake it by pulling up any number of perfectly designed presets.
One quick glance at his client list confirms the pedigree of Analogue Solutions products: Kraftwerk, Martin Gore, Paul Hardcastle and The Orb feature next to film scoring heavyweight Hans Zimmer, to name but a few. A client list like this conjures a wider picture of the heights and aspirations that Analogue Solutions have for all that use its products. If there is one criticism that can be leveled at this unit, it's the fact that the build quality doesn't seem to be in line with the rest of its high-end specifications. Nevertheless, in the studio or on stage, the Leipzig-SK is a delicious analogue synth that'll allow you to take your electronic music and inject it with something altogether more organic, less predictable and, ultimately, more human.
Robin Lee  

Specfications: 
| | |
| --- | --- |
| Dimensions (cms) | 10×22.2×48.3 |
| Weight (Kgs) | 3 |
| Power | 12V AC |
| Controls | 2 buttons, 39 rotary knobs, 7 rotary switches, 5 toggle switches |
| Outputs | 2 x 6.35 mm mono TRS |
| Inputs | 2 x 6.35 mm Ext inputs |
| CV | CV I/O, CV2 I/O, CV Gate I/O |
| MIDI | In/Out/Thru |
| Features | 2 x VCO's, Transistor ladder filter, Eight Step Analogue Sequencer with extended clocking source options |
Images: www.analoguesolutions.org.uk