Juno Plus turns 3 with Ron Morelli and Will Bankhead
We are very pleased to announce we'll charge our glasses to three years in the editorial game with an intimate party in London this October, featuring DJ sets from Ron Morelli and Will Bankhead.
The party will take place on Friday, October 12 at the Waiting Room in Stoke Newington, London. Headlining the event will be Long Island Electrical Systems (or L.I.E.S.) boss Ron Morelli, who will be making only his second DJ appearance in London. Regular Juno Plus readers won't need to be told how much we respect Morelli's work – seemingly overnight he transformed L.I.E.S. into one of the most important electronic music labels in operation, amassing a sprawling back catalogue that ranges from the sepia-tinted deep house to throbbing industrial techno and exotic sonic explorations.
Supporting on the night will be Will Bankhead, a man whose work as label chief of The Trilogy Tapes and Hinge Finger and graphic designer for the likes of Honest Jon's, Hessle Audio, R&S and Mo Wax has made him something of an underground doyen. 2012 has been a landmark year for Bankhead; Hinge Finger, a joint partnership with Joy Orbison, was launched in style with 12″s from Madteo and Blawan, while Trilogy Tapes has gone from strength to strength with cassette releases from Madteo complemented by vinyl-shaped treats from KM/MM (Kassem Mosse & Mix Mup), Dro Carey and Willie Burns. Most importantly, he has an exhaustive record collection and exquisite taste.
Needless to say we're thrilled to have two underground heavyweights performing in such a cosy space. There are a very limited number of advance tickets available for £5 from Resident Advisor – we advise you to grab them quickly before they get snapped up, because once they're gone, they're gone. Some tickets will be available on the door for £7. You can peep our lovely flyer below – a big thanks to Red Light Radio's Orpheu de Jong for the design work.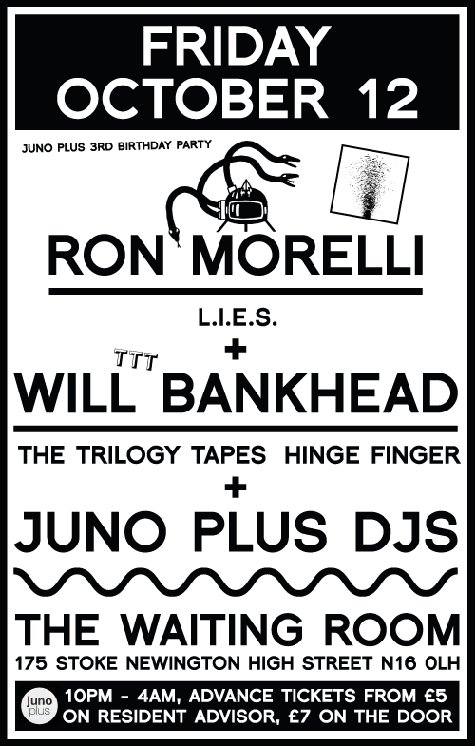 Party details:
The Waiting Room
175 Stoke Newington High St
£5 advance tickets available here. £7 on the door.
Line-up:
Ron Morelli, Will Bankhead & Juno Plus DJs
Main photo: Nicolas Tamboloni