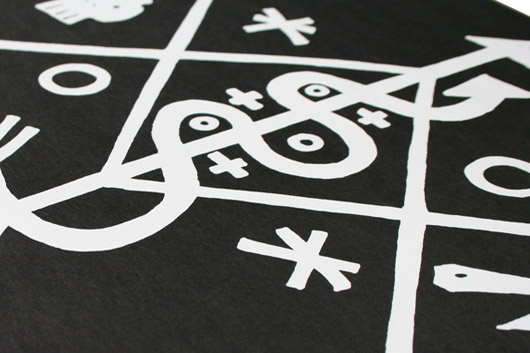 Despite it being August, the month unofficially referred to as 31 Days of Drought, there was quality releases across the board this week. Indeed any working week that features some hot from the pressing plant action from Sex Tags, Sound Signature, Downwards, NonPlus, Stones Throw and more should be considered five days of good listening.
The Sex Tags UFO offshoot came correct on Go!, their latest offering of bizarre leaned on interstellar disco goodness from perhaps the best DJ name we've heard in a long moment with DJ Candle In The Wind along with some more superlative art direction – grip this link for a full review of the mirthful brilliance from Oli Warwick. After the unbridled kung fu chaos of Any Other Styles, Mr Theo Parrish returned with some less divisive Sound Signature output in the shape of the Flowers EP from Andrew Ashong, extending on the collaborative remix he did of About Group with the Forest Hill resident last year. Whereas that remix implemented Ashong's distinctly soulful delivery into a typically bucking Parrish production, the three tracks on this release are all about pushing the Londoner's voice to the fore and hopefully it's the start of an intriguing collaboration.
Stones Throw emitted the second and final instalment of J Rocc's Minimal Wave Tapes Edits, offering further solitude for those DJs out there whose attempts to drop tracks from the compilations are frustrated by the inherent lack of quantized drum programming. Felix Kubin, Ohama, Mark Lane and Deux all feature and it's possibly the latter's edited "Games & Performance" that resonates most with the Juno Plus crew. We all know Gerry Read is as capable of banging out house and techno with unrelenting brutality as he is using the effects on Photoshop, but his remix of "Geek Emotions" by Hot Coins demonstrated the young producer to also be rather adept at delivering moments of sonic beauty such as the one where the most charming of fogged out string arrangements finally breaks through and releases its full emotive range.
"Rushing My Tits Off" will probably go down as one of the best track titles of this year, and luckily it's associated with an all round excellent release from UK veteran EDMX, the all conquering Cerberus on Milo Smee's Power Vacuum label, which was matched in the techno goodness stakes by the Non Plus debut of Basic Soul Unit, with two tracks of no bells and whistles ruggedness. Do check the Kowton turnout on Finnish label Signal Life, with his "Jam" subtly flipping the script once again, heading into smudgy sub heavy dark stepper territory – the hollowed out 808 heavy remix from label boss Desto probably has all the Soundcloud dwelling trapaholics giddy with excitement too! Those techno fans pining for the halcyon days of Sandwell District would find solace in the second release on Rrose's Eaux label, which saw the producer himself at the helm for two tracks every bit as strong, claustrophobic and droning as anything Rrose shaped that appeared on the now defunct label.
Speaking of Sandwell District, rare is the occasion that a Regis remix would be referred to as the most accessible element of a release, but this was certainly the case with his contribution to the Russell Haswell remix 12″ on his own Downwards label. His twitching, loopy techno workout of "Chua Rave" stood in stark contrast with the two remixes of the appropriately named "Harshing" from Kevin Drumm and Whitehouse founder William Bennett. The latter also appeared on Blackest Ever Black this week under his "afro noise" project Cut Hands, making it a great week for those who like their music to be challenging. Housed in the above distinct artwork from fellow Whitehouse member Mimsy DeBlois, the best way to describe "Black Mamba" is as a confrontational fury of overdriven African drumming with the ferocity of Regis's early techno and Shackleton's polyrhythmic delicacy and dread.
Over at Juno Download, Four Tet released Pink, an album comprised of previously vinyl-only tracks. Although several of these tracks are more dancefloor focused than we've seen previously, the melodies and textures were unmistakably Kieran Hebden. It was the centrepiece of Hebden's Fabriclive mix, the brilliantly moody "Pyramid", and the loose limbed jazz-house of "Pinnacles" that really set this album apart from his other long-playing efforts, two examples of timeless dance music which demonstrate why after nearly 15 years in the game Hebden is only improving with age.
Ripping into action in a screech of distorted guitar, the beat scene's original rocker The Gaslamp Killer returned to terrorise the Brainfeeder brethren with his hirsute antics. It's been a good couple of years since his last output, but the same bold reach of his sampling applied on Flange Face, albeit with a greater focus on wall-of-sound distortion than before, and it bodes well for his forthcoming album. And after slaying the competition in the early days of dubstep, Oris Jay did the honorable thing for the non-vinyl heads and set about uploading some gems from his Texture imprint; this week saw bonafide dubstep classics from Loefah, Benga and Jay himself under his Darqwan moniker all enter the digital domain.
Elsewhere, Mungolian Jetset served up their latest offering Mungodelics, which offered a string of collaborations (Balearic types Athana, Norwegian pop singer Unni and electronica/jazz fusionists Jaga Jazzist all feature), a handful of strange new pseudonyms (Knights of Jumungus anyone?) and the occasional original production. It's pretty much a brand new Mungolian Jetset album proper; it doesn't sound like anything else.
The pick of the CDs this week came from man of many aliases (Conforce, K2vx, Mi-24, Vernon Facility, Versalife) Boris Bunnik, who launched another pseudonym, Silent Harbour, with an album of quiet atmospherics on Denmark's bastion of all things deep and ambient, Echochord. While his more familiar Conforce work is bluntly rhythmical and formidably dancefloor focused, Silent Harbour is an altogether more out-there beast, as Bunnik flits between bubbling mood pieces, smacked-out soundscapesand icy introspection.