Madteo and DJ Sotofett to play inaugural Reel-To-Real party
Brand new London party Reel-To-Real is bringing Workshop and Hinge Finger associate Madteo to the capital for his debut DJ set, with Sex Tags Mania's DJ Sotofett also set to appear.
Taking place on Saturday, September 22 at Whitechapel's Rhythm Factory, and hosted in association with Juno Plus, Reel-To Real is a new night which seeks to avoid the typical conveyor belt of familiar names in favour of more underground figures of skewed house and raw techno. The first party will feature a a UK debut set from Hinge Finger, Workshop and Meakusma artist Madteo, a man renowned as much for his impeccable $1 bin selections as his loose, muffled house productions with hip-hop tendencies. Joining him will be Norway's DJ Sotofett, one half of the legendary Sex Tags Mania, a faintly ridiculous but immeasurably charming Norwegian empire with a focus that touches on everything from rugged house and raw disco to dub reggae. Support will be provided by analogue techno expert John Swing, an integral member of the Livejam and Appointment crew and boss of his own Relative imprint, and Reel-To-Real residents Truth Rhythm Unit.
The event takes place at London's Rhythm Factory on Saturday September 22, and tickets, costing £6, £8 and £10, are available now from Resident Advisor.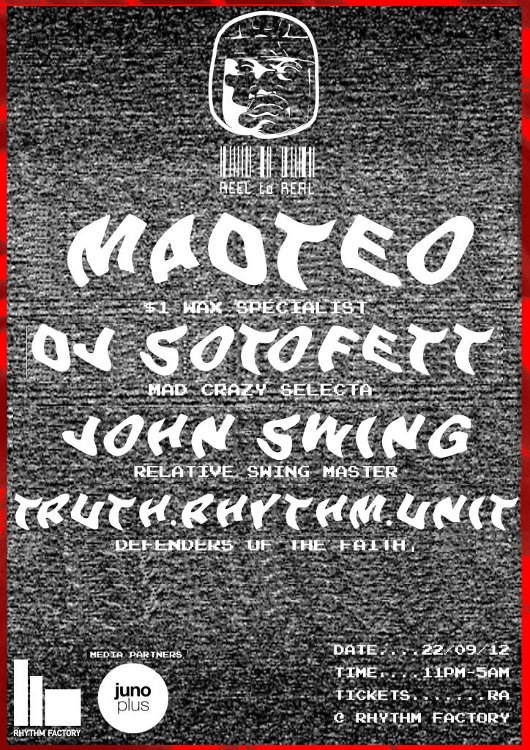 Full details:
Saturday September 22, 2012
11pm – 7am
Rhythm Factory
16-18 Whitechapel Road, Whitechapel
London E1 1EW
Line-up:
Madteo
DJ Sotofett
John Swing
Truth Rhythm Unit
Full disclosure: Reel-To-Real is an event run by employees of Juno Records.