Death Waltz to reissue John Carpenter's Prince Of Darkness score
Cult cinema soundtrack specialists Death Waltz have unveiled their latest project: a reissue of John Carpenter and Alan Howarth's score of 1987 horror flick Prince Of Darkness. 
The score for the second instalment of Carpenter's self styled Apocalypse Trilogy – a film that was incidentally panned by critics at the time if its release – is described on Death Waltz's website as "one of the most understated, atmospheric and downright scary soundtracks ever made". The six track LP has been re-mastered by Alan Howarth, who worked closely with Carpenter on the original production and is complemented by some all new artwork from Sam Smith.
The news follows this month's reissue of Carpenter's soundtrack of Escape From New York, the dystopian classic from 1981 starring Kurt Russell, with Death Waltz including six tracks that didn't feature on the original score. The fledgling label founded by Rough Trade East's Spencer Hickman has a slew of forthcoming releases that should excite cult cinema fetishists, including the soundtracks of zombie flick The Living Dead At The Manchester Morgue, Donnie Darko and a first ever vinyl release for 2008 Swedish romantic horror film Let The Right One In.
Death Waltz Recording Co. will release Alan Howarth  & John Carpenter's Prince Of Darkness OST on limited edition pale blue vinyl in September 2012.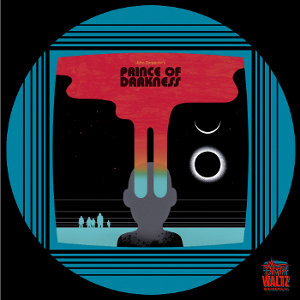 Tracklisting:
A1. Team Assembly
A2. Darkness Begins
A3. A Message From The Future
A4. Hell Breaks Loose
B1. Mirror Image
B2. The Devil Awakens