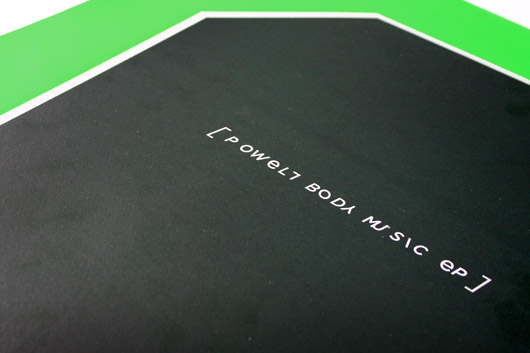 While the long awaited arrival of The Killer, the new album from Shed, was undoubtedly the showcase release this week, peek a little deeper and there 's a compelling range of music to get lost in.
Powell's return to Diagonal with the Body Music EP was a refreshingly bleak change from the dense, gray-scale monotony that has become contemporary techno's stock in trade and dominated by the title track which sounds like Dan Bell getting it on with The Cramps. The debut Eaux release from Rrose and Bon Ostertag was equally unconventional (as you would expect) with some rare archival tape recordings the latter made over a quarter of a century ago complemented by two diverse reshapes from the latter mysterious Sandwell District contributor. Speaking of the odd and the enigmatic, Gobby debuted on the increasingly on point UNO NYC label with some dizzying, degraded weirdness, while the anonymous Percussions surfaced on Four Tet's Text label with two slices of organic, wildlife enhanced techno that you'd be forgiven for thinking was Four Tet…
Moving onto more straightforward material, Dave Huismans donned his A Made Up Sound garms for a long overdue return to the Clone Basement Series with Archive II which left the jagged, garage flecked drill techno dynamism of last year's Take A Plunge at the door in favour of some bucaneering, uneasy liquid funk on "Hang Up" and the murky, dust battered dark techno of "Sweetback". Ask us to describe STL and we'd probably say he sounds like various machines malfunctioning in beautiful motion, and this was certainly the case on Good Vaporations, though there was also a healthy dose of Theo Parrish style alien funk hidden on the flip.
In housier terrain there was also a diverse selection of releases, the Aus debut of them burger boys Bicep arrived and it was a family affair as they shared production billing with fellow Tusk Wax artist Ejeca on the 2-step dipped "You" and Serge Santiago under his Skream & Benga bothering alias Omar Odyssey on "Don't" – do check the Steffi remix as well! Terre Thaemlitz returned to explore the themes of her rather epic Soulnessless SDHC album with a twelve inch shaped dose of K S H E remixes with the results typically delicate and esoteric treatments of house music formulas. Meanwhile Disco Bloodbath continued to strengthen their position as a label with the debut sounds of Hand Plant aka DBB resident Ben Pistor and Maxxi Soundsysten's Sam Watts – head for the 303 filled Acid Rework from Cynic artist Jamie Blanco!
If you put us on the spot and told us to pick a label either side of the Atlantic that we'd quite happily see out our days listening to we might say LIES and Running Back, and both provided excellent examples of why we'd choose them this week. Fighting the good fight in the European corner, Running Back dropped a Scandinavian love in as two tracks from an obscure Italo 7″ gem released by Swedish producer Samo Forsberg aka GAMM regular Samoo got the (Todd) Terje Olsen treatment. In the Stateside corner, Morelli's label introduced us to the work of Torn Hawk, aka Brooklyn video artist Luke Wyatt, whose four track Tarifa white label was filled with an eroded new wave sensibility, whilst the Unknown Artist two tracker is rumoured to be a LIES all-star affair.
Speaking of White Labels, Bok Bok helmed the latest volume in Night Slugs on-point 12″ series with two incendiary productions – "MJT" seems hell bent on twisting up a boogie refrain to breaking point, while the flipside remix of Riz MC is a low slung affair with synthetic strains of elastic bass slithering over a gun-cocking set of percussion and drunken locomotion. Award for the strangest yet totally fulfilling remix commission of the week went to Legowelt's serene funk rendition of Chrissy Murberbot's dark and hefty bleepathon "Friendship". And that vowel shifting TNGHT EP from Hudmo and Lunice that's been garnering all sorts of digital column inches arrived, with a swift fifteen minute crossing of beams that rains down a sick and slick kind of future-crunk.
Over at Juno Download, the second instalment in Stroboscopic Artefacts Stellate project arrived. Difficult to define and hard to pin down, the fleeting mood and shadowy feel of Stellate 2 explained exactly why SA has become such an essential outlet, with Silent Servant, Roll The Dice and Dadub all providing frankly unmissable contributions. Equally adventurous was Technology At The Speed Of Life, the first release from Diamond Version, a collaboration between Alva Noto and Byetone from Raster Noton. In many ways, it is a project of this age, a shining example of borderless digital creativity; conceived by its authors during live performances at dates around Europe, it matches up audio narratives with visual messages and observations about society. Scratch beneath the surface however, and the duo are taking inspiration from a style that has not yet been tapped by many of their peers; electro.
Meanwhile Dusk & Blackdown released their first new material in quite some time, with High Road featuring a guest appearance from one of Keysound's favourite sons and serving as an appetite whetter ahead of a second full length album from the duo. Another outfit with an album on the way are LV, and the duo were in rabble-rousing Kwaito mode on their new single for Hyperdub. Re-aligning with rowdy MC Okmalumkoolkat on the lead track "Sebenza", it's he who holds the song together with his assured flow while the groove splays manically around neon daubs of melody and hyperactive beats. Other key releases to arrive in the digital domain this week included comic book obsessive D'Marc Cantu's A New World, his second artist album in as many years, Kon-Om-Pax's Regional Surrealism, which behaves like the soundtrack to a particularly disturbing sci-fi horror film, and the debut cut on Old Apparatus' new imprint Sullen Tone from the mysterious label bosses.
CD of the week came from perennially underrated New York imprint ESP Institute, who called on an all-star cast to remix tracks from Soft Rock's 2011 album Curse Of The Soft Rocks. Predictably, there are some stunning versions, from the intense fuzziness of Andrew Weatherall's take on dub-punk single "We Hunt Buffalo Now" and Spectral Empire's ket-addled rework of "Thunder Thunder", to the dub disco shenanigans of Young Marco, and Cage & Aviary's wonky new wave version of "Slowdown". Best of all, though, is Justin V's take on "Talking Jungle", a ten-minute slice of baggy disco peppered with impeccable pianos.