Jimi Tenor and Kabu Kabu explore the Mystery Of Aether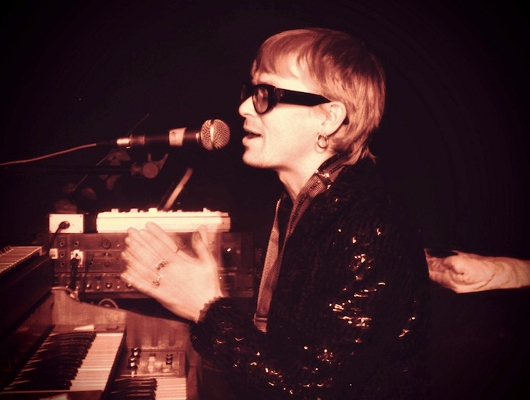 Finnish musician Jimi Tenor will release Mystery Of Aether, the 13th studio album of a truly esoteric career, via Dutch imprint Kindred Spirits.
A close asssociate of Maurice Fulton, Tenor has proved all too difficult to pigeon hole across the course of the 20 years he's been making music. For example, the Finn has worked with Afrobeat percussive legend Tony Allen for the Strut Records Inspiration Information series, composed Sun Ra cover versions along with Madlib's Yesterday's New Quintent project, and produced a large chunk of output from his wife Nicole Willis – he also played several instruments on the excellent Nicole Willis & The Soul Investigators big band funk album Keep Reachin' Up. Perhaps most bizarrely, Tenor appeared alongside compatriots Desto and Clouds on Time Birds, a recent 12″ for Oneman's 502 Recordings.
The forthcoming 10 track set is the third album recorded in conjunction with Berlin based afro ensemble Kabu Kabu, and allegedly continues to explore some of the themes Tenor touched on alongside Allen on that aforementioned Inspiration Information 4 LP, as well as paying further homage to Sun Ra, "condensing the Arkestra's galactic space-walks into taut afro-cuban work-outs underpinning Jimi's trademark melodies and brass harmonics".
Tenor's predilection for crafting his own obscure musical instruments to utilise during the recording session at Berlin's Lovelite studio also came to the fore, as the Finnish maverick explains: "I just went into the forest and chopped down a big branch. I carved it myself, like one of those alpine horns or something".
Kindred Spirits will release Mystery Of Aether by Jimi Tenor & Kabu Kabu on August 15.
Tracklisting:
1. Selvanakija
2. Africa Kingdom
3. Suite Meets
4. Dance of the Planets
5. Curtain of Steel
6. Starstuff
7. Universal Love
8. Resonate and Be
9. AfroEuropean
10. Eternal Mystery