Patience Pays: Idjut Boys in discussion
"Patience pays – apply that now and you will succeed."
So concludes the opening of a treasure hunting guidebook this writer peruses while waiting for esteemed DJs and production duo the Idjut Boys to arrive in the boozer. It could well be a maxim for the pair during their last 20 or so years in the musical game as, at last, the birth of their debut album Cellar Door is almost here.
It may well be their first album proper as the Idjuts, but it'd be unfair to accuse them of laziness – the pair follow a hectic schedule of remixes, 12 inches and DJ sets. But arguably, the love of delay explicit in their space-age take on dance has been mirrored in its release.
Dan Tyler and Connie McConnell may no longer be boys but they still have a child-like enthusiasm when it comes to talking music. Disco, house, electro, r&b, soul, techno, hip hop, pop and rock – their passion for such sonics and everything else in between gushes out of them like hot steam. The twosome also make for a lovably incongruous pair. Connie speaks with a northern brogue and has bags under his eyes big enough to climb into, whilst Londoner Dan wears red trousers and brings a CDJ in a pillow to the pub that he's returning to a mate – his daughter briefly joins us while Connie is outside discussing the merits of the Cannabis World Cup over a gasper. When they say they love chaos, it's no surprise. It's in their music, their DJ sets and, from this meeting, their way of life…
Cellar Door is the first album from the pair as the Idjuts, but not the first they've worked on together. Various aliases have become them – the Meanderthals (with Norwegian Rune Lindbaek), Head Arse Fusion Band, Pastrami Man – and they've lorded over numerous labels – U-Star and Noid to name two of their best. So why, after a lengthy time in the business, is now the right moment for an Idjuts album?
"We've had a lot of ideas stored in the computer which we've been sifting through for some time. We've always been working on music – whether that be remixes or our own material. But after the Meanderthals record, we started getting them in some sort of order with an inkling it was time to do something longer as the Idjuts," explains Connie. "All we had when we went into the studio were rough ideas. You wouldn't recognise anything in the songs from the demo versions. There's just no way."
Recorded with Sally and Steve from Balearic veterans A Man Called Adam and a whole host of other players ("whoever was in the room at the time" jokes Connie), the album veers away from smoky dancefloors into more sumptuous, horizontal pastures. The likes of "Song for Kenny" and "Going Down" are moments of magic in a rich, aural quilt woven across the record's eight songs. It demonstrates a deliberate desire to make a 'real' album in the traditional sense – something which so many 'dance' acts strive unsuccessfully to do…
"Some of it is totally usable in a club setting," Dan affirms. "But the overall aesthetic was to make it a listening experience – this is side one, this is side two – we wanted it to go beyond out and out club music."  The Bill Brewster penned blurb accompanying the record backs up these claims: "this is what the Idjut Boys sound like strapped to an Eames chair, cheroot in hand, while their pet tiger Keith sits by the hearth fire."
Cellar Door should do wonders to spread the gospel of the Idjuts further within the more mainstream musical psyche – but having finished the record last year, the attention of the pair is already wandering towards new, potentially less populist spheres. In particular, a dub rendering of the album.
"From that pool of material, we've probably got another album's worth of songs," Dan explains. "It's free, out there, abstract, odd, however you want to call it."
"We wanted to use the original tracks as instruments," Connie continues. "The different channels of the tracks are just a new set of tones – so we used effects to shape and create different ones. Man, I'm itching to get our teeth into this odd stuff. With musicians there needs to be structure. But with the dub you don't need that – it's based more on total instinct."
Dan attributes discovering this rich creative furrow to their studio techniques. "You'd never reach this by sitting at a keyboard trying to programme correctly – or showing any sort of respect to the original versions. We don't try to behave in a sonically correct and precise fashion. For us, that's a big part of the way we love working – it gives results you wouldn't get. For better or for worse."
"We aren't mouse-generation people mate," adds Connie. "That's just not how we interact with our music. We use a different interface for it. And that's like four hands and nods to each other."
Their thirst to explore these new pastures is born from playing marathon DJ sets in clubs across different shores, but particularly in Japan – the duo are keen to sing the praises of the clubs, the sound and the crowds and their ability to still be into the energy of a room long after the sun has come up. Both are certainly still in love with the energy of the peak time, Saturday night moments – but sound increasingly fascinated by stretching a night of cavorting into the weird and woozy hinterland of morning and beyond.
"DJing all the time and living the kind of nightlife we do via clubs means you are a 12 inch animal. But playing in places like Japan shows you what you can do once you've been on the decks for seven or eight hours. You can start using music which may not have any energy in the drums but still conveys real emotion," says Connie. "There's always that 'last one of the night' mentality. When you've been doing that for another five hours and the dancefloor has stopped thinning out and starts getting fuller, you stop and ask yourself 'what's going on here?'"
Excitingly for London heads, the Idjuts kick off a new residency at the Waiting Room in Stoke Newington in September. Starting on a Thursday night, it will see them only having 4 hours in which to fashion their party – but versatility has always been one of their great strengths both as DJs and producers. As they readily admit, they're prone to playing wedding disco music at any opportunity as well as the more high-energy club tackle. Their skills as selectors are glaringly obvious from the numerous released mixes they've put out over the years. The Saturday Nite Live mixes, the acclaimed Press Play CD for Tirk and now their latest, Five Years of Claremont 56.
This latest effort, a release formed of a 2CD compilation and accompanying mix, is a celebration of the imprint run by long-time cohort Paul Mudd, who, along with other disco luminaries such as Steve Kotey, used to get down and lose his shit at parties run by the Idjuts at the Cross some years ago. The label's output has been consistently high so it's no surprise that the Idjut's take makes for an eclectic, dubby musical journey.
"We did it live and late at night," says Connie. "We set up our mixer, gathered together all the effects we could find and routed everything through our studio desk. I apologise in advance to any of the artists featured on the mix, as we may or may not have coated it with a liberal layer of reverb. But we've got four hands so we can turn a lot of knobs at once." "There was wine – maybe even some beer involved," nods Dan.
The release has received glowing reviews but props have come from even loftier quarters, as Connie excitedly explains: "Paul forwarded us an email from Can's Holger Czukay (who features on the release). He was like 'Excellent mix guys'', we're listening to it over and over again. If he's getting it, and enjoying it, then 'nuff said."
The props of a founding member of German kraut-rockers Can are not the only ones to ring in their ears when it comes to mixing and music making. Indeed, the pair have long been long been associated with the power of 'the edit'. What do they reckon to the current glut clogging up the shelves of record shops?
"Some pieces of music just don't need an edit," says Dan. "Some great pieces of music don't need a fucking huge kick drum. It might not be sonically sounding modern – but certain, great tunes carry something in them – and that doesn't die whether they're 30 years old or not."
"It's also a shame if you're thinking about doing an edit as opposed to doing something original," says Connie. "Especially now it's so easy to make music – all you need is a laptop."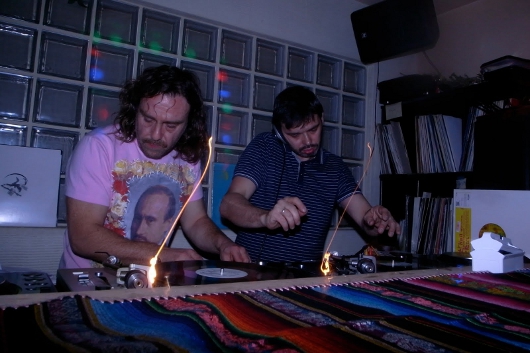 But their opinions are not overtly negative. Many edits may be formulaic but their sales are useful for ensuring the health of the dance music industry continues. Plus, they're exposing more elderly killer tunes to new generations of ears…
"I hope it's the gateway to people," Connie continues. "They're editing real music – place, talent and skill – and maybe, just maybe that will become the aspirational point in it. Some people do that really, really well. But then sometimes we turn up and someone will be playing the top ten edits of that week back to back. There'll be no consideration of what emotion these tunes are delivering and the potency slips."
"But you can get quite creative with edits in a sampling way," Dan argues. "I tend to buy some – they can be a useful tool when someone has been creative with it."
"It's come hand in hand with the Internet becoming a great source and tool to find music," Connie continues. "We're perhaps a little bit cavemen-esque in that we've come from an era of digging through crates and basements – whereas now, music is for everyone via the Internet. There's no snobbery. And why the fuck should there be. It doesn't matter whether it's rare or where you got it from. Is the music good? That's all that fucking matters. But those basements full of crates still hold gold."
As I leave them in the pub debating the merits of another pint, it's apparent that although they may well consider themselves cavemen, they're far from prehistoric. Their vibes hark back to a slightly more innocent time but their legacy as purveyors of fine, space disco – alongside the likes of Lindstrom and Prins Thomas – endures and should, with the release of Cellar Door, blossom. As the treasure hunting guide book should perhaps say "patience 'eventually' pays…"
Jim Ottewill