Alden Tyrell: Remastering the Masters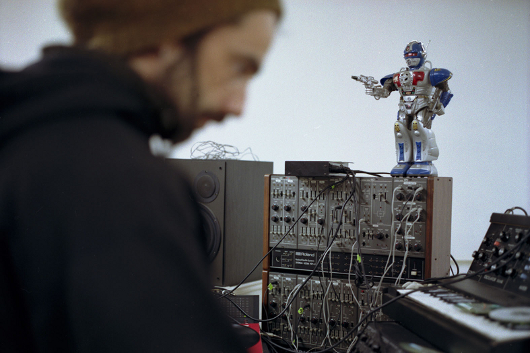 Every electronic music producer has role models to aspire to, but what does it feel like when you're assigned the task of making your heroes sound better? That was the daunting task facing Alden Tyrell aka Martijn Hoogendijk. For most people, Tyrell is known as one of the leading lights in the Italo resurgence of the last decade, which centres on Holland's West Coast. While Tyrell tracks like "Disco Lunar Module", "Love Explosion" and "Rendez-Vous at Rimini" have become contemporary electronic classics, the Dutch producer also works as a mastering engineer and has had a hand in the majority of releases on Clone and its offshoots.
"It must be around 90% of all Clone releases over the past 10 years," he confirms. "It's hard to name all the artists, too many to mention, but to list a few: Legowelt, I-F and most artists of the Dutch West Coast scene."
"Most of it comes in via Clone," Martijn explains, "but also Blawan, Artuu, Marco Bernardi, US artists like Mr Fingers, Mike Dunn, Dopplereffekt , Ultradyne, Detroit in Effect, Adult, Carl Craig or Direct Beat and labels from all over Europe: Viewlexx, Disko B, Lunar Disko, Moustache Records, Minimal Rome, Lux, Shanti and many others that probably don't exist anymore."
Tyrell was originally a producer and says that his mastering work came later when he started working with computers: "Around 1995, I stepped into the world of digital sound processing and discovered plug-ins. By that time my friends and I saw the possibilities of digital sound processing and computers for music, so I started helping other people out, editing mixes, cleaning up tracks etc. That's basically how I started doing this."
Hoogendijk's long time spent working with computers explains why he keeps an open mind when it comes to digital music and doesn't feel that the importance of releasing well mastered releases or the concept of mastering per se has been lost due to digital only releases. "I figure that people who release their stuff digitally also want to have their music sound as good as possible," he believes, while conceding that "maximizing the shit out of your music on your laptop to make it super loud because it needs to be loud these day and then releasing it on WAV might result in a lot of bad quality tracks out there. The step to release music is made a bit easier by the digital era and in that respect I can understand someone's attitude when he just wants to get it out without making too much fuss about the sound quality."
Yet at the same time he feels that digital's DIY approach is nothing new and is redolent of the music explosion of the 70s: "In the 70s the independents or the punk scene also pressed 45s which sounded horrible. Bad-sounding music doesn't mean its bad music. As a matter of fact, I think the music I like the most is far from perfect. It might even sound so good because it is rougher," he says, which sounds like a strange thing to say for someone whose job involves making others' music better, but is perhaps not unusual in light of the major project he is in the middle of.
Since last year, Martijn has been re-mastering Drexciya's back catalogue for re-release as part of the Deep Sea Dweller series. How did the job come about – was it through Martijn's friendship with Serge from Clone or did the surviving member of Drexciya, Gerald Donald, whose Dopplereffekt work he had already retouched, request that he do it?
"Its just another Clone release. Serge told me that he was about to re-release most of the Drexciya catalogue, so that's how it came into my hands," comes the blasé answer. But surely given Drexciya's stature and the influence they have had on electronic music, was this job different to other mastering roles – did he not feel more under pressure than usual because of their seminal status and timeless catalogue?
"I must admit, I felt a bit more pressure because of their reputation. It's pretty easy to fuck up somebody's work as a mastering engineer and that's something that's always in the back of my mind. I think destroying Drexciya's work would be considered blasphemy in the scene! On the other hand, sometimes I think 'wow this is pretty amazing, I'm mastering some guys' music that I always really admired'. I always loved Drexciya's music: the mysterious Drexciya are from another world and now I have all the original recordings here on my hard drive!"
Working on the Deep Sea Dweller series was a new experience for Tyrrell. He had first encountered Drexciya's music when he got involved with Clone. However at the time he was largely inspired by 80s New York electro and admits that he didn't immediately 'get' the Detroit duo's work: "With the Clone crew there was no way of not hearing Drexciya, but I must admit at first I thought, mmm this is a bit bleepy for me, switch on your synth and drum-machine, blindly twiddle some knobs and record it. But not long after, it caught me big time," he admits.
"It has definitely more depth than just random bleeps. I'm not sure if they influenced my own music making that much though. I always loved techno coming from Detroit, the whole UR, Reese May, Atkins and Submerge thing, but I have never really focused on that sound in my own productions, I was much more influenced by early European dance stuff from the UK and Italy."
Back to the Deep Sea Dweller series; many of the tracks that feature come from rare, limited edition releases, like the ultra-rare Uncharted EP on Somewhere In Detroit. Were there many tracks that Martijn re-mastered that he hadn't heard before and which he had to acquaint himself with before starting the job?
"No, I knew all tracks. I mean at Clone we all played their stuff for ages. There's a bunch of unreleased tracks though that I didn't hear before, but I can't say too much about them at this point," he adds, which will intrigue their fans. "In the end, mastering is all about frequencies and numbers. In that respect, Drexciya is not different than mastering any other music," he feels.
As Drexciya's music was made using analogue equipment, was the re-mastering job more difficult than working on contemporary producers' material, many of whom use production software?
"Maybe the rawness of a lot of the material made it a bit harder," he explains. "I feel that most sounds people use when they make music strictly with a computer and plug-ins are almost pre-mastered or polished and you can get a pretty balanced waveform that sounds crisp and clear. But with hardware, you need to work harder to get that result; it behaves more like an untamed beast, that's how you get this rawness. Especially in the case of Drexciya, tracks had frequencies flying all over the place," he explains. "In some cases I had trouble taming that, controlling the lows or highs to get the same volume for tracks throughout the album without overloading those peaks."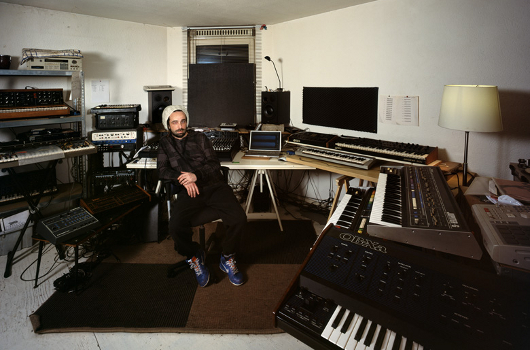 The fact that the tracks on the Dweller series were not presented in the same order and sequence in which they were originally released also posed challenges for Martijn – especially as the brief required him to create cohesive-sounding bodies of work.
"When mastering an album you always have to try to make all tracks feel like its one coherent thing, especially because we compiled the tracks differently, every album is built from tracks from different periods of their career. In that respect, things can get a bit difficult – you always have a bunch of superb sounding tracks and a bunch of bad sounding tracks. Finding the balance can be tricky; you don't want to make the good ones sound worse than they are, but when you can't make the bad ones sound as good as the good-sounding tracks, you have to find a way in the middle to find that balance," he explains.
Martijn also played a role in deciding which tracks would be included on the first two albums, but he stresses that the final track listings were only agreed on after consensus was reached at Clone.
"Our guy in Detroit digitized all DATs and multitrack tapes to WAV then did it again on our request because the new sound device he used sounded way better than the first," Martijn says. "After that we put all the tracks together, had a meeting with some people working at Clone and made selections that kept on changing till the end!"
When this writer asks the Dutch producer if he felt he was changing musical history by re-mastering Drexciya, he responds with a curt "no". However, he is much more forthright when it comes to the subject about whether there was much discussion about what sounded good and what didn't. "I was going through a rough time last winter due to some health issues. After a week or after about six runs of mastering the first Dweller album I think I must have asked Serge several times to get someone else do this because I couldn't make it work," he explains.
"Then after talking to Serge I found out I was trying the impossible. I wanted all the Drexciya music to sound like modern-day club tracks, with all the heavily-compressed, pumpy overwhelming sound that comes with it. He told me that's not the way to go, that's impossible. For starters, the productions are way too rough for that, and it's not the kind of music for that kind of sound. So then I took a much simpler approach – A-B'd it with the original masters and decided that I did a fairly good job."
Basslines are central to Drexciya's music and the surging low end that ripples through their tracks sounds like a sonic representation of the sub-aquatic forces that they aligned themselves with. This primal force is audible on "Anti-Vapour Waves" on the second Dweller release, where, a combination of tone-shifting bass and harsh claps make for an ominous sound, while "Seaquake" from the first Dweller compilation features a jarring, discordant bassline that imitates the pulverising power of stormy waves. By contrast, "Danger Bay" – on the second Dweller release – deploys a P-funk style low end with a male vocal intoning 'ha ha ha ha' in a droll manner to create a light-hearted sound.
Irrespective of the mood they were striving for, strong basslines were the basis for all of Drexciya's tracks. Was this something Martijn was conscious of – and was it hard to strike a balance between making their basslines sound right and not taking away from the original music's power and impact?
"I think basslines are essential for most music I like, but yes in the case of Drexciya it's about finding the right balance between the beats and the baselines – most of the time the melodies will fall in place," he claims.
Apart from their bass power, Drexciya also had an uncanny ability to mix raw, abrasive sounds with beautiful, spine-tingling melodies. This is audible on "Hydro Theory," "Lardossen Funk" and "Aquarazorda", which all feature on the first Dweller. Was it a challenge to strike a balance between these elements as a mastering engineer – or were there tracks that were especially difficult to re-master?
"I remember having trouble with "Lardossen Funk" – the loud hi-hats were covering up the snare, but I don't have any favorite tracks while mastering," he says, explaining that "for me it's almost a matter of keeping distance so as not get caught up in the music too much. As I said before it's all about frequencies, amplitudes, watching spectrum-analyzers. In that sense it's just like mastering any other music," he believes.
Given that Drexciya's music had only been available on limited edition vinyl before the Dweller series appeared, Clone was determined to ensure that the re-releases sounded and looked as good as possible. As Martijn explains, the project has had the effect of making their music available to a far greater audience than before.
"Drexciya's music has never been re-released after the first pressings and people who didn't buy the first pressings just missed out. This probably also adds up to the mystical reputation Drexciya has, but I think a lot of people who never bought it before will be happy to be able to play Drexciya from vinyl or CD," he says.
Releasing Drexciya's music in digital formats was also a key part in making the work more accessible than before, but Martijn hopes that the re-mastering and high-quality vinyl pressings will appeal to a new generation as well as the diehard collectors.
"There will always be purists who will stick to the original recordings which I sort of understand by the way," he says, referring to the online debate about the rationale for the re-releases, "but I've heard some old school collectors being happy with the new sound quality – they even have to get used to hearing things in some of the tracks that they didn't hear before," he laughs.
It's time for Martijn to return to the studio, but before he goes, there's time to ask is he is already working on Deep Sea Dweller 3 – and if so, what tracks are on it? "No, not yet" comes the cryptic response – let's see what rises from the deep.
Richard Brophy