Scratching The Surface Pt. 5
FACT Magazine's Tom Lea recently made the point in his review of Jam City's Classical Curves that the "popular misconception amongst techno producers right now is that releasing music on a hand-stamped white label is somehow taking the form back to basics… but its current position at the height of techno fashion seems to miss the point – the best techno has always been synonymous with imagery".
It's something I heartily agree with – it's why Blackest Ever Black's releases are such attractive propositions, why Vatican Shadow's Bed Of Nails label stands out, and why Delsin's art direction across their album releases should be applauded. Lea's comment wasn't a criticism of white labels per se, rather those that try to add "cool" value to music that's pretty dull in the first place, but it got me thinking about how I'm increasingly finding that much of the music I buy relies on little or no imagery. Although I can also be sceptical at the sight of a hand-stamped white label, or records with only the most basic design efforts, the feeling you get when the music on a low-key 12″ shatters your expectations is hard to beat.
First on the list is a record that seems to have been criminally ignored by most given the stature of the producer – and I'm guessing it's because it was released on vinyl only. It seems hard to believe that just a year ago you could easily refer to Blawan as a "future-garage" producer. His white label smash "Getting Me Down" was a summer anthem, scored track of the year at Resident Advisor and arguably nailed the R&B sampling aesthetic that has become so prevalent. But then something happened; Blawan's tracks became ever darker, ploughing the depths of 4/4 techno. Of course it's now obvious from listening to the early Hessle and R&S material that Blawan was always a techno head, but in those earlier days found it much easier to produce at higher tempos. With each release his attempts to produce techno at more standardised tempos become ever more successful, and though his Clone Basement release and work with Pariah as Karenn last year was the beginning of that stage of his career, his latest EP, Long Distance Open Water Worker, sees him arrive as a major techno force. Arriving on the Frozen Border affiliate Black Sun, it's testament to Blawan's skill as a producer that he's managed to make the jump from darling of the burgeoning bass scene in 2010 and 2011 to a credible underground force. The EP isn't substantially different from anything Blawan's done before – his signature style is still obvious – but the cartoonish nature of tracks like "Getting Me Down" and "What You Do With What You Have" has been largely jettisoned for something more claustrophobic. "Scarborough Harbour" is little more than loose, dusty, tumbling drums, while "Breathe Them Knees In" sounds just like its title, sucking you into its dense sound design. The monstrous quality that Blawan's always displayed is here, particularly on "Grafter Gets A Home", which growls with menacing intent, but the difference in tone is like the difference between a masked Scooby Doo villain and the subtle, creeping horror of a monster in the shadows. It's thick, cloying, paranoid stuff that few are daring to make right now, but Blawan obviously isn't concerned with short term fads – you don't get "Kick" and "Drum" tattooed on your knuckles unless you're in it for the long haul.
Another similarly uncompromising record arrived on Shifted's Avian imprint last month. The anonymous producer has been rightly making waves in the past few years with his stark sound design and unrelenting pulse, and his rigid style won't be for everyone, but the quality on display is undeniable. Now that Sandwell District has ceased operations, there's a place for a label with a similarly unique view of techno, and I think Avian might just be it. The line between being bleak and just dull is fine – but recent releases from Ventress and AD/S have stayed on the right side, delivering functional tracks with enough nuance to maintain your attention. The fourth Avian release however delivers something quite unexpected. MPIA3 has a name that sounds like an lost proprietary audio format, and the music itself is even more arcane; both "Wttp" and "Casual Welding" are built on the kind of overdriven 303 lines utilised by Carlos Giffoni's No Fun Acid persona, with kick drums wilfully pushed into the red. It's not quite noisy enough to call industrial, but it still kicks like a mule, displaying a deranged, ritualistic quality and an understanding of atonality that is so easy to get wrong in techno.  Atonal qualities are used in techno as a substitute for genuine ideas all too often, but these tracks, much like Silent Servant's "Mad Youth" and "The Self" from last year understand how to deploy them properly. This is one release that does have some artwork to speak of – an abstract black and white photo insert – but there seems to be a disconnect with what is a fairly haunting image and music that is quite confrontational.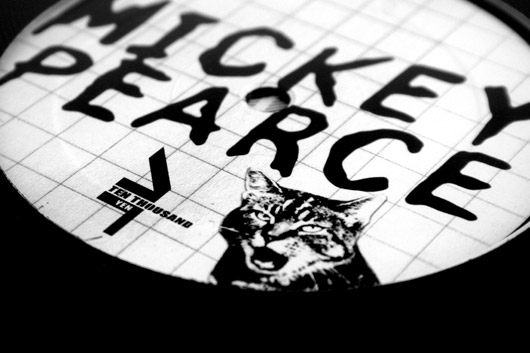 While these producers excel in making techno that puts crushing weight on the listener, another few techno records have caught my ear for how light they are. Alden Tyrell is one of Holland's most multifaceted producers. Over the past 10 years he's turned his hand to Italo, acid house, electro, but his latest record on Clone's Basement Series came as quite a surprise. On listening to "Rush" it's hard not to hear the similarities between that and elements of Shed's Equalized white labels (particularly "EQD 002-A" and "EQD 003-A"). The clattering hi-hats, the rolling drums, the one note synth – all are replicated to such similarity that it would be hard not to call plagiarism. Even the record itself contains no printed label – unusual for a Clone Basement release. But unlike the fairly grounded beats of Shed's material, "Rush" and "Tntus" are frictionless; like a person on rollerskates constantly about to lose their footing they tumble backwards in a way that's Shed's productions don't. Purely by coincidence I'm sure, that week also saw the release of US producer Helix's long-awaited "Stacks Riddim" on Glasgow label All Caps. A rattling piece of skeletal ghetto house, it bears no relation to the B-side, "Honig". What it does sound like, almost exactly, is Tyrell's "Rush". The same one note synth, the same feather-light drums – but despite the interchangeable nature of these tracks with Shed's classic material, it's tough not to get drawn in by such impeccable dancefloor functionalism.
One hand stamped white label that had my internal alarm bells ringing arrived with the words "Hands Up" on the centre of the record. It's a phrase that has all sorts of dodgy connotations (the dreadful "Put Your Hands Up For Detroit" being one of them), but my interest was piqued by the gleefully raw squelch and crunchy kickdrums on A-Side track "Alien". The simple three chord piano line is textbook stuff – but with a give-a-fuck spirit that is all too absent from a lot of contemporary house music. It came as little surprise therefore to discover that it was the work of The Analogue Cops and Cadenza's Alex Picone, both of whom are known for their battered take on house. The B-Side track "Talk Good" is an even more barebones affair, with leaden chords that sound like a piano slowly falling down the stairs. This is the sound of equipment being pushed to the limit, and begs to be deployed in a sweaty basement at 1am.
To round up, I'm going to move away from techno and delve into matters of bass. Something that's been voiced on Twitter by the likes of Keysound's Martin Clark, and Quietus scribe Rory Gibb recently is just how much supposed "bass" music is essentially just house, and that a certain rudeness has become all too absent from a form that had its roots in dubstep, grime, garage and UK funky. It's certainly an issue, and one that makes the odd gem like Mickey Pearce's "Tempted (F+CK Tonto edit)", released on Doc Daneeka's Ten Thousand Yen imprint such a breath of relief. Pearce's release for Swamp81 in January remains the best thing the label's put out all year, and this latest effort on Ten Thousand Yen ups the ante considerably. Like everything else covered here, there's an angular functionalism at play, with textbook bass subs and clipped 808 rhythms that could be from any other zeitgeist chasing bass sounds of the past few years. But there's something utterly demented in its lead hook, which sounds like a yelping Red Indian war cry ripped straight out of a 50s western (and where I'm guessing the Lone Ranger reference comes from), that shows how it should be done. It's becoming apparent on the strength of his past few tracks that Pearce seems to be creating a unique form of British techno that has its roots in grime rather than creating house with its feet in garage, creating slightly atonal, loopy, rhythm driven tracks that cut at right angles and stay out of the tech-house trap many see to be stumbling into at the moment. If he keeps this up, he could be the one to save this genre that dare not speak its name from being absorbed into mediocrity through a process of osmosis. The accompanying release notes state that Mickey Pearch would "rob his own gran". On the basis of this track, I don't doubt it for one minute.
Scott Wilson