Signals: Broadcasting from beyond the North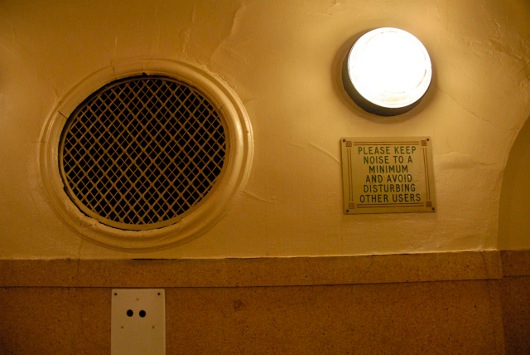 There is no rule book to consult when it comes to the art of successfully establishing a record label; the variables and circumstances that ensure one imprint's success will invariably mean another flounders.
Those labels that do achieve acclaim and a space on the map of musical history, be it large or small, no doubt attain it thanks to the passion and single mindedness they have for the music they release – a sense of belief in the beat multiplies and expands through all other aspects. While the Newcastle based label Signals is still in relative infancy, it's clear that the individuals behind it have this passion in near infinite amounts. The label is overseen by two brothers Chris and Peter Leathley – who records under the name Shemale – and their long time friend Mike McHugh – a gruff voiced and self-professed over enthusiast who acts as Signals spokesman, credentials that are fully qualified by a talent for really, really talking. Signals is foremost a label proud of its North Eastern heritage – the phrase Beyond The North welcomes you when you touch upon the Signals website. Over the course of the hour long phone conversation with McHugh, a picture is painted of a tight knit group of music nerds in their mid thirties overseeing a label gleefully making the most of their creative and musical freedom.
This much is evident from the expansive music they've released to date, with a Legowelt twelve inch next to Oppenheimer Analysis and John Heckle 10"s and ultra rare musings on human atrocities on the Guinean coast set to an afro funk beat. But the music alone doesn't tell the story of Signals, a label that was borne when the Leathley brothers and McHugh were involved in Road To Rimini, a Newcastle club night that ran for nearly five years and laid down the foundations of friendship with the sorts of individuals who continue to inspire how Signals is run to this day.
The Road To Rimini story began in a tiny basement bar of a city centre pub in Newcastle back in 2006, with a cast of music making friends inspired by the CBS Radio channel broadcasting out of Den Haag and the blossoming sounds of Bunker, Viewlexx and Crème. As McHugh tells it, "there was no night locally where we could hear this music along with Italo disco, which we were heavily into at this point too. So we just started off in a small basement of a bar in Newcastle which held out 40 people – the bar itself was very central and very townie and they saw us as hippies when we were really anything but." Forced to relocate due to the venue's belligerent attitude to their monthly parties, they found solace in the shape of The Star & Shadow cinema, a "volunteer run, left wing cinema/arts venue", where Road To Rimini was established and grew, with the Leathley brothers now involved along with four others. Their motivations were simple; book the acts that they loved, and hope other people would come too, which did happen, but crucially there was another resulting factor that helped plant the seeds of ideas for expansion.
Emboldened by the continuing success of the club night, ideas and concepts for a label were floated. "What we wanted to do off the back of the night was start a label themed around releasing music from people based in the North East, but for one reason or another that just didn't happen," McHugh explains. "And then in a nice way we just got stuck into doing the night for the next few years." The wide reaching pedigree of guests to have played at Road To Rimini reflects the rich musical knowledge of those involved. Heartbreak played the first club night for example, while people such The Hacker, Legowelt and Crème's DJ TLR became regular guests as well as friends. "One of our dreams and aspirations with the night was to get the Dutch people over – the likes of Legowelt, TLR and Rude 66," adds McHugh.  "Soon enough we started booking them, and we developed a great connection with all these people in The Hague and became friends with them. And that was quite mad."
Heartbreak actually play quite an important role within the genesis of Signals, with McHugh fondly recalling that one of the best Road To Rimini nights in their five year tenure was a hastily organised event on the banks of the river Tyne when Ali Renault and Sebastian Muravchik were in the midst of an NME tour in 2009. Seeing they had a rare night off between gigs in Preston and Glasgow, the duo contacted the Road To Rimini crew three weeks prior to set up a gig. With the club night at the peak of its popularity, the results were memorable despite the odds. "It was mid to late spring and we got in touch with this outdoor pub on the river Tyne," McHugh says. "It was a free gig and the pub gave us some money to put in a sound system outdoors in a covered arch and loads of fucking people turned up!" There's an excitable tone to his voice as he vociferously recalls the satisfied feelings running through the Road To Rimini collective at seeing several hundred people lose their selves to the music being played that fully conveys how much passion they had invested in the night.
It was during this night that McHugh and the Leathley brothers would meet the person who would inspire them to revisit the idea of forming a label. Joe Ryan, Heartbreak's hired drummer, took a shine to the music being played that night by Chris Leathley ("slow stuff, quite varied whether its like Peter Gabriel or slow old G-Funk") and further discussion with them revealed he was working on some music with a friend under the name The One. Despite having  no experience of running a label, there is no sense of fear evident in how McHugh discusses the way they approached the duo, or indeed any other aspect of establishing Signals. "We chatted with them and said 'do you want to do this with us? We're new to this'," he says. The idea of releasing a twelve inch of an indie band with a Legowelt remix is obviously one that appealed to them: "We felt they were a really strong act and getting somebody to remix them would add a bit of weight to it as well."
The spectre of Heartbreak hangs over the second release from Signals too, and it's this release that resonates strongest with McHugh, who says he has a "strange connection" with The Otherside 12". This is evidently down to the hard work that went into acquiring and pressing the music, which had been sitting on a mixtape made for McHugh when he'd first arrived in Newcastle nearly 15 years earlier. Chosen by chance to soundtrack a trip to see Heartbreak play in Darlington one night, the C90 mixtape which featured "KRS One, loads of hip-hop and dub, Zion Train", also contained two tracks by some unknown group called The Otherside which had been recorded from a demo session broadcast on Andy Kershaw back in 1996. The tracks immediately excited McHugh's driver Chris. "He was like "what the fuck is this?" and he tried to find it on the internet. I'd never really looked for it before – I had forgotten about the tape."
When referring to the label's second release, McHugh can't help but focus on Musa Kalamulah, the Sierra Leonean musician whose voice lends the music the idiosyncratic edge which he describes as "pure Zappa but with these mad lyrics about human atrocities". There is however another reason for McHugh and his Signals cohorts to primarily identify Musa K with the music, and that's the somewhat extraordinary lengths they went to track him down and secure the music for release. Eventually locating information on this elusive singer via "some obscure Windows 95 designed website called Africa Music Shop", the trio found out Kalamulah had recorded a self-funded album in 1995 which had the respected author and musician David Toop listed as Associate Producer.
This is where the story begins to take on a sense of elongated destiny; with McHugh a fan of Toop's Oceans Of Sound, and aware that he was a lecturer at UCL, a hopeful email was sent regarding the whereabouts of Kalamulah. Toop swiftly responded by saying he had not seen Musa for nearly a decade, but proffered his landline and mobile number. Understandably delighted at the possibility of direct contact with an artist whose music they had briefly considered bootlegging on vinyl in the desire for it to be given the wider audience it deserved, a call was swiftly despatched to an unbeknownst Kalamulah. Despite the oddness of some stranger from Newcastle enquiring about music seemingly consigned to history, Kalamulah seemed genuinely interested in the idea of Signals releasing his music, though several months of attempting to get him to send them the masters proved fruitless. It took the eventual agreement for McHugh and one of the Leathley brothers to travel to Kalamulah's London home and have the masters physically handed over in the winter of 2010 for Signals to finally secure their second release. Describing the episode as some sort of detective hunt, McHugh is right in stating these sorts of old school lengths are not really taken in today's age where the transfer of masters is done as quickly as your upload speed will allow.
But then Signals reads like an old school operation. It's not anachronistic by any means, but the three people involved seem to take their creative inspiration from classic models such as Bunker, Factory Records or Warp, and despite the fact one of their most recent releases was the wonderful Bergerac themed EP from Legowelt, it's clear their passion for Danny Wolfers' music runs deep and it's not a vain attempt to be just another label doing throwback analogue house jams. It's clear the label also invests a lot of credence in releasing music on vinyl, with each release complemented by the strong visual themes that adorn the cover art. But Signals isn't a puritanical vinyl only affair – the focus on physical as opposed to digital releases is borne out of oft-stated opinion that vinyl is great because you want to hold things. McHugh expands on this to underline why they see Signals as a creative outlet, albeit one grounded in financial realities. "There's a physical connection between you and that disc and you have to invest more thought in releasing vinyl. Any Joe Shmoe can set up an mp3 label and that's fine, but there's a complete saturation of music out there that becomes quite disposable. Because of the amount of the money we're putting into pressing the vinyl, we really have to think, 'do we like this music?'" In addition, the nature of their releases to date from relatively small – and in some cases unheard – acts means that only pressing vinyl demonstrates how serious and honest the intentions of Signals are to those artists. "It's easier to say we just want to release it on vinyl because they understand then our motivations and we're not into the label to make loads of money."
Over the course of our discussion McHugh mentions at several points how the brothers and himself approach the label as a creative outlet, both for themselves and the artists whose work they release. Pete and Mike both have a background in design and photography, and collaborate on the visual themes for each release, with the initial idea to have an overarching distinct visual theme in the vein of Factory Records abandoned when they realised this approach would be limiting. Instead the visual continuity takes on a subtler, more idiosyncratic form of having their catalogue numbers in roman numerals – an idea lifted from McHugh's childhood spent watching TV when a show's end credits would include the recording dates in roman numerals.
This freedom to explore visual themes has allowed Signals the chance to add unique creative touches that further enhance the authenticity of the music. On the Musa Kalamulah release they accessed an archive of his personal photography taken during the period in which "Headless Corpse" and "Roadblock" were produced. Elsewhere, the 10" Signals did with legendary Minimal Wave artists The Oppenheimer Analysis links the two songs' themes with the label's efforts to "be something about where we were from," adapting stills of photographic experiments with conductivity undertaken by Lord Armstrong, a 19th Century industrialist based in Newcastle.
Further enhancing the reputation of Signals as a creative hub, the trio aren't afraid to search out unique venues in which to hold their regular launch parties (which are still fondly viewed by Newcastle inhabitants as Rimini nights). While participating in the interview Mike and his two brotherly colleagues were preparing for a live performance from Zoviet France in city centre Turkish Baths to toast the label's latest release from the iconic 80s band and Four Hands, a local producer who has previously released on Claremont 56.
Due out imminently, this release demonstrates the label's willingness to further blur the lines of expectation, drawing on two different generations of North East based ambient musicians. It is the first of several releases planned where Signals actively looks to change people's perceptions regarding music and the North East. The presence of such iconic industrial figures as Zoviet France is an undoubted coup for the label, and especially McHugh, who professes a long held love for their more ambient endeavours. Interestingly, he notes that the band is relatively unknown in Newcastle, despite hailing from and remaining in the area. You get the feeling McHugh hopes this release will redress the balance slightly, or at least engender more interest in Zoviet France because it's undeniably a compelling project. Furthermore it's the most creatively ambitious record from Signals yet, with the original material from Four Hands in essence a remix he did of "Mammoth Mountain", a track from the Manchester based artist Caro Snatch. Described in effusive terms by McHugh as sounding "like the best sort of Harold Budd tune", the Four Hands version, renamed "Sea Of Love", is far removed from the original material while displaying his inherent ability to create "luscious ambient music that is actually musical – it's not just a drone".
Commissioned to remix this remix, the two active members of Zoviet France turned in two revisions, the first of which consisted of them setting up in studio in their Northumberland woodshed and recording themselves playing the Four Hands version on a mobile phone while one of them chops wood. Recorded in super high fidelity stereo, McHugh states it's been a nightmare to press this remix (hence the ongoing delays in the scheduled release), but the idea of pressing this uncompromising (and quite humorous) approach to reinterpreting art on vinyl was one that interested them. Accompanying this is an additional 12 minute super luscious, deep, melancholy ambient remix from Zoviet France which offers further creative variety and maybe makes the release slightly more accessible.
This area of music is one that Signals is looking to explore further over the coming months, with McHugh revealing that plans are underway to release a compilation of material from emergent ambient artists along with established names not readily associated with making this type of music, mentioning that they've already secured submissions from John Heckle and Tadd Mullinix. Some of this can be heard in the below mix Mike and Pete (pictured above) have put together for us, along with further unreleased material set to drop on Signals over the coming months, with the schedule retaining the chameleonic quality that has been a hallmark of the label to date. There is mention of material from Myriadd, a Northern producer with previous output across Boe, Crème and Bunker under his various aliases (which also sees Liverpool analogue mangler John Heckle return in remix form) alongside coming releases from Weatherall acolytes Warm Digits, Lunar Disko regular Automatic Tasty and a North East based producer called Mark Hand – formerly of Disko B artists The Mysterymen – who dabbles in what's described as "one take analogue deep house in the vein of Moodyman or Theo Parrish".
In finishing our discussion on what the future holds for Signals, McHugh states that he wants to look back in five years time and be proud of the wide reaching music the label has released, but seems cautionary on how to marry this diverse output with ensuring they reach the desired audience. "Zoviet France are quite well known and the audience out there are different to the audience buying Legowelt tunes, and it's the same with this Mark Hand release," He says. Personally, this writer feels that if Signals maintains the standards of quality set and the people who run the label don't let the passion and creativity that drives them dissipate, then people will in turn be intrigued to consume or at least taste whatever is broadcasted in their direction.
Tony Poland
Photos courtesy of Lindsay Duncanson

Length: 1:15:01
Tracklisting
1. Brough Law (field recording)
2. Automatic Tasty – Seachrán (Signals)
3. Four Hands – Mountain of Mammon (:zoviet*france: version) (Signals)
4. Waters of Oblivion (Signals)
5. Hexgaon – New Horizons(Signals)
6. John Heckle – Tone on Tone (Signals)
7. Sample*
8. English Electric –  S_O_R (Signals)
9. Skylark on Brough Law (field recording)
10. Brian Eno/Harold Budd – Lost in the Humming Air
11. Four Hands – Sea of Love (Mammoth Mountain mix) (Signals)
12. The Conet Project – Phonetic Alphabet NATO
13. Aphex Twin – White Blur I
14. Throbbing Gristle – Walkabout
15. Rapoon – Red Hemisphere
16. Loscil – Resurgam
17. GAS – Zauberberg 5
18. Otterburn Tornado flypass (field recording)
19. Brian Eno – Inland Sea
20. Sunn O)))/Boris – Fried Eagle mind
21. Nine inch Nails – Ghosts I – 1
22. Cliff Martinez – Are you comfortable?
23. Singing the Outer Frequencies (Signals)
24. Sunn O))) – Sin Nanna
25. Krysztof Penderecki – The Awakening of Jacob
26. Haunting the keep + paranormal investigation field recordings (Signals)
27. Abigal Mead – Attack
28. Haunting the keep + paranormal investigation field recordings (Signals)
29. Autechre – Silverside
30. The conet project – Moscow coup attempt
31. Phalangius – Solomon 2-35
32 .Conan approaches the ice bound black river (Signals)
33. Sample*
34. Cannibal Ferox Soundtrack
35. Sample*
36. Black Sabbath – Black Sabbath