Another Bugged Out Mix / Another Bugged In Selection from Erol Alkan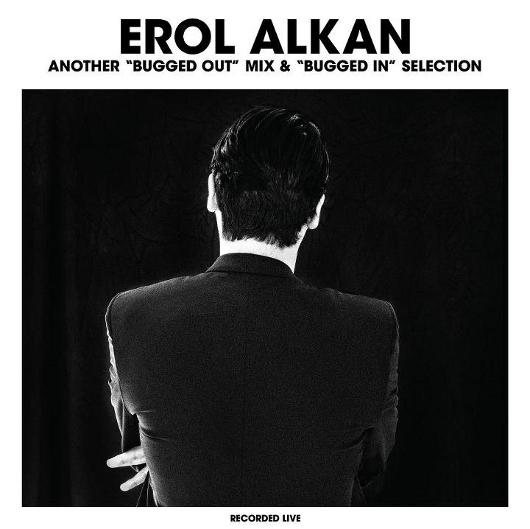 Some eight years after dropping the seminal double disc A Bugged Out Mix / A Bugged Out Selection for the long running clubbing institution Bugged Out, Erol Alkan will release a second instalment.
While artists as varied as Miss Kittin, Hot Chip, Felix Da Housecat and most recently The Klaxons (remember them eh) have contributed to the intermittent series of mix CDs, the double CD selection from the Phantasy Sounds label boss has always been held in the highest regard – specifically for the gentler ride that was the second disc. Whereas the Bugged Out Mix from Alkan came to define the electrohouse movement as it veered noisily towards its somewhat overblown nadir, Alkan's track selection for A Bugged In Selection ensured it remains a CD with markedly more timeless qualities, with the nine hour set loving DJ indulging his obsessive crate digging tendencies as DJ Koze snuggled up to Imagination, Spaceman 3, Justin Robertson's Revtone project and Mary Anne Hobbs' secret crush Campag Velocet.
Speaking on the forthcoming new edition, Alkan describes both CDs as a statement of where his head is at now. "It feels like the year 2000, just before electroclash happened. Not the sound of the music as such, but the way that all these different strands of music are coming together." This is fully representative of the Bugged Out Mix, even if the press release somewhat gushingly states no-one else would think to open a mix with Smith & Hack, Ron Hardy and In Flagranti. From here Alkan swerves through everything from Scuba to Factory Floor, Jimmy Edgar to N.Y. House'n Authority before concluding with an alternate version of his own remake of New Zealand eccentric Connan Mockasin. The mix was apparently recorded live without the usage of studio trickery, with Alkan stating "For me, that's what DJing is about, spontaneity, mistakes, records trying to keep up with one another."
The second Bugged In Selection looks to be equally well chosen with the late 70s louche folk of Jan Hammer Group's "Don't You Know" opening proceedings on a selection that includes contemporary acts like Space Dimension Controller, Jai Paul and Chromatics alongside Robert Wyatt, Gorky's Zygotic Mynci and Buffalo Springfield.
K7! will release Another Bugged Out Mix / Another Bugged In Selection by Erol Akan on Double CD on September 3.
Tracklisting:
CD1: Bugged Out
1. Smith n Hack / To Our Disco Friends
2. Ron Hardy / Sensation (Obi Blanch edit)
3. In Flagranti / Gridlock
4. Seaside Houz Boyz / From A Man's Journal
5. Umba / Concussion
6. Jimmy Edgar / This One's For The Children
7. Model 500 / No UFO's (D-Mix)
8. Unovidual & Tara Cross / Comme Je Suis (Based in the Sling & Samo mix)
9. Agoria feat. Carl Craig & La Scalars / Speechless (Gesaffelstein Remix)
10. T.S.O.S. / Over And Over
11. Scuba / Never
12. Secondo / Discombabulate
13. Amin Peck / Girls On Me
14. N.Y. House'n Authority / Ravenswood House
15. Jared Wilson / Let Your Body Make Your Body
16. Factory Floor / Two Different Ways
17. Children Of The Night / It's A Trip (Mike Hitman Wilson's Mix)
18. Gingy & Bordello  / Body Acid (KiNK's on Acid Remix)
19. Spandex / The Bull (Erol Alkan Rework)
20. Kölsch / Opa
21. Connan Mockasin / Forever Dolphin Love (Erol Alkan Rework Version 2)
CD2: Bugged In
1. Jan Hammer Group / Don't You Know
2. Matthew Herbert / Leipzig
3. Bibio / All The Flowers
4. Michael Head / Queen Matilda
5. Adjagas / Mun Ja Mun (Instrumental)
6. Gorky's Zygotic Mynci / Miss Trudy
7. Mickey Moonlight / We'll Meet Again (Bugged In Mix)
8. The Make Up / I Am Pentagon
9. Dibidim / Badminton Bay
10. The Space Lady / Major Tom (Coming Home)
11. Jai Paul / Jasmine [Demo]
12. Margot  / Voci Giaga
13. Chromatics / A Matter Of Time
14. Space Dimension Controller / The Love Quadrant
15. Robert Wyatt / At Last I Am Free
16. Walls / Gaberdine (Nathan Fake Ambient Version)
17. Buffalo Springfield / Expecting To Fly
18. Plush / Soaring and Boring