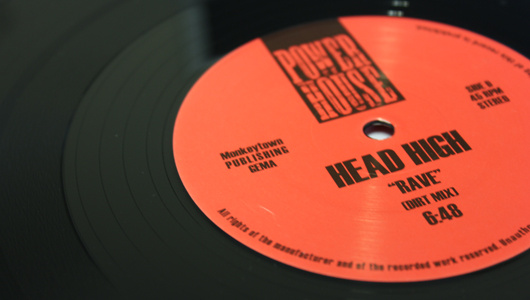 Ask someone what comes to mind when one utters the word "Shed", and 99.9% of the population will mumble something about a humble backyard storage unit. The clued up minority however will start talking breathlessly about Rene Pawlowitz's visceral, bombastic techno.
Taking things a step further, and a new 12-inch from Pawlowitz under his seldom seen Head High alias will make us here at Juno Plus HQ crazier than the greengrocer in Amelie. The solder iron percussive stomp of "Rave" arrived this morning and, put simply, it needs to be heard to be believed. Is it better than 2010's incendiary "It's A Love Thing"? We can't decide.
Of course at this point we must reluctantly admit there were other records released this week; some damn fine ones in fact. Almost as sizzling hot as Rave was the super-limited Bookworms 12″ on Brooklyn-based imprint L.I.E.S., which of course came and went in a flash. Also arriving from NYC was the debut cut on the Mister Saturday Night label, with shipping manager by day Anthony Naples moonlighting as a house producer extraordinaire on the Mad Disrespect EP (check out Matt Anniss' in-depth review here).
French label Skylax expanded operations with the launch of the Stay Underground, It Pays initiative with the excellent Italian producer Simoncino at the helm for the debut release under his new Late Night Music alias, while Lerosa made a fine addition to the still blossoming label Apartment Records with No Mad Rush, a stellar four track saunter through electro-tinged finesse. The Vae Victis crew returned with a 12″ from Die Roh replete with a remix from recent Juno Plus podcaster Tessela, Pangaea remixed West Norwood Cassette Library and October and Borai emerged on Applepips with more essential tackle for broadminded dancefloors.
Elsewhere, Dexter and A Made Up Sound got the Clone call to mess with the material from Arttu's great debut on the Royal Oak label, and naturally the results were a must have. Meanwhile, Planet E delved into the sizeable archives of label boss Carl Craig with this timely remastered edition of the Paperclip People album The Secret Tapes of Dr. Eich. Originally released in 1996, this double LP collated ten of Craig's early 90s emissions under the Paperclip People moniker, drawing on a rawer sound than the mechanoid Detroit aesthetic seen under other monikers like 69.
Moving on, Laurel Halo slid over to Hyperdub with a stark debut album that positions her as a strong and unique voice among leftfield electronic producers, and Minimal Wave returned to their self-professed "First French love" In Aeternam Vale with a second LP-shaped trawl through the band's sizeable archive of cassette-only releases. To round things off, Local Action cranked up the 2012 momentum with a killer addition to their impressive discography from one of the UK's most under-appreciated talents in Slackk, FunkinEven remixed Makam for Dekmantel and Donato Dozzy and Hieroglyphic Being turned up on Morphine Records.
Over in the world of WAV otherwise known as Juno Download, Mordant Music once again proved their predilection for scaring people through sound with a mammoth Ekoplekz release. If you're unfamiliar with the sound, it's an obtuse flashback to the textures of 70s noise-generation, somehow made more relevant in today's climate. Of equal interest was the return of I:Cube to the album-making business. The French don turned in "M" Megamix, a rapid-fire collection of tracks woven together (there's a clue in that title you know) which take the manner of a live set.
Other digital niceness included Kahn's bouncy 2-step cuts on Idle Hands, Steve Moore's long anticipated album as Lovelock for Internasjonal, the aforementioned Laurel Halo LP and a bittersweet release from Norwich resident Luke Abbott which suggested the sensational season enjoyed by his city's football side was yet to have an effect on his sombre, melancholic productions.
And finally, the CD of the week award goes to the folks at Clone, who released the second volume of their Journey Of The Deep Sea Dweller retrospective series. The material here largely centres around their own peculiar take on  proper electro, from the liquid synths and bouncing grooves of "Anti Vapour Waves" and "Journey Home", to the excitable, steel-hard rhythms and naked funk of "Positron Island".