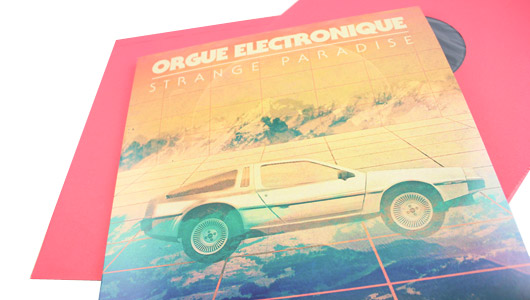 Various shades of techno have been the highlight of this short week – reissued techno from the genre's deified forebearers, new techno from formerly anonymous collectives, techno with a grimey slant from one of the UK's best new producers, and wildly experimental techno from both Detroit and Italy.
The Journey Of The Deep Sea Dweller series, Clone's masterful four part trawl through the sizeable archives of James Stinson and Gerald Donald arrived at the second double vinyl volume and, as our contributor Richard Brophy noted, the Rotterdam label should be lauded remastering and repressing Drexciya's early work and making it available to a new generation of people whose appreciation of electro does not start and end with Deadmau5. Proving to be just as tempting in the double LP techno stakes, Frozen Border presented the eight track compilation Minutes In Ice, with artists such as AnD, Szare, Skirt and Blawan given a platform to contribute a more diverse range of tempos and structures than the label's previous twelve inch releases.
Kowton came through with Des Bisous, the first release on his own label Pale Fire, which is up there with his recent material on Livity Sound, throwing down a barrage of grime leaning strings over a thick set complement of bass and rusty hi-hats which makes us think of STL decamping to Bristol – do check the flip "Dub Bisous" which swathes the arrangement in all manner of delay! Wild Oats came through with their latest, and boldest release to date with Manuel Gonzalez at the controls for some of the deepest techno to surface out of the city in a while on Harmnear while the excellent Mannequin label followed the stunning Tropic Of Cancer release with Sighing Melodies Thru The Graves, an album of Drexciyan electro meets avant minimalist cosmiche from Minimal Rome boss Heinrich Dressel.
Clone allowed Alden Tyrell some down time from his remastering duties on the aforementioned Drexciya compilations and he elected to lock himself in the studio and thump out a rather incendiary contribution to the label's Jack For Daze project with a little help from the legend Mike Dunn. The simplicity of "Touch The Sky" – little more than Dunn freestyling over a huge acid riff and thumping kicks – is engulfed by how devastating it is executed. Do check the Gerd and International House remixes too! Keeping the focus on the Lowlands, Crème came through with Strange Paradise, the long awaited debut album from Orgue Electronique – do expect a richly realised succession of hammering full fat beats interloping over haunting sci-fi melodies – some great fuzzed out cover art from Ms Xosar too. A further recommendation within the realm of house lands on the doorstep of Live At Robert Johnson, who squeezed some Cookie Dust out of the chameleonic Roman Flugel and the results were superb, veering between liquefied Detroit flex, languid boogie and crisply jacking electro, all blessed with those idiosyncratic Flugelist touches.
It was a heavy hitting (short) week in the Bass realm, with Pariah dropping the three tracker Rift for R&S, which constitutes his first solo material since 2010 and very good it was too – dicing between the industrially smog 2-step of the title track, ghostly woodblock driven R&B and grey beatless soundscapes. Modeselektor and Martyn shared a side each on the 12″ sampler aimed at whetting appetites for the forthcoming second installment of Modeselektion – after hearing both the lean and mean bounce of "Maik Teh Chicken" and the rough, broken beat vibe of "Red Dancers" consider appetites whetted. Ah and Hyperdub continued a fine year to date with a much needed double vinyl issue of the King Midas Sound gets remixed by all and sundry album Without You.
At Juno Download, Montreal resident d'Eon stepped up with an album for Hippos In Tanks that slotted in perfectly between the fractured singer-songwriting of Laurel Halo and Peaking Lights, and the more austere synthesiser studies of Oneohtrix Point Never. Taragana Pyjarama's album for Kompakt is yet to hit the shelves, but the iconic Cologne label offer a taste of what to expect in the shape of "Lo Ng" a shuffling, bleep infused track whose bassline reveals its ominous nature with something approaching zealous stealth.
Elsewhere, the influence of grime in Slackk's latest missive for the excellent Local Action was obvious from the opening bars of opener "Blue Sleet" – a precise matrix of thin eski synths, composed into interlocking parallelograms of luminous green, accompanied by salvos of rattling claps. West Norwood Cassette Library served up another razor sharp classic house homage in "Coming On Strong"; not, as its name may suggest, a homage to Hot Chip's debut album of the same name, but a piece of raw, bumping basement house which is heavy on the toms, and came replete with a Pangaea remix. After some notable releases for fellow Bristol hubs Idle Hands and Punch Drunk, Kahn stepped forth with another example of his undoubted talent for making music that spans the shades of the bass music spectrum with the rowdy yet soulful 2 step bump of "Angeles" for Soul Motive.
Meanwhile the aforementioned four-track excursion into high grade house from Roman Flugel also hit the digital shelves. Also in the realm of high grade house was the EP from Esteban Adame – one of the lesser-known musicians in the extended Underground Resistance family – on Jus-Ed's Underground Quality. One of UR's more famous alumni, Rob Hood, was perhaps a victim of his own success, as Floorplan, which started off as a side-project, is starting to sound as vital as the searing minimal techno he releases under his own name. Staying in the realm of techno, Conrad Van Orton delivered an eerie take on broken beat techno for the Dynamic Reflection imprint.
On the CD front, the Idjut Boys helped us celebrate five years of the excellent Claremont 56 imprint with a 3xCD mix showcasing the label's wares. There's not enough space here to do the breadth and depth of all three CDs justice, but suffice to say that you won't be disappointed. From the far-sighted neo-classical outings of Holgar Czukay and mystical Balearica of Smith & Mudd and Almunia, to the punk-funk of Dog Eat Dog and Fist of Facts, the Idjuts joined the dots with typically fuzzy abandon.