Perc explores A New Brutality
Ali "Perc" Wells has unveiled details of his first full release since 2011's breakthrough Wicker & Steel album, with a four track EP entitled A New Brutality due out in June.

The North London based producer's stock has risen considerably since the release of his debut album, Wicker & Steel, last June. Since then he's contributed two tracks to the excellent Stellate boxset curated by Stroboscopic Arfefacts, buddied up with Xhin for a split 12″ and remixed the likes of Surgeon, Tommy Four Seven, Walls and The Black Dog, as well as put out a raft of material from other artists on his own Perc Trax imprint.
A New Brutality sees Perc furrow further down the aesthetic rabbit hole of gritty, industrially-charged techno so brilliantly explored on Wicker & Steel; the EP even arrives with a suitably grim council flat adorning the cover. The release only contains one 4/4 track – "Boy" – with the rest of the album exploring everything from Surgeon-esque noise and broken beat techno to the kind of avant garde experiments last seen on "Paris" and "Molineaux", his tracks from the aforementioned Stellate release.
Perc Trax will release A New Brutality by Perc on vinyl and digital formats on June 29, 2012.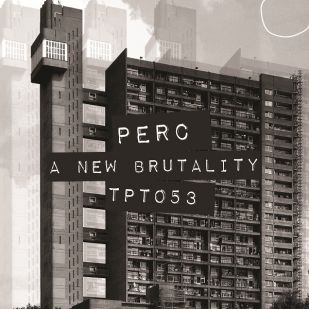 Tracklisting:
A1. A New Brutality
A2. Cash 4 Gold
B1. Boy
B2. Before I Go