Planet Mu prep Regional Surrealism by Konx-om-Pax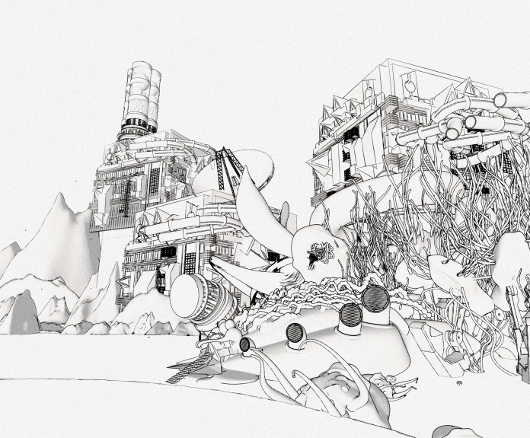 Full details have emerged of Regional Surrealism, the debut album from critically acclaimed visual artist Konx-om-Pax set for release on the ever impressive Planet Mu in July.
The Glaswegian Konx-om-Pax (or Tom Scholefield) is primarily known for his glossy, bright work in the fields of 3D art and video direction which have most recently been seen on the sleeve design for Lone's recent album Galaxy Garden and the video for Kuedo's "Ascension Phase" whilst his previous commissions include the likes of Hudson Mohawke, Mogwai, Martyn, Jamie Lidell, Oneohtrix Point Never and Rustie.
In contrast to the neon daubed, synthetic style Scholefield has developed in the aforementioned visual work, the forthcoming 14 track album is described by the label as "mossy and analogue" and features contributions from Mogwai's Stuart Braithwaite and mysterious US artist Steven Retchard.You can listen to sound clips of the whole album on the Planet Mu site which also divulges some of the themes and influences that propelled Scholefield during the recording process.
Planet Mu will release Regional Surrealism by Konx-om-Pax across vinyl, CD and digital formats on July 23.
Tracklisting:
1. Intro
2. Isotonic Pool
3. At Home With Mum And Dad
4. Twin Portal Redux
5. Sura-Tura-Gnosi-Cosi (ft. Steven Retchard)
6. Zang-Tumb (ft. Stuart Braithwaite)
7. Glacier Mountain Descent
8. Pillars Of Creation
9. Slootering
10. Lagoon Leisure
11. Hurt Face
12. Chambers
13. Silent Reading
14. Let's Go Swimming