Idjut Boys oversee Claremont 56 compilation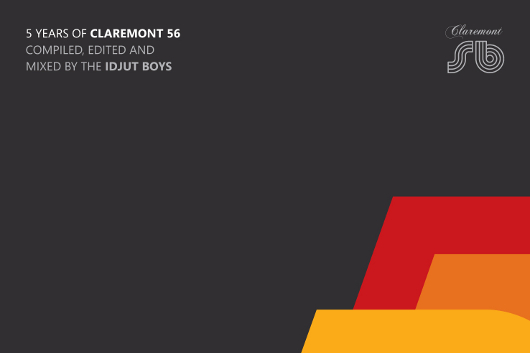 The Claremont 56 imprint will usher in five years of releasing horizontally inclined balearic sleaze in fine style, with full details of a forthcoming triple CD compilation produced in collaboration with long term affiliates the Idjut Boys.
Entitled, quite cunningly, 5 Years of Claremont 56: Compiled, Edited and Mixed by the Idjut Boys, the release sees the disco edit veterans handpick their favourite tracks from the sizeable Claremont 56 canon, with the first two CDs featuring 23 tracks from artists such as Almunia, Dog Eat Dog, Holger Czukay and the various collaborative projects label boss Paul Murphy has performed under the name Mudd.
Label classics, retouches from the Idjut Boys and exclusive material all feature among these 23 tracks, including an all new production from the Claremont 56 supergroup formed of label boss Murphy, the aforementioned Can man Czukay and Liquid Liquid's charismatic vegan pizza chef Salvatore Principato. The final CD has the UK legends flexing their undoubted DJing skills for a 16-track mix of the Claremont 56 back catalogue, recorded live and no doubt embellished with their own distinct dubby, choppy editing style.
Claremont 56 will release 5 Years of Claremont 56: Compiled, Edited and Mixed by the Idjut Boys on triple CD format on June 1.
Tracklisting:
CD One
1. Bison – Way To LA (Day)
2. Fist Of Facts – Fugitive Vesco (Idjut Work Out)
3. Mudd & Pollard – Vincent
4. Mudd & Ahmed Fakroun – Drago (Idjut Edit)
5. Smith & Mudd – Le Suivant
6. Smith & Mudd – Hvala (Version Idjut)
7. Mudd & Pollard – Scaffold
8. Smith & Mudd – Shulme
9. The Popes – Bastards (Idjut Edit)
10. Bison – Mandy (Power Boy Mix)
11. Holger Czukay & U-She – La Premiere/Deux (Mudd's Garden Mix)
12. Almunia – Dos Estrellas
13. Four Hands – Hizou
CD Two
1. Smith & Mudd – The Surveyor
2. Bison – The Traveler
3. Almunia – L&G Psychedelic (Wes Coats Holy Shashito Dub – Idjut Edit)
4. Dog Eat Dog – Rollover
5. Almunia – Travel (Felix Dickinson's Passport Control Mix)
6. Mudd & Pollard – Dub Stavros
7. Smith & Mudd – 24/7
8. Smith & Mudd – Wem (Idjut Edit)
9. Holger Czukay – Music is a Miracle
10. Torn Sail – Birds (Frankie Valentine's Air Sign Mix
CD Three
Idjut Boys Live Mix