Smearing The Edges with Ali Renault
When faced with discussing the music of Ali Renault, it's hard to choose where to begin. There is of course Heartbreak, his sizeable cadre of solo material and the various labels he is involved with, as well as a radio show and enduring DJ schedule. It's perhaps for all these reasons and more that it took so long for this softly spoken cat enthusiast to release his self titled debut album – long overdue in many eyes.
What does become apparent however, is the time spent together in a North London kitchen learning the art of baking Chicken Disco Pies seems all too apt given all the various projects Renault has had his fingers in over the years. Furthermore, what was originally pitched as a quirky interview location – a kitchen belonging to Marika Gauci, contributing vocalist to the aforementioned album and successful owner of a pie making school – gradually reveals itself to be a telling example of Renault's musical makeup: namely, enduring friendships with like-minded souls.
His relationship with Gauci runs far beyond the simple dynamic of producer and guest vocalist, with the two first meeting back in 2006 at the Computer Blue club night Gauci ran with partner Clive Fonteyn. The time this writer spent in their company revealed them to possess the kind of snappy, eminently amusing dialogues that only long term friends possess. In one of many asides that punctuate the afternoon baking pies to a soundtrack of Silent Servant mixing up post-punk, Marika unsurprisingly claims in her distinct Greco Welsh twang "electro and Italo disco brought us together".
Their work together in tangible terms includes only the album opening "Snowdrops," though the two have more music both recorded and planned, and Renault's close working partnership with Marika proves to be replicated in other chapters of his life. Given Andy Blake's elevated status in the UK underground thanks to his three pronged label initiative, it seems pertinent to touch on how Renault came to be one of those lucky few to release music on the defunct Dissident label Blake made his pioneering name on. Ben Williams, more commonly known as Gatto Fritto, was the key, with Ali revealing: "We met in Chester, where I grew up, around 1996 – Ben wasn't really making music then and I'd just started. We hit it off immediately and kept in touch over the years, and he said his mate Andy Blake was starting this label and they wanted to have some Italo style productions. Originally we were going to collaborate, but I gave Andy some demos and he was quite happy to release those."
The bonds made in this mid to late 90s period of Ali's life have remained key to his musical output ever since. It was here in Chester where Ali met Peter Mangalore and Tommy Walker III, two musicians with whom he would form the first of several record label endeavours. Human Shield started as a party in an old Manchester pub, focusing on music Renault describes as brain violence and negvibe in 1998, and didn't morph into a label until several years later.
"Pete's idea for turning Human Shield into a label came about in 2002 when we were living in Brighton and electro brothers Multiplex had a late submission from Legowelt for their forthcoming remix CD. Pete decided to start the label with the first release being Human Shield vs Multiplex." A chance showcase feature on Gilles Peterson's One World radio show in January 2003 gave Human Shield the sort of advance spotlight a label without a release to their name dreams of – and that debut 12", the aforementioned Human Shield vs Multiplex release followed towards the end of 2003, granting Renault his first physical release.
At the time of inception, Human Shield had a militantly anti-commercial approach to running a label – their mission statement talks of spurning "modern digital formats and releasing only on high quality vinyl" – while a new logo adorning each release is done "to avoid the cult of corporate identity whilst using a totally generic design". When quizzed on this stance, Ali says they "just got a bit sick of all the hype with certain labels, artists and club nights. We wanted an output that did things the wrong way and changing the Human Shield logo for each release seemed key."
Trying to map out a concise narrative of the different musical moments Renault has been involved in since forming this Human Shield bond tends to leave you slightly disorientated, taking in several different locations across the UK within the lifetime of a label or musical endeavour. The lack of Human Shield output over the years is entirely down to its three owners residing in different cities, resulting in six releases over an eight year period – the latest being an album from Vexkiddy, slipped out earlier this year in digital format only.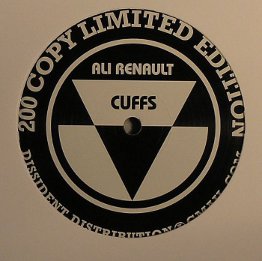 Such delays prompted Ali to look elsewhere to satisfy his undoubted passion for the music he makes and plays, which is driven by an incessant creative urge. This much is evident in how the Cyber Dance label he co-runs with fellow Italo disco enthusiasts Casionova and Spruxxx came together. The imprint began in earnest while Renault was in the latter stages of a Sound Art & Design degree, and tasked with a final project, Renault elected to start a label and manufacture the first release as an excuse to combine his studies with what he would have been doing anyway.
"This was 2004 and we were religiously into Italo at the time, so naturally our own compositions reflected that. We didn't know of any other British labels that were doing this style at the time so it made sense to start something of our own."
In the subsequent period the label blossomed, being a portal for music that reaches beyond the confines of Italo; the Mark Du Mosch Cold Sweat record is essentially techno. The label has since expanded, first to incorporate the Magic Waves radio show overseen by Casionova on Intergalactic FM, then with the Magic Waves festival.
To date, there have been two editions of the festival – both held across the course of a weekend at Corsica Studios and featuring line-ups that join the dots between the international electro and synth wave underground. The spectre of the Lowlands has been omnipresent at the Magic Waves Festival, with representation from Bunker, Clone and Crème but there have also been appearances from artists as varied as The Arabian Prince, Turbo's electroclash revivalist Gesaffelstein and Oppenheimer Analysis. Added to this have been the vast network of friends and peers of Cyber Dance such as Andy Blake, Brassica, Meschi, Anton Maiovvi and Road To Rimini, the Newcastle club night that has since morphed into the excellent record label Signals.
Cyber Dance's most ambitious release to date has luckily also been their most successful in terms of reach, with the 11-track Messages From The Void 2 compilation released last summer featuring contributions from label regulars Du Mosch and Tommy Walker III alongside friends of the family like the aforementioned Meschi and Brassica. It was the latter's "Lydden Circuit" that opened up the release to a wider audience thanks to "a really handy YouTube video that perfectly fits the vibe of the track and brought the whole compilation a lot of attention".
Ask Renault about the future of Cyber Dance and you're blitzed with numerous releases the label is preparing to unleash over the coming months. An EP from the in-house Cyber Dance band Bandido's Gang has just dropped: "That release is music from Casionova, Bill Ambrose, Spruxx and myself and also has two Flemming Dalum remixes which are amazing so we are looking forward to putting that out." Subsequent to this, Cyber Dance have a whole host of forthcoming material lined up, with Bunker veteran Rude66 and a collaborative EP between Italian producer Heinrich Dressel and Renault under his Cestrian alias on the horizon along with EPs from lesser known artists such as Electric Dragon, Broken Arrows and Mancunian Italo head Kid Machine.
Reeling off these releases only serves to reinforce the impression of Renault never sitting still musically, forever driven by a tireless urge to explore music. To retain this passion is quite remarkable given the various ups and downs of a life in music that began in envious circumstances in the mid 90s. Emboldened by a new found love of techno thanks to a certain Live at the Liquid Rooms mix from Jeff Mills, Renault soon found himself alongside Chester ally Pete Mangalore as resident at the now legendary Liverpool night spot Le Bateau, playing support to the likes of Dave Angel, Craig Walsh, Tony Sappiano, Kenny Larkin and Sven Vath.
"We wanted an output that did things the wrong way"
"It was crazy. Voodoo, a legendary Liverpudlian night, used to be at the venue but left to take up residency at another venue around 1995. We stepped in and took over Le Bateau with our local night that we'd started in Chester. We were trying to basically be Voodoo mk2 so we had a lot of the same guests like Dave Angel, Craig Walsh, Tony Sappiano, Kenny Larkin… all these old Detroit and Chicago heads."
Naturally any discussion with Renault would have to touch on his stint in Heartbreak, the band Renault formed with Argentinean producer/singer Sebastian Muravchik. The way Heartbreak fizzled out could be seen in a negative sense; however the early days of the band only further justified the impression of Renault being tireless in his musical endeavours.  The duo were undeniably focused and determined to get signed, starting their own label Lycra Records to release their first two EPs – a move that seems unlikely in today's environment where a new band has a PR strategy and major label financing behind them before they have two songs to their name.
"Heartbreak was a lot of fun before we burned out. We were very focused and determined to get signed. We knew we would have to gig constantly for years before getting any interest from labels." A chance encounter with band manager and fellow Italo enthusiast Piers Martin during the Manchester based Futuresonic Festival would eventually lead to Heartbreak being managed by the Cocadisco impresario and getting signed to the Lex Records. Renault recalls playing a gig in Russia as a memorable part of the Heartbreak era ("there were some amazing gigs. Having people signing along to your songs is special"), and there must have been some satisfaction at causing puzzled looks when supporting Late Of The Pier at a Bugged Out gig. Though Heartbreak split a few years back, Renault began working on the material that would form his eponymous debut while the band were still together. It's even more impressive to consider that Renault was releasing material on Cyber Dance and Dissident while still touring as part of Heartbreak.
Given the obvious reverence for the Lowlands electro sound that forms part of Renault's musical DNA, it seems only right to trace it back to where he first stumbled upon this sound. And much like a seminal album in Live At The Liquid Rooms sparked an interest in techno, it was an iconic track that opened Renault's eyes to the electro sound. I-F's still mind bending "Space Invaders Are Smoking Grass" is of course that track, and Renault arrived here in the way all music obsessives do: "I just wanted to find out how techno was made and what its influences were". Subsequently basking in Mixed Up In The Hague Vol. 1 evoked childhood memories of pop music, riffs from The Human League and a period spent in Turin during the mid 80s exposed to the sounds of sounds of Raff Tedesco and Fred Ventura.
The latter of course was a prominent guest vocalist on Renault's debut album, cementing further a relationship that began while Renault was still in Heartbreak: "Our manager (Piers) got us a gig in Milan for a Vice party and Fred was at the dinner beforehand with one of the other bands. We got on really well. We kept in touch and always talked about working together and finally it happened!" Ventura's distinct tone lends an element of calm to "Fade Away", a track whose beginning represents the harshest moment on an album, and betrays the producer's first musical love, heavy metal. Indeed Renault says he wanted the track "to sound like a Black Sabbath style intro".
It's telling that Renault's first ever production, recorded using a "very cheap" synth, saw him try to marry his musical past with how he wanted to progress: "It was a Twisted Sister cover version which I did when I was 21. I was trying to do heavy metal music with synths. It turned out okay I think and I have it on tape somewhere, its very lo-fi…"
In a climate where the balance has swayed from digital to analogue production, Renault has a refreshingly non belligerent stance on how he records. "I'm not one of those militant analogue-only people, I've just got a few synths, a big mixing desk and a laptop and a few effects units." He goes on to proffer an explanation for the attraction of large scale synths over laptops for so many: "I think people are getting a bit bored of doing everything in a laptop these days, and it seems a bit exotic to have an old box that you can make some fucked up noises on and then put back through a laptop. It's more fun because it is hands on and there's just more character to the sound."
Having spent so long discussing all that came before, it seemed fitting to close our discussion on what the future holds musically for Renault. Briefly, he mentions the intriguing possibility of working on an industrial project, which excites this writer given the fact he spent the afternoon reeling off track IDs for the Silent Servant radio mix that played while pastry was rolled and filling was made.
Less reticence is shown towards revealing other, more concrete plans, with the pummelling techno sounds of his Cestrian alias being given more prominence over the coming months. Complementing the aforementioned split release with Heinrich Dressel on Cyber Dance mentioned already, the legendary Bunker has also signed on for some Cestrian action. Whilst this is not his debut for the Dutch label, having featured under the Cestrian Robot name on the label's third Artists Anonymous EP back in 2007, it's obviously a moment of pride for Renault to release a full twelve inch on a label who have been a prominent influence in the formation of his musical DNA.
In addition, Renault disclosed that he's become the latest addition to Unknown To The Unknown, which somehow makes perfect sense as the artist and label share distinct similarities such as a wide-ranging style and fearless approach to making music. Due for release imminently, Secret Language EP finds Renault in typically demonic form as Cestrian, channelling the spirit of Drexciya in a savage and wholly disorientating style which is at odds with his softly spoken demeanor. According to Renault, there are more exciting plans on the horizon between himself and Unknown To The Unknown, revealing some collaborative tracks are already being worked on with label boss DJ Haus and due for release this year. In light of all he's said so far, one suspects by the time this music surfaces, there will already be some other project for Renault to turn his attention to.
Interview & pics: Tony Poland
Full disclosure: Ali Renault is an employee of Juno Records