Entering A Love From Outer Space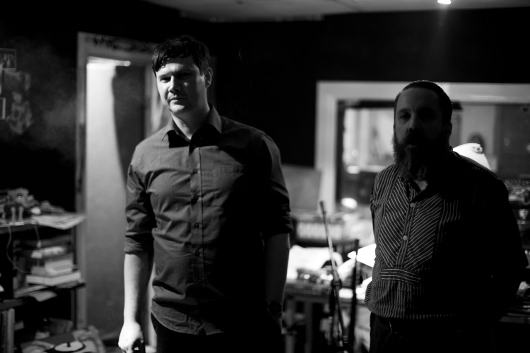 Walking through East London, you'd be forgiven for thinking that the barrage of lights, dirt and skirts is representative of life at its fastest and most empty – but Lord Sabre Andrew Weatherall, who toils in a bunker concealed deep under the streets sopping with lager and city boy nights out, is still in love with the place…
"No amount of All Saints shops can eradicate the stain of 400 years of skullduggery. I'm hoping that the screams and blood of the Ripper victims will stay ingrained in the walls a lot longer that the latest shops…"
Mischievous words from a man whose passion for eclectic sounds and eccentric wardrobe has led him to being cast as the John Peel of our times. Weatherall has been a benchmark of impeccable taste since frolicking in the primordial soup of acid house at the fag end of the 80s. He's a self-confessed Luddite, whose fingers may be on the pulse of all things electronic, but whose clothes and facial hair suggest has stepped out of another age.
A Love From Outer Space (ALFOS) is this techno timelord's latest venture – an evening and ethos created with first lieutenant Sean Johnston. Launched in 2010 at the Drop (now known as the Waiting Room) in North London's Stoke Newington, a basement venue for 120 like-minded souls, the evening was billed as an "oasis of slowness in a world of ever increasing velocity" – and underlined how Weatherall and his henchman were out of sync with a modern universe glistening with tablet computers and hollow gestures.
But ALFOS has maintained its 122bpm pace – it is the rest of the aural electronic world which has chosen to slow down and dance in time with them. The nights at the Drop spawned a cultish following, leading to Thursday nights on Church St running over with ravers, students, straight from work dancers and Weatherall devotees, all desperate to hear what part of the pulse his fingers had grasped.
18 months later and the residency may have come to an end but the pair's mission is ongoing. The new Masterpiece three-CD compilation, to be released in May on Ministry of Sound, is the culmination of Weatherall's inspired crate digging. Following in the footsteps of fellow dance veterans Gilles Peterson and Francois K, it's a landmark summary of a 20 year love of leftfield sounds and a friendship, originally brought about by "acid house conduit" Jeff Barratt of Heavenly Records and cemented by Sean chancing his arm and acting as Weatherall's chauffeur to gigs.
"He played me this 110bpm, what I call 'hypno-beat', without wanting to be responsibile for kick-starting the 'hypno-beat" special edition of Mixmag," jokes Weatherall, feverishly tweaking his tache over a joint and a cup of tea in his basement headquarters on Shoreditch.
He says the parties were an instant success: "The music suited a school night and a 2am finish – and I was pleased with the lady count. Many of the punters would be guys like me and Sean. They'd have to explain the night to their girlfriends; 'it's a Weatherall gig but it's all right. You'll like it. It's a little bit weird but it's pretty groovy. No honestly you'll like it'. Looking at the crowd, that seemed like the scenario."
It was summer 2011 that ALFOS left its moorings in N17 and began causing a stir in other rave zones. Sets at T In The Park in Scotland and a riotous boat party and main stage set at Electric Elephant in Croatia sparked massive reactions both on the dancefloor and online and led to the pair grabbing a monthly slot in Glasgow. "I love London," says Weatherall. "It's the best city in the world but I also like how nicely perverse it is to host your residency hundreds of miles away from your home city.
"But our crowd in Stokey used to travel," he adds. "Some used to come from Glasgow to Stoke Newington. We haven't had anyone going the opposite route and travelling from Hackney Wick to Glasgow. But people are gradually getting wise, and gradually getting the idea that we're damn good value for money. You book us for the whole night and it's much cheaper than booking three or four other DJs."
It is from these deliberately low-key beginnings that the latest piece of the ALFOS puzzle falls into place. Masterpiece is billed as a "distillation" of the influences and breakdown of the tackle that Messrs Weatherall and Johnston based their club night on.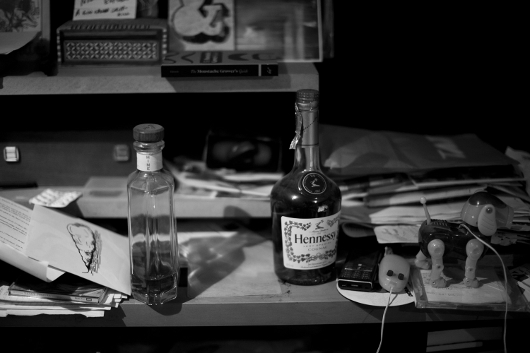 Stretched across these three CDs, kicking off with The Asphodells' "A Love From Outer Space" and culminating with the original by ARKane, this release came out on Ministry of Sound – an unlikely collaborator for a renowned auteur who appears happier digging deep underground rather than use a platform based in the more corporate and shiny side of dance. "The incongruous connection is part of the reason for doing it," explains Weatherall. "Sometimes surprising people can be done by going for the more obvious thing. And the guy Gavin who is doing it put out the Watch The Ride compilation I did a few years back. I knew I wouldn't have to compromise and it would be a good opportunity to get a lot of great music out to people who might not have heard it via a commercial outlet."
But doesn't this raise some contradictory questions about the position of the artist and the age-old talking point of 'selling out'? "I interviewed Throbbing Gristle many years ago," he recalls. "I said to Cosey (Fanni Tutti, key agent provocateur of the Gristle) that taking the money from a corporate gig and putting it into an underground thing is fine as long as you're funding interesting work."
"But Cosey said 'No – because that money is tainted. And anyone who you give that money too – their art is tainted as well.' Part of me agrees with her stance, but the scales are tipping towards the idea of getting out music that people wouldn't otherwise hear. I don't think it's tainted. People are intelligent enough to hear a piece of music that has been attached to a commercial project. They're not gonna go 'oh that's that bit of music – we must go out and buy a Volkswagen' or whatever it is I've advertised! Or I must go to the Ministry of Sound – they're probably not – they just like that music."
Casting a curious eye down the lengthy tracklisting of Masterpiece, it's arguable that perhaps only the most dedicated digger will have much of a clue as to what is going on. Tornado Wallace, Apiento and Name in Lights are just some of the artists to be featured but then there are also choice hunks of cosmic grooves from these two chaps themselves – Weatherall remixes of the Horrors and Toddla T, as well as an appearance by Sean's burgeoning Hardway Bros project. It's clear from the breadth and scope of the release and their sets that these two live and breathe records. Sean admits to having cut his vinyl habit down to a miserly 5,000 bits due to the pressure of a young daughter and girlfriend. But what exactly is the ALFOS sound and where has it come from?
Weatherall explains: "Much of ALFOS is very 'hypno'. It has New Beat elements, early house elements, but we're not playing loads of old tunes. It's not about nostalgia. It's just distilling that spirit I had when I first started out and I never considered myself a DJ. I just played records."
And seeing them DJ over the past year – whether it be at Electric Elephant festival in Croatia, at the Garage in Islington in February or at the recent totally ram-jammed Easter special at Corsica Studios – it's clear that dancers are moving in sync with their low-slung grooves, often without knowing who many of the artists the pair are pushing actually are.
"I'm always perverse – if there's a big record, I'll turn it over and listen to track two on the B-Side. A lot of the music people ask about – nine times out of ten it's probably the B-Side to something they've got and they've just been playing the other side. I don't want to give the game away but that's basically it. Okay this is gonna be a big record – people are going to be into it – but it's going to have a limited shelf life. This track on the B-Side that people think is obscure and a grower is going to have a bit more longevity."
Sean continues: "They're all out there. It's just that we're digging in different places to other people. There are a few obscure things we play, but the majority of any of our sets is made up of music we're sourced from outlets open to anyone. It's not stuff we've been sent, downloaded or promoted."
The world keeps turning for both these players of the most modern sounds. And the calls for Weatherall to accept his status as the icon for all sonics left, weird and possibly dangerous continue. Unsurprising due to his tinkering and raving with Primal Scream, My Bloody Valentine and in the Sabres of Paradise – he's watched rave culture morph from afar until it's formed its current mongrel shape. Where does this leave him?
"I can maintain this image of being a Luddite and this supposed disdain towards technology and the internet. But in the background I've got a management office that maintain an online presence, Sean who controls the ALFOS publicity – I'm in an enviable position where I can pretend to be an Edwardian painter. But it is a bit like the Wizard of Oz – all this stuff is going on and it all seems modern but when you pull the curtain back, there's just me surrounded by steam pulling levers."
The pair mention Andy Blake and Joe Hart's South London based World Unknown party as possible contemporaries but seem more than happy to be continuing at their own pace amid their own orbit. "There might be other places that I don't know about, which I think is marvellous,"continues Weatherall. "I kind of like the fact that I don't know. I might go out tomorrow and get handed a flyer and there's been something going on for months and months."
Over a final cig, both are happy to admit there is no game plan. This isn't a career – this is just a way of moving as mavericks. Gentlemen – strap me in and take me to the cosmos…
Words: Jim Ottewill
Photos: Tom Medwell
Andrew Weatherall's Masterpiece is out now on Ministry Of Sound
[nggallery id=5]