Young Echo: Wayward Signals
Gathering momentum behind a wealth of adventurous, atmospheric experiments with contemporary electronic music, the West Country-based Young Echo collective present perhaps the clearest continuation of the Bristol sound in present times. Centred around their most recent radio show, Oli Warwick went to catch up with the production crew to dig deep into their perspective on what matters in dance and non-dance music, and to try and make sense of their myriad projects.
"Me and Cris were doing a gig and someone shouted out 'you've made me want to go home!'" recalls Amos Childs, one half of production duo Zhou. "We played "Noburu" with a high pass on it so there was no low end," says his sonic sparring partner Cris Ebdon. "It was just crackle. That was a highlight." The track they refer to makes up the B-Side of the first vinyl release Zhou scored on seminal dubstep label Punch Drunk. It's a bold sound for a first major break, consisting of four minutes of high-pressure drone and cavernous reverb. Without any bass and in the heat of a Bristol club night, it borders on confrontational, not that you'd ever get that feeling from the pair or their counterparts in the Young Echo collective.
Gathered in the basement of a café on Stokes Croft in the heart of the West Country capital, there's a charmingly laissez-faire attitude to the producers who make up a contingent garnering ever more praise for their contribution to the evolving music scene in Bristol. However, the above anecdote is pivotal to the ethos that drives the music they create both individually and collectively, and it takes form around an intermittent radio show they broadcast online from a studio in St. Pauls.
"It was your idea wasn't it?" says Sam Kidel (better known as El Kid), turning to Amos. "I thought you and Cris were talking about it," Amos counters, shirking responsibility for the inception of the show. "We were all chatting on the internet about it," Joe McGann (aka Kahn) chimes in, referring to the period of time when the six of them were passing tunes back and forth and finding a common thread in their music.
"We were all making stuff which wasn't really dance music," he continues, "so it was really nice to have an opportunity to preview a lot of that and not care about who was listening and just do what we wanted." Tracking forward to the radio show taking place that Sunday night, the warm-up hour sees Joe, Amos, Sam and Seb Gainsbrough (who operates as Vessel amongst other names) trading blows that move from soundtrack themes to decomposing digital dancehall, via awkward electronica, spacious techno and leftfield dubstep.
"It doesn't have to be a really smooth DJ style trajectory," Sam states proudly. "I think that's a really key thing. If we see a link between this tune and another one, no matter how convoluted, a completely different genre, a completely different tempo, if it reminds us of this other tune for whatever reason then we can play it and not worry that the dancefloor's going to disappear."
There's a certain irreverence to the way that the crew operate which is refreshing in light of such a daring approach, manifested no better than in the banter that forms around the occasional mic outbursts. "I like to think people tune in for our light hearted antics on the mic," says Joe. "I think it's funny, I don't know if anyone else does!"
Each radio show has taken on a slightly different format depending on the guests and the location, but tonight features Young Echo's most ambitious undertaking to date. The FAG Studios are a relatively new home for the guys, comprising of a ramshackle labyrinth of rooms under a Georgian townhouse that play host to a number of bands that reflect the fringe nature of Bristol music, and they've decided to host four live acts that consist largely of residents in the studios ranging from melodic post-rock (The Naturals) and raucous noise rock (Big Naturals) through to guitar drones (Giant Swan) and analogue dub terror (Ekoplekz). Compared to their usual set up of laptops and decks, the co-ordination of four performances with varying degrees of equipment spread across three rooms has lead to a huge amount of head-scratching and wire-running. At one point Seb is standing guard over a PMR box to make sure that the signal gets through clean to the computer that broadcasts the show.
"We just wanted a line-up with The Naturals and the Big Naturals on it," Joe explains, tongue-in-cheek, of their thinking behind the heavyweight line-up, "and just to make a psychedelic freakout of a show to combat how dancehall-y the last one was." The last show was a soundclash of sorts, under the banner of Gorgon Sound vs. Ishan Sound. Gorgon Sound is a project Joe has been involved with for some time, focusing on roots-based steppers and dubplates, with a first official release surfacing on the newly minted Peng Sound label. Ishan Sound represents the first forays Cris is making into solo production, finding his own way with reggae constructions focused on rocking a soundsystem.
Compared to the shockingly smooth transition between Sam's dub techno selection and the angular guitars of The Naturals set taking place this week, you'd be forgiven for thinking an entirely different set of people were involved. "I think the main thing is that we all don't really care about sticking to one genre in any way," Joe says, searching for a rasion d'etre for Young Echo.
"I think there's something more to it than that though," counters Sam. "It's more about atmosphere. The Bristol sound of the 90s and Rhythm & Sound and dub music, we all listen to that stuff and we all grew up on it."
This becomes no more apparent than in the midst of the radio show, as Joe drops an instrumental of Portishead's "Over" and Young Echo's resident MC (and one half of Jabu with Amos) Alex starts flowing over the top. He cuts an unlikely image, bathed in the glow of laptop screens, eyes fixed downwards, but the lyrics come out dextrously, taking an introspective tact that lends itself to the dramatic boom bap of Geoff Barrow's beat. Swiftly followed up by Tricky's "Aftermath", it's a surprise to hear such tried and tested tracks re-appropriated in a city damn near made famous by them. In the wrong hands it would seem like something of an obvious move, a cop out of sorts, but in the midst of the vibrant genre-hopping and give-a-fuck celebration of good quality music, it makes total sense and simultaneously pays tribute to a hugely influential sound crafted in the same heady atmosphere reverberating in these dank studios.
It's easy to get lost between the numerous production names and projects that fly under the Young Echo banner, as the styles range and stretch while never managing to sound generic. It's one of the issues that drives the desire of the crew to have a catch-all name for the ever-expanding sound. "I wanted us to be considered as a group because I thought it was quite important to present a united front," states Amos. "I feel like there are things that link our tracks together, and if you listen to our music as a whole it's more interesting to try and see the links."
"I think it's unusual how well it all works together," adds Joe. "The last mix I did of all our stuff [for Marry Anne Hobbs' XFM show], I hadn't even heard most of the material before we did it and I don't personally send anything out to anyone, but when we put it all together it was really interesting to hear how it all worked."
That particular mix was introduced with Mary's usual gushing enthusiasm, as she professed her excitement to be showcasing a mix she deemed to be truly ground-breaking. It's not hard to see where she was coming from, as half an hour of intricate textures, displaced rhythms and meditative melodic shards spiraled out in a cohesive blur of fresh ideas and zero conventions. It was a strong statement of intent for one of the biggest showcases Young Echo have had to date, not least because there is plenty more floor-friendly beat-driven material they could have reached for to appeal to a wider audience.
Seb presents the clearest distillation of that with his output thus far, both as Vessel and more recently Panther Modern. Many of Seb's earlier tracks (particularly on the Nylon Sunset EP on Left_Blank) are rooted around punchy 4/4 rhythms, sometimes expressing dancefloor tropes with avant-garde tools, and at others dragging house music conventions into experimental territory. Now though his sound is splintering, and he wants to make a distinction.
"Our plan is to try and piss off as many people as possible"
"I wanted to separate the more conventional house music from the more abstract stuff that I was making," Seb explains when asked why he started the Panther Modern alias for his recent release on Immerse. "I don't want to convolute one moniker too much. The tracks on the Nylon Sunset EP were made so long ago, and they were made so far apart, they were kind of cherry-picked. I'm definitely exploring more abstract territory on my new EP for Left_Blank. I'm still referencing dancefloor means, obviously, but I'm moving away from that first EP definitely."
Likewise, Sam has a similar attitude to how his own releases are presented and consumed, as highlighted with a cassette release he put out under his own name. "El Kid's making dance music and Sam Kidel's making drone kind of stuff," he clarifies. "I think it's important to separate things that are made with a different mentality, and made for a different context as well. If you're releasing all of this music under the same name I think it's certainly got mixed messages about what your context is, what your audience is."
Quietly listening to what the pair have to say, Joe waits his turn to put his own opinion across, and it represents an interesting split in mentality between the artists about their own individual identities as producers. "Opposite to what Sam's saying, I've actually wanted to put more of the different stuff I've been doing under the same name," he says. "I don't want to confuse people, but keeping everything under one name for me makes it feel like I'm not just a dubstep artist or a garage artist or something. For example, a lot of the time people don't know I can sing. I think in general with artists nowadays people are very quick to just assume you're one thing from one release."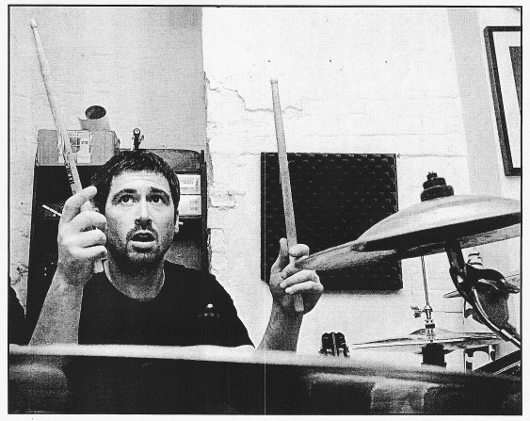 "I think having the collective makes it easier for people to stop making assumptions about what type of music we make," Cris states, pulling the focus back to the group as a whole. "They can listen to one of our shows and see that it's just mad," Joe dryly retorts.
As the Young Echo stamp grows in stature, it's interesting to pose where it might lead creatively. The radio show seems a very clear focal point for everyone to gather around, but for six such creative minds it seems hard to imagine that the fun would stop there. "I suppose as time has gone on and we've been collaborating a lot more, and also since starting the show, the sound has become more cohesive," Joe muses.
"I think if we didn't do the radio show we'd still do stuff together," explains Amos. "We'd really like to get a live thing together, but we'll just see how it goes," he continues in a laid-back fashion at this point synonymous with the approach they all take to the future. Although Seb points to a desire between all concerned to forge their instrumental skills into a "Young Echo super group", and he, Amos and Alex have a live improvisational project in development entitled Killing Sound (soon to feature Sam as well), for now there's only one definite coming together of Young Echo off the airwaves in the works. "We've got an album coming out," Sam reveals. "It's a compilation on Ramp of exclusive material, with two or three tracks from each of us. We're picking tracks at the moment to make it as coherent as possible."
Ramp is just the latest in a long line of labels placing their faith in the talents of Vessel, Kahn, El Kid, Zhou, Jabu, and further projects yet to be thought of. The Left_Blank and A Future Without labels have already played host to a slew of material, while the aforementioned Punch Drunk and Immerse were some of the first to give the gang vinyl releases. On the horizon, New York stable Tri Angle have asked for a Vessel album from Seb, while Jabu will see their first release proper on Astro:Dynamics. It's already a dizzying array of names and releases that should propel the team far, but there's comfort in the knowledge that their shared principles will only serve to maintain the quality no matter how successful they become.
"I think what people miss about the essence of dance music is that it wasn't originally a safe, boring thing," says Amos, getting back to the purpose behind Young Echo. "All of these styles that people are doing quite boringly, house music, dubstep, techno, whatever, they all started out very fringe, almost punk things, and I think sometimes people forget that. It can become all about keeping a crowd happy."
"I don't think any of us are worried about keeping a crowd happy!" laughs Joe. "Our plan is to try and piss off as many people as possible."
Words: Oli Warwick
Photos: Alex Digard