Again The Addiction: Analysing the Actress archives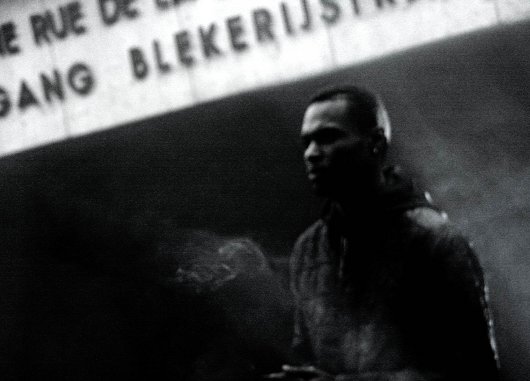 With Honest Jon's on the cusp of gracing an expectant audience with R.I.P, Darren Cunningham's third album under the Actress moniker, the moment seemed right for the core of Juno Plus to delve into what came before. Read on as Aaron Coultate, Scott Wilson and Tony Poland offer up their favourite moments from the producer's endlessly impressive discography.
"Mentor" (from Werk One, Werk Discs, 2004)
Darren Cunningham's love of pure, punishing electro has been long standing, and was a regular fixture at early Werk Discs parties in London. "Mentor" – the first officially released Actress track – clocks in at a breakneck 152 BPM, with swirling synths enveloping the rapid-fire drums, lashing percussion and vocal snippets. "Mentor" sounds like a second hand Underground Resistance record dropped in South London dirt; it's a brutal slice of IDM that now stands as an important, if somewhat overlooked, cornerstone of the producer's canon.
The link to Underground Resistance is an important one – Cunningham told FACT magazine in 2009 that he sent demos to the legendary Detroit imprint but never got a response – and Mad Mike Banks' singular, uncompromising attitude to towards his art is an obvious inspiration.
"Mentor" was released on the Werk One compilation, which also featured tracks from obscure producers geared towards downtempo melodica and rugged, experimental electro. The electro theme was explored further on the No Tricks EP, Actress' first full solo release, which also came out in 2004. Raw yet accomplished, "Mentor" lays the foundations for the adventurous output that was to follow from artist and label alike. Eight years later Werk has released important material from Lukid (who now has a behind the scenes involvement with the label), Lone, Starkey and Zomby among others, as well as the debut Actress album Hazyville. (AC)
"Redit 124" (from Hazyville, Werk Discs, 2008)
If you're looking for an Actress track to play to a packed dancefloor you're going to be struggling. Despite Hazyville being an album you could comfortably call techno, with plenty of material you could mix into a DJ set with no problems, there isn't much that could maintain a furious momentum.
"Redit 124" however (which also featured on the B-Side of his Prime Numbers release) is the album's propulsive gem. Getting into the simplest elements of what makes techno work, the track is a bewildering flurry of sinewave bleeps, chopped samples, kickdrums and hi-hats, but with the microfractures between giving the track just enough room to breathe. You can hear the influence of Drexciya and Underground Resistance in there, much like his earliest productions, but somehow there's a more complex beast driving the machine. This would be beyond the reach of most producers, but the switchup that ushers in the track's blistering final third is frankly sublime. (SW)
Thriller – "Freak For You" (from Freak For You/Point & Gaze, Thriller, 2009)
Started in 2008 by Cunningham and his Werk Discs associate Lukid, Thriller is a label in the spirit of the best anonymous white label imprints – two sides, no credits and scant regard for copyright concerns. But more interestingly was to credit every release to the Thriller moniker. We now know that the first Thriller release was actually the work of Lukid, while the second and third were that of Cunningham, but now it seems as if there is something of a merging of concerns, with a recent Thriller remix of Radiohead which many attribute to a joint effort between the pair. As ever with Cunningham, whose bizarre Twitter persona belies a striking intellect, you can never be quite sure what's what.
To write about "Freak For You" as an Actress production requires a certain level of assumption, but its heavily compressed, smacked out weirdness pretty much gives its creator away – and it's this that gives it the edge. In the hands of anyone else, "Freak For You", with its sludgy funk bassline and purple-hued synths interacting with a catchy vocal hook would be a serviceable but unremarkable edit – but with Cunningham's layer of grit over the top it disrupts the listening experience just enough to make you listen in a different way.
Alongside Lukid's entry into the Thriller series, which consisted of two similarly low slung sample based warm-up tunes, you get the sense that the Thriller concept – which has taken over London's hallowed Plastic People on a number of occasions – is one that is an opportunity for the pair to revel in an "anything goes attitude". But unlike the majority of identikit club nights and edit labels who peddle the same concept, one gets the impression that as well as bringing a more consummate and wide ranging musical knowledge to the table (as anyone who has seen an Actress DJ set will attest to) the pair obviously like to subvert the norm while having their fun. (SW)
"Maze" (from Paint, Straw and Bubbles & Splazsh, Honest Jon's, 2010)
Electronic music is often at its most breathtaking when stripped down to the barest of elements. "Maze" was perhaps the most rounded, fully-formed track to appear on Splazsh, the second Actress album, released in 2010, but it was also deceptively simple. If "Lost" and "Always Human" were ephemeral (and stunning) sketches, "Maze" was the album's masterpiece. It was also its centrepiece – situated bang in the middle of the album's track listing – and has gone on to become as close as anything in Cunningham's canon to a certified hit.
"Maze" is nothing short of epic in scale – alien yet human, rubbery yet robust, it emerges from a smoke-filled haze to coax the ears and mind into a world of woozy, drug-induced mysticism. (A 'long version' of the track was released by Honest Jon's in the lead up to the release of Splazsh. This clocked in at nearly six minutes, but, in truth, this still felt too short.) A robotic four-note bassline is at the heart of proceedings, and is reminiscent of one of Cunningham's true loves – lush, chordy techno.
Indeed, Cunningham has long mastered the art of taking the essence of Detroit techno and diffusing it through his own lense. It's impossible to listen to certain tracks on Splazsh and, before that, Hazyville, and not hear echoes of Cunningham's influences. "Always Human" has the raw, dusty stomp of Anthony 'Shake' Shakir's "Fake Right, Go Left"; "Purrple Splazsh" is a love letter to Prince. One could compare "Maze" to 1980s UK industrial or Drexciya in minimalist mode (it rivals "The Davey Jones Locker" for sheer beauty), but it is still resolutely Actress, and constitutes one of the first glimpses of the fully formed musical persona that has been further unveiled on R.I.P. (AC)
"Lost" (from Splazsh, Honest Jon's, 2010)
Coming immediately after "Hubble", the disorientating, percolating eight minute opener to Splazsh, "Lost" was, for many casual listeners brought to Cunningham's work for the first time by the hype surrounding the album (myself included), the gateway drug for understanding the producer, and in terms of genre perhaps more recognisable for those bewildered by the sea of odd musical shapes on the album as a whole.
Ostensibly a simple house track with a light garage shuffle to it, "Lost" is arguably the album's dancefloor track, both in form and tone, but one that nevertheless adopts the barebones electronic textures of Detroit techno's retrofuturistic first wave. Consisting of indistinct, tessellating synth parts that blend between bass and lead, it's also offered a human warmth thanks to its vocal, and despite the robotic tone it adopts as it spirals off into repeating microfractures, "Lost" manages to recompose house into something deeper than the majority of tepid house producers could ever begin to imagine.
People talk about how Burial's ghostly echoes mourn the loss of times gone by, and to be honest, I don't always get it – I didn't share those times, but I do have scattered memories of pitch black dance floors, listening to all-enveloping, slightly distorted bass, rhythm and vocals made indistinct by my own state of mind or dodgy soundsystems. The question of genre always comes up when discussing Splazsh, and it would be easy to write off a track like "Lost" as Cunningham's "ode to house", but far from being a hollow genre exercise, "Lost" is a distillation of a mood – one that I could relate with, and I'm sure many others could too. (SW)
Kodiak – "Spreo Superbus" (Actress Uraeus Mix) (Numbers, 2012)
It's arguable that the art of the perfect remix belongs in the realm of those who can look deep into the matrix of a track and sense there is another sonic direction to be explored and executed. Across a number of remixes over the years, Cunningham has displayed an innate talent for doing just this, spanning the spectrum of musical entities with script flipping remixes of a diverse array of gleeful recipients. Underground doyens in Various, Tom Trago, Joy Orbison and long standing influence Kode9 sit alongside more established names in Radiohead and Panda Bear, and, most bizarrely, Team England's official sound trackers Kasabian in benefitting from an alternate vision from Actress.
It's veering on criminal that one of the most enduringly intriguing remixes of recent times – the Violet Mix of Laurel Halo's "Constant Index" seems destined to remain in release limbo for reasons unknown. In truth, any one of the aforementioned remixes would be worthy of inclusion on this celebratory list, yet his most recent reworking stands tallest in our estimations.
Few other producers would have heard the jet propelled "Spreo Superbus" by Kodiak and felt inspired to remove themselves from its club ready mainframe and have the confidence to retain only the fractured vocal yearnings amidst a glowering last dance slow jam refrain dominated by the gentle interplay between delicate chords and hissing pockets of vaporous textures. The arrival of a vast wall of thick bass mid way through lends the track that element of darkness and menace that is always lurking somewhere in the DNA of an Actress track. (TP)
"Rainy Dub" (Honest Jon's, 2012)

Commissioned by the Tate collective to provide a soundtrack for the Infinite Kusama exhibit at the Tate Modern, Actress was subsequently invited to perform the soundscape in the cavernous surrounds of the gallery's Turbine hall. This writer was amongst a captive audience to see this performance, with the Silent Disco aspect pitched perfectly for immersing fully in Cunningham's intoxicating and enthralling musical portrayal of Kusama's work.
It was over the course of this near hour long performance based around the repetition of sounds dripping with hallucinatory 8bit melody that this writer could draw a distinct line of reference point with what Actress was attempting on "Rainy Dub". Presented as a prelude to R.I.P, if not as a hint to how it would unfurl, "Rainy Dub" trades in similar sounds to those that perforated my hearing at the Tate recently. Feeling compelled to return to the track with these new thoughts swimming around the cerebral cortex what comes to the fore is how the track isn't really moving in the traditional forward rhythmic progression. Instead "Rainy Dub" seems to exist in its own sense of stasis, dotted lines of digidub texture seeping downwards through the constant barrier of viscous sub bass.
In this sense, the track provides the perfect introductory context for R.I.P, an album that occupies its own distinct place, characterised by production that could only come from Actress himself. (TP)
Words: Scott Wilson, Tony Poland, Aaron Coultate