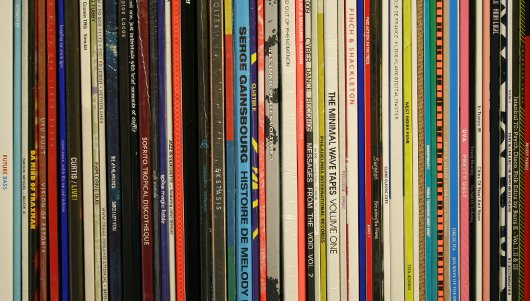 The Juno Plus editorial team was awoken from its post Easter slumber by the almighty rattle of this exclusive podcast from The Exaltics, which contained an ample helping of unreleased heat from the producer and other obscure slices of grubby, utterly intoxicating electro.
Once fully awake, we took the nifty photo you see above for our Facebook page (check it here too). Then it was onto the business of listening to records, and it was a good week for those who like their house music prefixed with words like 'smudged' or 'knackered'. First up the doyen of knackered house, Gerry Read, arrived on Dutch imprint Delsin with Yeh Come Dance. Stylistically, the four tracks continued the mission statement Read has already laid out; there's a claustrophobic quality to the title track that finds a cacophony of wooden percussion and angular vocal loops sweating all over each other while the hi-hats leer on drunkenly.
Equally impressive was the second BRSTL twelve, which arrived with local boy done good Outboxx at the helm. Featuring some fine vocals from Naomi Jeremy, "Through The Night" is unashamedly soulful in full swing, with expert touches of Phil Asher's Focus about it, and deserves to be heard by a wider audience than a 300 12″ pressing grants. Fellow Bristolian Seb Gainsborough traded in his usual Vessel moniker for the William Gibson referencing Panther Modern alias; the desolate opening moments of Howl soon morph into a floating boogie flex driven by stripped down percussive rhythms and scrapings of rusted analogue textures.
The most beautiful 12″ of the week award went to Vakula's latest on his Leleka imprint. The processes behind how the label manufactures the marbled black and white vinyl remain a mystery, much like how the  infinite vat of musical inspiration the Ukrainian producer can call on will never be explained. Elsewhere, Swiss duo Echo 106 spent the period subsequent to their illuminating contribution to a Mathematics 12″ compilation holed up in their Brunnen studio working their box of tricks to the max. They released two excellent 12″s this week, on Lux Rec and Mathematics respectively, which really do need checking. The most inspired 12″ pairing of the week saw Chilean producer supreme Ricky Villalobos face off against hirsute Amsterdam fixture San Proper. Another giant of the electronic music game – Carl Craig – also appeared on Rush Hour this week, remixing Tom Trago's still awesome disco-laced "Use Me Again" with typically impressive results.
Anyone with a cursory knowledge of Detroit techno will know Scan 7's Trackmasta Lou. The perma masked producer recently popped up on London-based label Awkward Movements, and this week dropped a deep house cut on Tabernacle replete with remixes from John Heckle and The Analogue Cops. Other techno-shaped treats came from Aardvarck, who became the third artist to appear on the Skudge Presents series, and Shifted, who dropped his excellent debut LP on Mote Evolver, while former Vault Series alumnus Sawlin graced Delsin offshoot Ann Aimee with Techno Dumping, and Berghain types Marcel Dettmann and Norman Nodge remixed Prime Numbers boss Trus'me.
New York label Golf Channel released FIVE super-limited promos this week, all of which sold out more or less immediately – Phil South you are such a tease. South London types Cage & Aviary followed up their recent (long-awaited) debut LP Migration with the first in a series of dub recreations of album tracks. And rounding off the week's choice vinyl releases, the debut cut on the newly minted Love Fever label arrived just in time for the weekend – Bicep's "$tripper" is pure New Jersey garage heat, and do check that cover art!
Over at Juno Download, Hemlock Recordings boss Jack Dunning returned with the first in a three part EP series. On listening to Change In A Dynamic Environment EP 1, it's clear that last year's Little Things Like That release for Clone was something of a transitional record, though perhaps not quite in the way that many expected. And in an age where hype is ever present, Laurel Halo seems to have the prodigious talent to justify the chatter that surrounds her every release on an increasingly impressive roster of labels. The New York resident adopted the King Felix moniker to open proceedings on Liberation Technologies, the newly minted "electronic" sub label of the iconic Mute empire. Elsewhere, Lando Kal returned to Hotflush with the Rhythm Sektion EP, Synkro helped relaunch the long-dormant R&S sub-label Apollo, Planet Mu entered the Mind Of Traxman, Comeme brought the heat as always, and the ever adventurous Rvng Intl. offered up a real treat, as two L.A. musicians were sent to Jamaica to work alongside The Congos in recreating the reggae legends' classic Icon Give Thank LP.
Our pick of the CDs was the album from erstwhile Hype Williams pair Dean Blunt and Inga Copeland. Black Is Beautiful is an odd but endearing collection that leaps between sounds, styles and genres almost at will. Opening with a blast of fuzzy jazz-rock, its 15 tracks variously touches on skewed dream-pop, E'd-up downtempo curiosities, wrongspeed electronica, calming ambience, woozy demo-pop, skittering, smacked-out rave rhythms, droning madness and impossible-to-define strangeness. It could just be the album of the year.